Can You Really Order Off Starbucks' Secret Menu?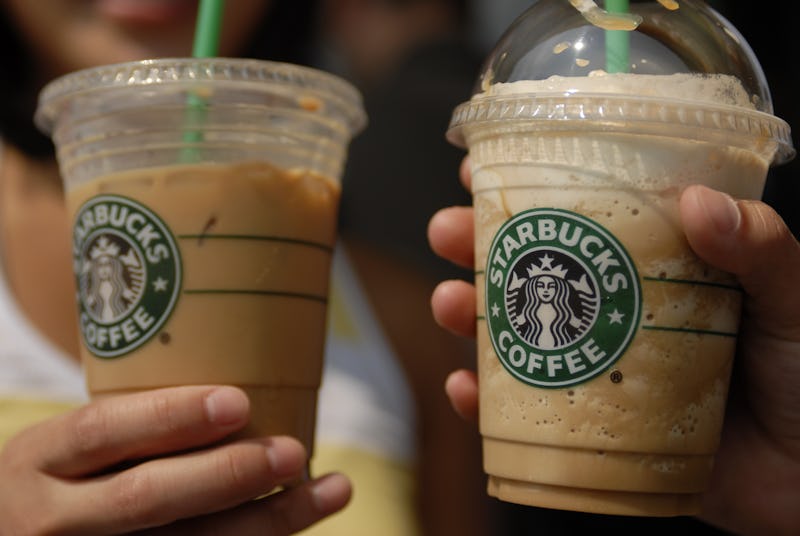 Melanie Conner/Getty Images News/Getty Images
You've probably heard of cinnamon dolce lattes, chai tea frappuccinos, and hazelnut macchiatos. If you're even a casual fan of the green straw, you know that those are Starbucks mainstays. But what about caramel snickerdoodle macchiatos, Cap'n Crunch smoothies, or a spiced apple chai? Those, my friends, are items that are allegedly on the Starbucks Secret Menu. And, of course, there are plenty of rumors floating around the Internet as to whether such a menu exists in the first place. After I came across this article that claimed to expose 19 recipes on the secret menu, such as a key lime pie frappuccino and a banana chocolate chip frappuccino, I thought I'd do a little digging to see whether it really is a thing . . . or not.
I called up my local Starbucks on Cary Street in Richmond, Virgina, and asked if I could inquire about the secret menu. I heard a sigh on the other end. "Hold on," said the guy I was talking to, "let me put someone else on."
"Hi," I said, when another voice came on the line. "Have you ever heard of the peach cobbler frappuccino or the chocolate chip cookie dough frappuccino?"
She had not.
"OK," I said. "Do you know of anything on the secret menu?"
"Yeah," she told me. "There's butterbeer! And a bananas Foster frappuccino." But she wasn't allowed to tell me what was in them, she said. ("They're secret!") She went on to say that one of Starbucks' main points was customization, so customers could theoretically ask for anything that would fit in a blender and the baristas would make it. That didn't mean she knew what went into every single one of these "secret" drinks. What she wanted me to emphasize was that when customers order from the secret menu, they should make sure to specify the exact ingredients. The Starbucks Secret Menu website, which is the largest online collection of "secret" (read: fan-made) recipes, provides a list of exactly what goes into each mythical drink. There are plenty of other sources for recipes, including this list of 35 and these combos from #HackTheMenu.
In the spirit of customization, then, here are five of the most appetizing recipes to try the next time you hit up your neighborhood Starbucks:
Start with a vanilla bean frappuccino base and ask for white mocha sweetener (two pumps for a venti, 1.5 for grande, and one pump for a tall), a handful of blackberries, and whipped cream on top.
Try a double chocolate chip or java frappuccino with these extras: hazelnut syrup (two pumps venti, 1.5 pumps grande, one pump tall), mocha syrup (three pumps venti, 2.5 pumps grande, two pumps tall), and hazelnut drizzle to top it off.
The Carytown barista couldn't tell me what goes in here, but Starbucks Secret Recipes could! Order a creme frappuccino that combines three pumps of caramel syrup with three pumps of toffee nut syrup. Top with caramel drizzle. (Note: this recipe is for a grande frappuccino. For other sizes, adjust syrup accordingly.)
Ask for a hot chocolate made with soy milk that's steamed with cinnamon. Then ask your barista to add mocha syrup (one pump tall, 1.5 grande, two venti), white mocha syrup (one pump tall, 1.5 grande, two venti), and cinnamon dolce syrup (two pumps tall, three grande, four venti).
Begin with a strawberries and creme frappuccino. Mix in the following: caramel syrup (1/2 pump for a tall, one pump for grande, 1.5 pumps for venti), toffee syrup (one pump tall, 1.5 pumps grande, two pumps venti), and hazelnut syrup (1/2 pump for a tall, one pump for grande, 1.5 pumps for venti). Add java chips for a crunch that calls the drink's namesake to mind.
Happy secret-recipe hunting! If these don't do it for you, you could try the new Fizzio drink instead.