Disney Is Making 'Dumbo' Live-Action Remake!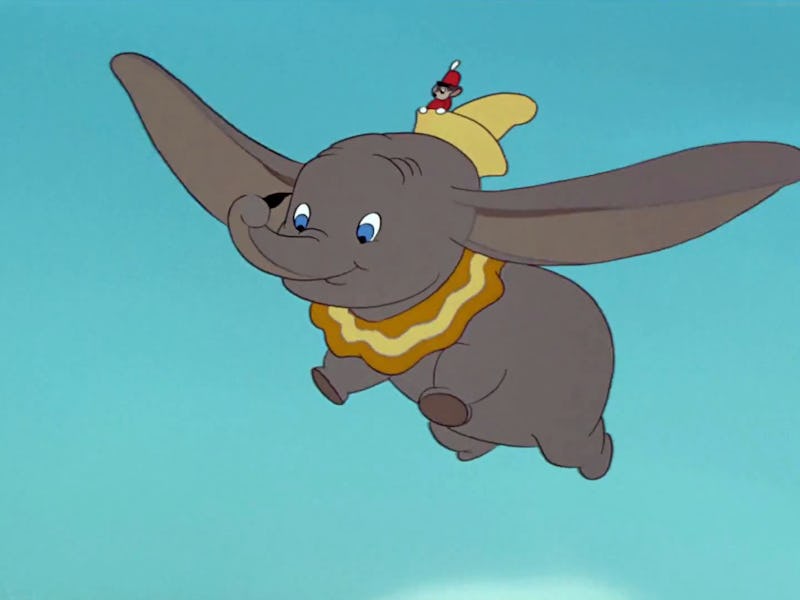 Another one of your childhood favorites is going the way of Maleficent. Dumbo will become your next Disney live-action reboot, which should pose some creative challenges. Namely, that about 99 percent of the characters are animals. Not to fear though, Disney believes that CG technology is where it needs to be to make the film believable. It's refreshing to hear they plan on resorting to digital effects rather than training real elephants. After all, the whole premise of Dumbo is how miserable he is being forced to be in the circus. It would be cruel to tell that story using real animals.
Maleficent, a live-action spin on childhood classic Sleeping Beauty, did remarkably well in theaters. But Dumbo has an uphill battle after they hired Transformers writer Ehren Kruger to pen the script. That franchise is one of the most-hated around, so Disney better hope they get better results from Kruger this time.
According to the Hollywood Reporter, the live-action version will pull from the original story while also "adding a unique family story that parallels Dumbo's story." This probably means they'll add some more human characters to the lineup to offset the CGI. But since that's all speculation, let's get down to business and dream-cast the characters we already know exist.
ANNA KENDRICK AS DUMBO
In the Disney version, Dumbo never says anything. But perhaps they'll update that in this reboot. If he's going to have a voice, it should be Anna Kendrick's. She can sing, which helps keep the movie a musical, and she's quirky and fun. She'd give a whole new life to Dumbo's character.
JULIE ANDREWS AS MRS. JUMBO
Andrews is the perfect motherly figure and she's a Disney-movie staple. Plus, "Baby Mine" was built for her to sing.
TIMOTHY SPALL AS THE EVIL RINGMASTER
Who better to play the man who whips and locks up Dumbo's mom than the man who played the sneaky, evil Peter Pettigrew in Harry Potter? Evil begets evil.
BILL MURRAY AS MR. STORK
Will the updated version still carry on this antiquated stereotype for delivering a baby? Who knows. If they do, though, Bill Murray would be good to voice him. He's already done voice work as Badger in Fantastic Mr. Fox, so we know he's open to that type of acting.
TOM HIDDLESTON AS TIMOTHY Q. MOUSE
The world always needs more Tom Hiddleston, so it might as well be in Dumbo. As Dumbo's best friend (way to break down the elephants-are-afraid-of-mice stereotype, Disney), he's a joy-filled, fun little character.
Plus, Anna Kendrick and Tom Hiddleston at the premiere of this movie together is the stuff dreams are made of.
ANGELINA JOLIE AS THE ELEPHANT MATRIARCH
Yeah, Jolie just came off the back of another Disney reboot, but we can dream right? The Elephant Matriarch leads the circus elephants and is very cold to Dumbo. Based on Jolie's Maleficent performance, we're sure she could nail the "pompous leader with a cruel streak" character pretty well.
AMY POHELER AS ELEPHANT CATTY, TINA FEY AS ELEPHANT GIDDY, & MAYA RUDOLPH AS ELEPHANT PRISSY
Any chance I get, I want these three women in the same film. Imagine them playing off one another as a group of sarcastic and occasionally snotty elephants. Cinema gold.
KYLE RED SILVERSTEIN AS SKINNY
You may know him from Blended or Grey's Anatomy, but doesn't he also look a lot like the kid who taunted poor Dumbo about his ears? (He's got the freckles and everything.)
In real life, I'm sure Silverstein would never be so cruel. But hey, every actor has to make a living, even if it's playing the role of a bully.
NO ONE AS JIM CROW AND HIS GANG OF CROWS
It might be best for Disney to nix the crows all together since they've been called some of the most-racist Disney characters ever. After all, they named the character after a law that segregated people according to skin color. Gross.
Images: Disney