How To DIY Your Own Hobby Lobby Protest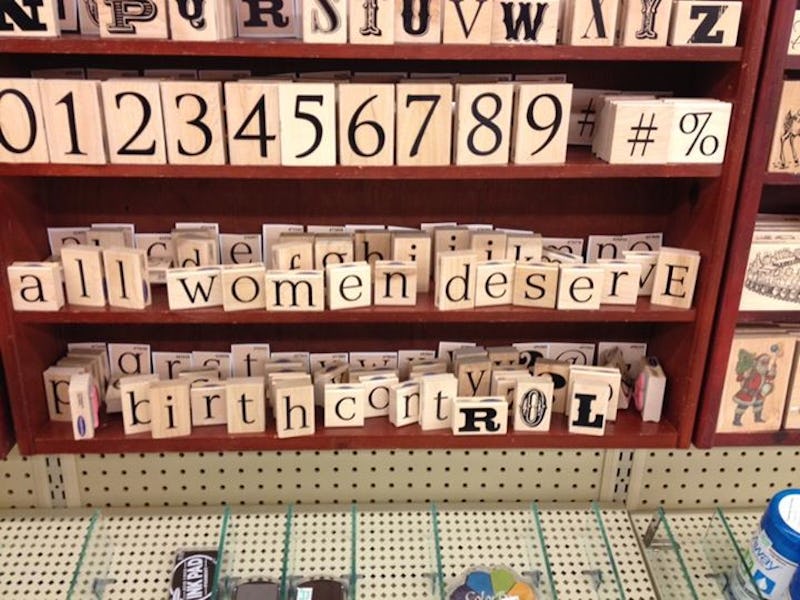 Get out your Pinterest boards, because we're about to show you some fun, creative, and easy-to-do DIYs today — using Hobby Lobby's products exclusively! We've been inspired by two DIYers who used different craft materials to spell out pro-women's rights messages at Hobby Lobby, showing both resourcefulness and versatility. The icing on the cake? These fun displays are actually subtle protests against the Supreme Court's recent ruling that closely held companies are not mandated to include birth control in their health insurance coverage. Talk about a multipurpose crafts project!
Sure, it's better to not even shop Hobby Lobby at all — but if you have to, then Jasmine Shea showed us all exactly what to do. Shea went to her local store in Latham, New York, last Thursday and rearranged letters of all mediums — paper, plastic, wooden blocks — to spell out "pro choice." Besides making the store's shelves prettier (who likes a messy jumble of letters anyway?), Shea was also making a very important statement about women's rights.
"All women deserve the right to contraception, and it should be free. I don't like the fact that my tax dollars go to Viagra pills and penis pumps for men," Shea told The Daily Dot. "The reason why I did the prank was to make people laugh and to prove a point that what Hobby Lobby did was kind of ridiculous."
She also revealed that her shelf displays were actually an impromptu decision, proving that she's an expert DIYer who can think on her feet. "My original idea was to pass out condoms to females employees, but when I realized only one was working, my friend and I went around and rearranged all the letters in places to spell out 'pro-choice,'" she explained. "We strolled around the store for about an hour and didn't get caught. We did leave condoms in random places."
And a few states south in Laurel, Maryland, Adam Nathaniel Peck made his own statement at the local Hobby Lobby on behalf of women's rights. For Peck, it was a spontaneous decision as well.
A deputy social media editor at the Center for American Progress's ThinkProgress, Peck initially planned on interviewing Hobby Lobby customers and employees about the Supreme Court's decision, but when they saw rubber stamps printed with letters, they took the opportunity to leave a message.
"It just seemed like a perfect opportunity to stage a kind of a silent protest, and the chance to use Hobby Lobby's own products to do it was just too serendipitous to pass up," Peck told Mic. "I certainly don't want to encourage other people to ransack their local Hobby Lobby, but who am I to tell other people what to do with things like stamps, stencils, lawn signs, window decals, and other items that can be used to spell things out in the aisles?"
Very creative thinking, Adam. We like your style. And on that note, we have some protest ideas of our own using Hobby Lobby's vast array of craft products. Get ready to DIY your very own message to Hobby Lobby and the Supreme Court.
Make Your Own T-Shirts
Hobby Lobby offers a variety of materials for DIY apparel projects, so why not make your own "Pro-Reproductive Rights" shirt?
What you'll need:
T-Shirt, $8
Fabric Spray Paint, $14
Letter Stencil, $1.60
Wear Letter Bling Around the Store
Get a group of friends together and each wear one or two of these glamorous bling letters, but make sure to stay in formation so it can spell out the message you want. Keep it succinct, like "Pro Choice," "Birth Control," or "Women's Rights."
What you'll need:
Bling Letter, $8
Leave Hidden Messages
Hobby Lobby offers a wide variety of stick-on letters, which you can use to spell out longer messages in inconspicuous places that customers can stumble upon by chance. That way they can stay put for longer before an employee catches on. Yes, this is technically considered vandalism, so we are not endorsing it, only letting you know what materials you can use should you feel inclined.
What you'll need:
Black Helvetica Stick-On Letters, $3.30
Classic Black Upper Case Letters, $4
Red Helvetica Stick-On Letters, $3.30
Test Out Their Dry Erase Boards
Many stores will allow you to test out some of their products, so if you see any dry erase boards on display for customers to test, you might as well go crazy. Perhaps you can write down the best lines from Ruth Bader Ginsburg's dissent to the Supreme Court ruling, or write your own.
What you'll need:
Dry Erase Board, $4
Use Thee Badass Antler Letters
Spell out your message with these awesome-looking antler letters and it'll look so cool no one will want to even touch them.
What you'll need:
Antler Letters, $8
Images: jasmine_shea/Instagram, Adam Nathaniel Peck/Facebook, Hobby Lobby