'Glee's Final Season Cut Really Short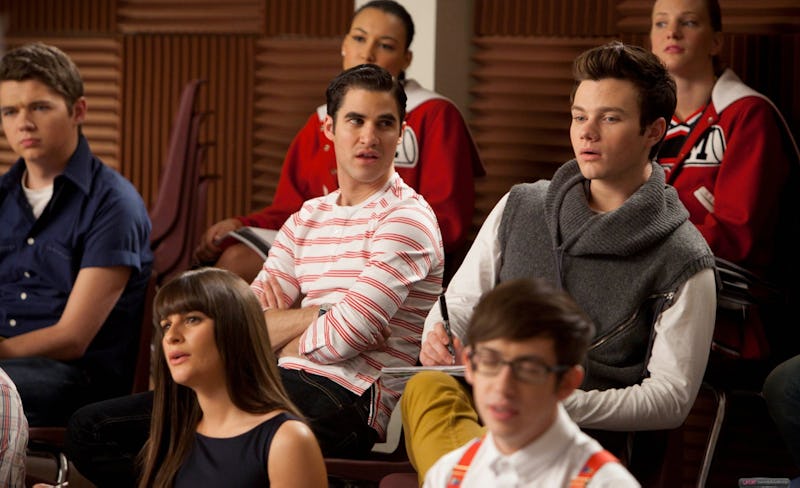 We now know the fate of Glee 's final season. It's not exactly pretty, but they might be able to make the best of it. So how many episodes will the sixth and final season be treated to? Only 13. It was announced last year that the show's sixth season would be its last — and that that season, like Parks and Recreation's final season on NBC, wouldn't be airing until midseason. A reduced episode number was pretty much par for the course, then: When you're not running from early fall to late spring there's just not enough room for 24 episodes. That's how many episodes were on the table back in May when Fox head Kevin Reilly talked about the show at the upfronts. That number, though, was always subject to change.
Still, 13 is probably a bit less than what many Glee fans were hoping for.
Glee fans might be able to seek solace in that this seems to have been Ryan Murphy's doing: As Reilly mentioned previously, We're going to sit down and talk [with Murphy] about how to end the show and how many that is." Turns out it's 13.
This final season will already be shaking some things up: It won't be set in New York, for one, and we can expect a time jump. Here's what Murphy said about the final season to a batch of reporters back in April:
When Glee first started out, there were six kids in glee club as I recall. At one point, I felt like it was a cast of thousands, and the Lima stories were all supposed to be through the prism of [Cory Monteith]'s character, and that didn't work out. So you know, we had to punt for a little bit but I think once we got our bearings back, the idea of let's concentrate on six people that we know and love and really work hard on their evolution I think has really served the show well. And that's where we're going.[...] But it really is a lovely, fitting season that really dwells on the original people that were on the show and what happens to them and how they give back.
Seems like they've got this season all planned out. Hopefully.
Image: Fox