This Will Be Your New Favorite Meme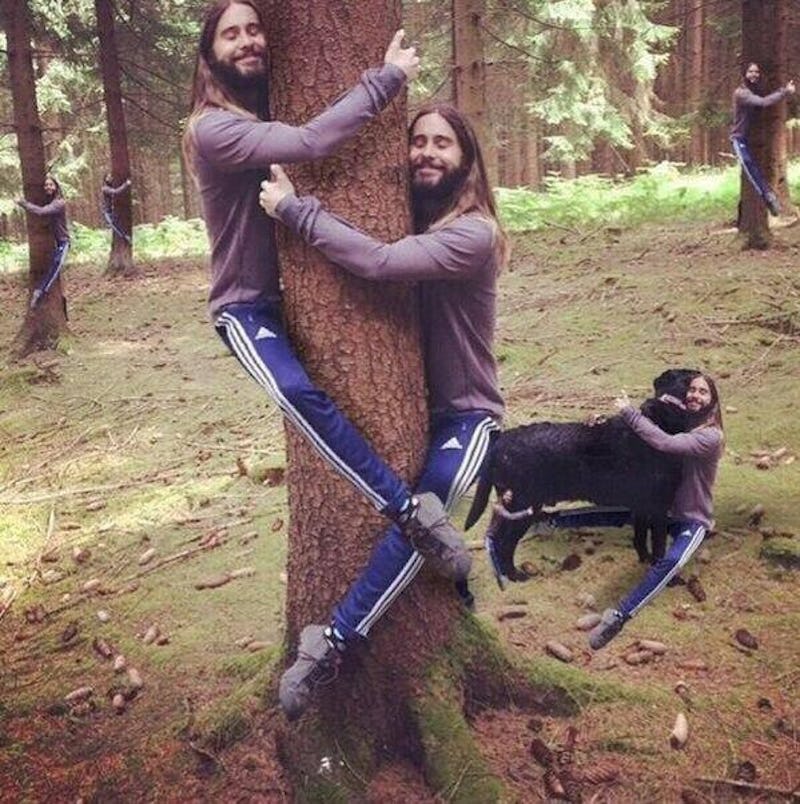 Sometimes finding the origin of a meme is difficult. Not so with the Jared Leto hugging things meme: That can be traced back to E! Online, which posted the original Instagram photo of Leto hugging a tree with his eyes closed and a giant grin on his face and asked "Can this photo of Jared Leto hugging everything be the next amazing Internet meme (please)?!"
They asked and the Internet answered. I'm usually pretty against media outlets trying to orchestrate viral hits, but this meme is so delightful that I'm willing to let it slide at least just this once. After all, it's Saturday, which is no time to do anything serious, and with so much terrible stuff going on in the world, it's nice to just take a break and watch a happy Jared Leto hug things.
Besides, soon after E! Online encouraged the meme, Jared Leto himself posted a template on his website to aid in people's Photoshop endeavors. Since it now has Leto's own stamp of approval, I'm totally on board with the #JaredHugginLeto meme.
Sometimes, the Internet is a weird place — a place where potato salad raises over $40,000 while other, more important Kickstarters are left in the dust, for instance — but sometimes it's a great place with edits of joyful Jared Letos. So I've sifted through the multitudes of photos to bring you the 18 best ones for your enjoyment.
WHERE IT ALL STARTED
This was the fateful picture Leto shared. Little did he know what was to become of it.
AND THE FIRST MEME
From there it spiraled out of control.
GRUMPY CAT HUG
The extreme happiness on Leto's face and the grumpiness of the cat kind of balance this photo out to a neutral emotion.
JARED CYRUS
He came in like a really happy wrecking ball.
GROUP HUG
Hey, when it's Frozen outside you have to huddle for warmth.
LETO KING
Move over, Simba. There's a new king of the Pride Lands.
HE'S GOT THE WHOLE WORLD IN HIS ARMS
No one loves the Earth more than Leto.
CHEER UP BIEBER
At least Leto likes you.
THE CUMBERBATCH EFFECT
We feel you. We all want to hug Benedict Cumberbatch, too.
#HUGGINGSELFIE
Who knew the Oscar selfie could get even better?
LEANING TOWER OF LETO
ALRIGHT, ALRIGHT, ALRIGHT
AWARD WINNING HUGGER
If you could get an Oscar for Best Hug, Leto would win.
THE LETO LEG
It's a meme mashup!
HAIR LOVE
Leto's locks are so fabulous he wants to hug them himself.
COMFORTING HUG
Leto gives this Brazilian soccer fan a warm embrace after the tough World Cup loss.
JAREDCEPTION
Leto hugging Leto who is hugging someone else.
HUG ME, BROTHA
I couldn't resist making one of my own.
Images: Jared Leto (3), andrealizaola4/Instagram