17 of Hollywood's Worst Post-Oscar Roles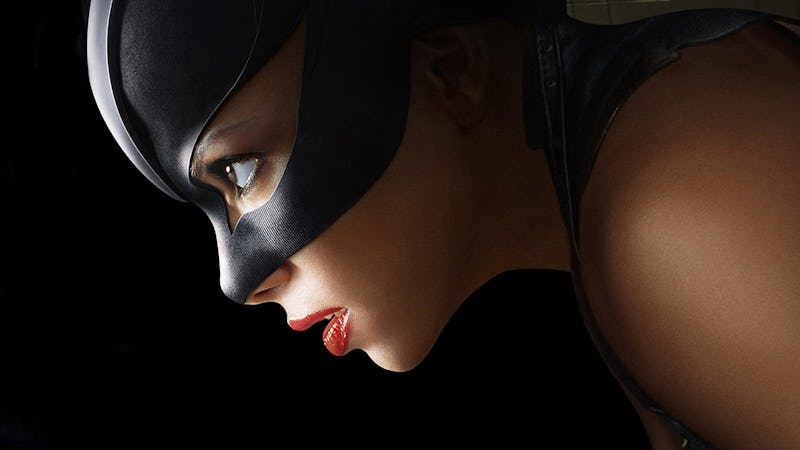 It's true: Wednesday, July 23 marks Catwoman's 10th anniversary. Yes, it was over 10 years ago now that Academy Award-winning actress Halle Berry made the questionable decision to star in the film that the Chicago Tribune called, "the Showgirls of superhero movies." Me-ouch! For her performance in the film, Berry won a Golden Raspberry Award (or "Razzie") for Worst Actress in 2005. So what made Berry do it? Was she on a post-Oscar win high that clouded her judgement? Was she just looking to make a little extra cash? Or did she genuinely think that Catwoman would be a critically acclaimed, box office smash?
Of course, I can't say for sure, but ever since Catwoman's release in 2004, the phenomenon of actors and actresses winning Oscars and then going on to star in some truly terrible films has become known as "The Halle Berry Effect" — but this particular Oscar "curse" was around long before Berry's now infamous blunder. Just ask 104-year-old actress Luise Rainer! Rainer won back-to-back Oscars for Best Actress in 1936 and 1937, but then she was cast in a series of unsuccessful roles that essentially ruined her career. Eventually, she decided to leave Hollywood altogether. Interestingly, Rainer once said:
The Oscar is not a curse. The curse is that once you have an Oscar, they think you can do anything. They give you bad scripts that are hard to act.
Hmm, perhaps Berry isn't to blame for the Catwoman cat-tastrophe, after all? So, in honor of Catwoman's 10th anniversary (and to ensure that Berry doesn't feel alone in her bad decision making), let's take a look at some of the worst post-Oscar roles in recent history:
Helen Mirren: from The Queen to National Treasure: Book of Secrets
Shortly after winning the Oscar for Best Actress in 2007 for her portrayal of Queen Elizabeth II in The Queen, Helen Mirren went on to star in Disney's silly action-adventure flick, National Treasure: Book of Secrets. She played Nicholas Cage's mother. Yes, somehow, audiences are supposed to believe that the graceful, breathtakingly beautiful Mirren gave birth to...Cage. At one point during the film, Cage utters the line, "I'm gonna kidnap 'em...I'm going to kidnap the President of the United States." That's all you need to know about the movie, really.
Kevin Spacey: from American Beauty to K-PAX
After the Oscars named him Best Actor in 2000 for his work in American Beauty, Spacey took on the lead role of "prot" in the cheesy science fiction film, K-PAX (he was also in a few other stinkers, but we'll get to those later). prot is a psychiatric patient who claims to be an extra-terrestrial being from the planet K-PAX. Naturally, prot is the wisest, most charming/best alien in the psych hospital, and he inspires all those around him (including his therapist, played by a then Oscar-less Jeff Bridges) to live better lives. Doesn't that just sound heartwarming?
Jennifer Hudson: from Dreamgirls to Sex and the City
From American Idol contestant to Oscar winner — sounds like a dream come true, right? Well, not exactly. Since winning Best Supporting Actress in 2007 for Dreamgirls, Hudson has struggled in both her acting and music careers. In fact, her first film after Dreamgirls was the Sex and the City movie, where she only had a small role as Carrie Bradshaw's assistant. Talk about a demotion! Also, let's talk about how Hudson went from making Dreamgirls to making a film that features an extended sequence of Kristin Davis pooping her pants. Oh, how the mighty have fallen. (Though, to be fair, I suspect that Hudson's floundering acting career has something to do with the overall lack of decent roles for African-American women in Hollywood today.)
Jeff Bridges: from Crazy Heart to TRON: Legacy
After several nominations, Bridges finally won an Oscar in 2011 for his leading performance in Crazy Heart. So what'd he decide to do next? Star in TRON: Legacy, the long-awaited sequel to Disney's 1982 science fiction drama, TRON, of course! The film was praised for its special effects, but generally speaking, it didn't sit very well with critics. Slate's Dana Stevens wrote in her review, "I would rather be bombarded with neon Frisbees than watch this movie again." Burn.
Angelina Jolie: from Girl, Interrupted to Lara Croft: Tomb Raider
Though Jolie won an Oscar for Best Supporting Actress in 2000 for her role in Girl, Interrupted, she was nominated for a Razzie for Worst Actress just a year later for her portrayal of legendary video game vixen Lara Croft in Lara Croft: Tomb Raider. Not even Jolie's substantial acting chops can save this movie, which tries to disguise its nonsensical plot with over the top action sequences and gratuitous boob shots. (Did you catch Game of Thrones' Iain Glen in the trailer?)
Roberto Benigni: from Life Is Beautiful to Pinocchio
When Roberto Benigni won Best Actor in 1999 for Life Is Beautiful, the world had Benigni Fever — a disease for which there appeared to be no cure. We couldn't get enough of him! ...But then a cure arrived in the form of 2002's Pinocchio — a terrifying, live-action adaptation of the classic tale about a puppet that comes to life. Benigni stars as Pinocchio and, strangely enough, it kinda just feels like he's...playing himself? Apparently, it is possible to have too much of Benigni's trademark antics. Benigni's film career has slowed to a crawl since Pinocchio's release.
Charlize Theron: from Monster to Aeon Flux
Charlize Theron followed up her Best Actress win for Monster in 2004 (and another nomination for North Country in 2006) with Aeon Flux — a live-action adaptation of a sci-fi animated series of the same name. The movie was critically panned and Theron hasn't earned any Oscar attention since (though, in my humble opinion, she deserved a nomination for 2011's Young Adult).
Robin Williams: from Good Will Hunting to Patch Adams
This is one of the most epic post-Oscar falls from grace ever. Just a year after the release of Good Will Hunting, a film for which funnyman Robin Williams won an Oscar for Best Supporting Actor in 1998, he went on to star in the sappy, semi-autobiographical film, Patch Adams. Though the movie was a box office success, it didn't fare well with critics. The Washington Post's Stephen Hunter wrote, "There should be a special room in Hell where the makers of Patch Adams are sent." Yeesh. Tell us how you really feel! I tried to watch Patch Adams once, but I couldn't make it past the first 30 minutes. But then again, I think Williams should've won an Oscar for his incredibly moving turn in Mrs. Doubtfire, so...
Natalie Portman: from Black Swan to No Strings Attached
Though Portman had already finished filming No Strings Attached, a romantic comedy co-starring Ashton Kutcher, by the time she won Best Actress in 2011 for Black Swan, it still felt like an odd career move. Unfortunately, No Strings Attached wasn't particularly well-received by critics. However, Friends With Benefits, a movie with a very similar premise that featured Portman's Black Swan co-star, Mila Kunis, fared a little better. I guess Portman just chose the wrong rom-com about friends who like to get it on!
Adrien Brody: from The Pianist to The Singing Detective
Have you ever heard of The Singing Detective? No, me neither — but I've seen some clips of the movie on YouTube, and you guys...it's really bad. An author (Robert Downey Jr.) is severely ill in the hospital when he begins to hallucinate, imagining that various characters from his detective novels have come to life. Occasionally, they sing and dance! Again, Brody had already finished filming The Singing Detective by the time he won Best Actor in 2003 for The Pianist, but talk about bad timing! There's no singing or dancing in the clip above, but it sure does feel like you're watching a student-directed high school play.
Louise Fletcher: from One Flew Over the Cuckoo's Nest to Exorcist II
Relatively unknown at the time, Louise Fletcher was quite the success story when she won Best Actress in 1976 for her portrayal of the domineering Nurse Ratched in One Flew Over the Cuckoo's Nest. Sadly, it was all downhill from there. Fletcher's next film was Exorcist II: The Heretic, an abysmal sequel that paled in comparison to the original. Just listen to that funky '70s music in the trailer — how could anyone take this movie seriously?
Cuba Gooding Jr.: from Jerry Maguire to Boat Trip
Cuba Gooding Jr.'s acting career didn't take an immediate nosedive after he won Best Supporting Actor in 1997 for Jerry Maguire, but when things went south, they really went south. His starring role in 2001's Boat Trip, a movie about two straight buddies who accidentally end up on a gay singles cruise (the horror!), is probably his most embarrassing project to date. The movie holds just a 7% approval rating on RottenTomatoes.com. The Village Voice's Dennis Lim quipped in his review, "The movie improves immeasurably if you visualize a looming iceberg in the corner of the frame."
Helen Hunt: from As Good As It Gets to Pay It Forward
By the time Helen Hunt won Best Actress in 1998 for As Good As It Gets, she had already picked up two Primetime Emmy Awards for her work on NBC sitcom Mad About You. Unfortunately, all of her success and experience couldn't help her see the crappy Pay It Forward for what it really was: a schlocky, melodramatic, and totally manipulative disaster. Apparently, Kevin Spacey couldn't see it, either. He sure knows how to pick 'em.
Ben Affleck: from Good Will Hunting to Gigli, etc.
Ben Affleck made some dubious career choices after winning his first Oscar for Best Original Screenplay in 1998 for Good Will Hunting (Pearl Harbor, for instance), but he didn't really hit his stride until 2003, when he starred in a series of bad flicks, one right after the other: Daredevil, Gigli, Paycheck, Jersey Girl, and Surviving Christmas. For his performances in the first three films, Affleck won a Razzie for Worst Actor. (Don't worry, the Razzies didn't forget about Jersey Girl and Surviving Christmas — Affleck was nominated again for those movies the following year.)
Kevin Costner: from Dances With Wolves to Waterworld, etc.
After winning two Oscars in 1991 for Dances With Wolves (as a producer and the director), Costner just couldn't catch a break. Robin Hood: Prince of Thieves, The Bodyguard, Wyatt Earp, Waterworld, The Postman — take your pick! They were all critical failures. In fact, Costner is still trying to get back in Oscar voters' good graces.
Hilary Swank: from Million Dollar Baby to The Black Dahlia
After winning her second Best Actress statue in 2005 for Million Dollar Baby, Swank took a supporting role in The Black Dahlia — a crime thriller about the grisly, real-life murder of Elizabeth Short (a.k.a. "The Black Dahlia"). Though the film was a financial and critical disappointment, it still managed to score an Oscar nomination for Best Cinematography the following year.
Rachel Weisz: from The Constant Gardner to Fred Claus
Shortly after winning Best Supporting Actress in 2006 for The Constant Gardner, Rachel Weisz tried to have the award revoked by starring in a ridiculous Vince Vaughn comedy about Santa Claus's older brother called, Fred Claus. What was she thinking? Oh, and Kevin Spacey is in THIS movie, too! Why is he always making the worst career decisions? I guess he just can't help himself.
Image: Warner Bros. Pictures