Thor Is Officially A Woman Now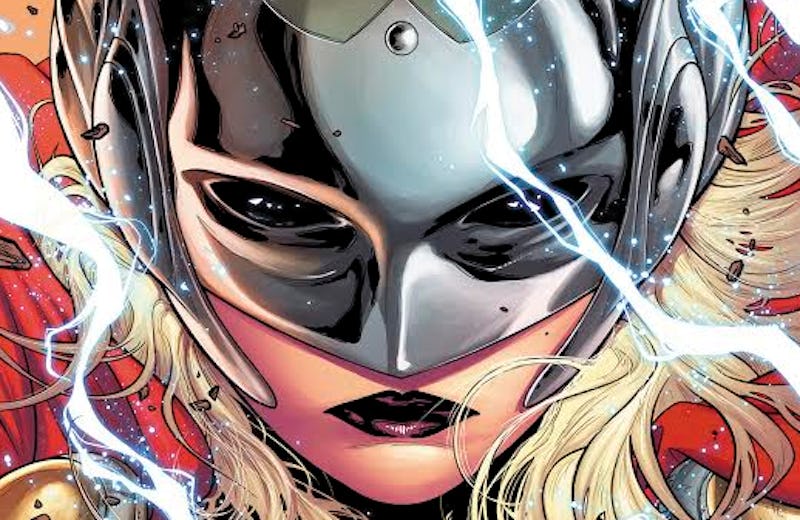 Whoopi Goldberg had some exciting news to share with the world Tuesday during The View: Marvel Comics is officially genderbending Thor. It's a nice little twist to an established comics character, isn't it? Chris Hemsworth is probably safe for now, though, as the change will take place in the comics, not on the big screen.
Marvel sent out a press release Monday teasing that they'd be making a big announcement on The View. The choice of venue — aka a daytime talk show heavily bent towards women — led many to speculate that they might finally be announcing a Black Widow movie, but alas. It should also be noted that they used the word "thundering" in the press release, so we really should have known all along.
So here's what you need to know about the new, female Thor:
While we don't know her exact origins, we do know that this is a woman who will be taking over the title of Thor after the male Thor messes up and is deemed unworthy to continue wielding that famous hammer of his.
She's not being referred to as "Lady Thor," of "She-Thor" or any female suffix like that — she's just Thor. The comic book series starring her will be called THOR and will be written by Thor: God Of Thunder and Thor: Original Sin writer Jason Aaron, with art by Cyclops' Russell Dauterman.
Marvel seems pretty psyched about it, calling the change "one of the most shocking and exciting changes ever to shake one of Marvel's 'big three' – Captain America, Iron Man and Thor." The press release continues on with a quote from Marvel editor Wil Moss (emphasis mine):
The inscription on Thor's hammer reads "Whosoever holds this hammer, if HE be worthy, shall possess the power of Thor." Well it's time to update that inscription. The new Thor continues Marvel's proud tradition of strong female characters like Captain Marvel, Storm, Black Widow and more. And this new Thor isn't a temporary female substitute – she's now the one and only Thor, and she is worthy!
And she looks pretty effing badass, too:
So, yes, there's still no Black Widow solo movie. But this is cool.
Images: Marvel