Ronda Rousey Is A UFC Women's Bantamweight Champion Who Needs An ESPY, Stat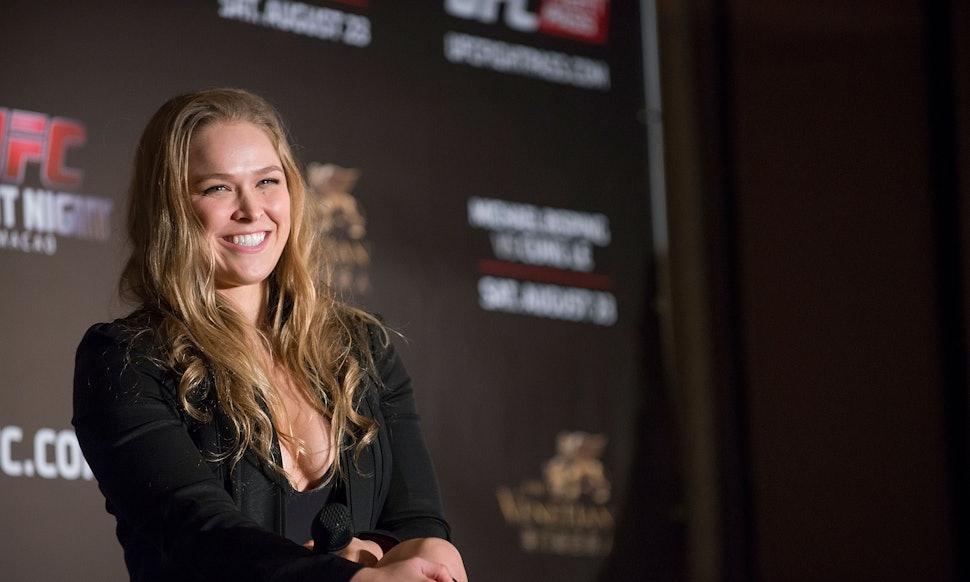 Anthony Kwan/Getty Images Sport/Getty Images
If you watched the 2008 Beijing Olympics, then you probably know the first UFC Women's Bantamweight Champion Ronda Rousey. If you haven't seen or heard of her (do you live under a rock?) it's cool, because she's going to be dominating your TV and the silver screen. At this year's ESPYS, she's up for "Best Female Athlete" and "Best Fighter."
Here's everything you need to know about the champ, Ronda Rousey, before she inevitably takes home the gold at the ESPYs.
She's Undefeated. Bam.
You read that right! Rousey was not only the first Women's Bantamweight Champion, but she also holds the current title. Not to mention she holds the last title for the Strikeforce Bantamweight Champion.
Translation: she is not to be messed with.
She's In Glossy Mags & Big Movies
Rousey will be part of the large ensemble cast of The Expendables 3, which includes big names like Kellan Lutz, Sylvester Stallone, Jason Statham, Jet Li, Mel Gibson, Harrison Ford, Antonia Banderas, and Wesley Snipes. Based on the recent trailer, it looks like Rousey plays the only female member of the new Expendables. Girl Power!
But, wait a minute, don't you dare think this will be the only time Rousey will saunter onto the silver screen. She'll also be making appearances in Fast and Furious 7 and the Entourage Movie with Adrien Grenier.
She Justifies Your Candy Crush Addiction
Ronda spends her spare time like any other American in this country — tapping away at her touchscreen until she beats just. one. more level of Candy Crush. This girl beat level 350, so she's probably just as addicted as you are.
She Was Kind Of A Child Prodigy
She not only competed on the Junior Olympic team, but at age 17 she was youngest judoka at the 2004 Olympic Games in Athens. Later that year in Budapest, Rousey won a gold medal at the World Junior Judo Championships. To top it all off, at 19 she won the bronze medal at the Junior World Championships for Judo. Damn, girl.
She Had Beef With Kim Kardashian For a Minute
At the wrap party for the ESPN Body Issue, which our girl was featured in, Rousey put Kim Kardashian on blast. When one reporter asked her what celebrity she disliked the most, Rousey fired a few shots at Mrs. West: "You know what, I would beat the crap out of Kim Kardashian actually. Any girl who is famous and idolized because she made a sex video with some guy and that's all that you're known for, 'Oh, I got my fame for [expletive],' I think it's pretty stupid, sorry, but it's true."
Rousey went on to say that Kardashian wasn't a good role model and that she'd be more suited to selling lubricant than shoes. A little harsh, Rousey. Since then, she has shied away from the trash talk and is focusing more on being a positive role model to young women.
She Wins, And She Wins Quickly
Rousey's got quite the record thanks to a fight with Alexis Davis. In the ring, she administered a brutal KO to Alexis Davis in 16 seconds flat. Davis, who had been fighting professionally for seven years, was thought to be good competition for Ronda, considering her Brazilian jiu-jitsu black belt background. But it seems nothing can stop our girl Rousey.