'You're The Worst' Is Your New Comedy BFF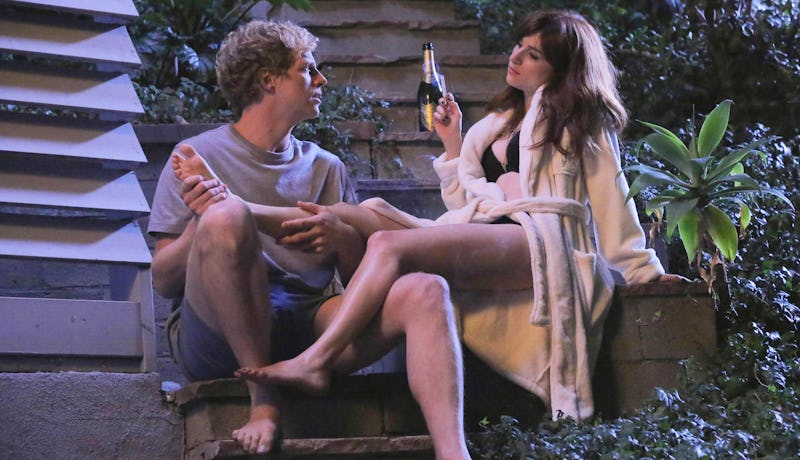 FX is joining HBO and Netflix, breaking the network TV mold by premiering a whole slate of new shows this summer, instead of padding the schedule with reruns and the X-Men movies. The cable network's promising, raunchy new comedy You're the Worst follows Aya Cash and Chris Geere as Gretchen and Jimmy: two single, misanthropic twenty-something struggling professionals in Los Angeles who get into bed together to distract themselves from the frustrations of the rest of their lives. The cast is filled out with experienced actors who for some reason have never broken out, from Cash and Geere to Desmin Borges and Kether Donahue as their respective BFFs.
You're the Worst is an inside-out romantic comedy, where the characters constantly try to out-match one another's dispassion. It's a friends-with-benefits arrangement where they aren't really friends. But unlike other attempts at this kind of show, like HBO's How to Make It in America and MTV's I Just Want My Pants Back, You're the Worst looks like it has some charisma and chemistry between the two leads. Meaning, the sex is good, and it's the thing that keeps them coming back to one another. To their credit, FX seems open to including actual sex scenes, something rarely found outside of HBO.
You're the Worst was created by a former Orange Is the New Black writer, Stephan Falk. Falk was also unlucky enough to create the Dane Cook vehicle Next Caller, but Falk explained how he saw it as more complex than just a joke machine for a bad stand up comedian in a confessional Tumblr post. But while the Next Caller pilot was mediocre, his work on OITNB and Weeds hopefully proves he's committed to telling stories about nuanced female characters, not lame Dane Cook jokes. I mean, he wrote the Valentine's Day episode from OITNB season two. He wrote this, dammit:
(He also really likes posting cat GIFs. Good guy. All Dane Cook offenses forgiven with those cute moving images, Falk.)
More to the point, his experience writing some of the best female TV characters and his surface similarities to Geere's character (Geere is a somewhat pessimistic writer) mean that hopefully both leads will be well written and relatable. The only problem is the title, because it doesn't sound much like verbal sparring and romance. Instead, it calls this to mind:
But beyond that, it looks like You're the Worst is filling a niche no one else is. It captures the contradiction of being an adult without being mature. And its focus on the strangeness of Internet age dating instead of friendship helps distinguish it from Girls.
If you don't have a summer relationship, but want a show that captures some of that sweaty, funny, bored, and vulnerable energy, You're the Worst is your best option.
Image: FX Networks; Stephen Falk/Tumblr; Youtube (2)