Selena's New Tattoo Has a Great Message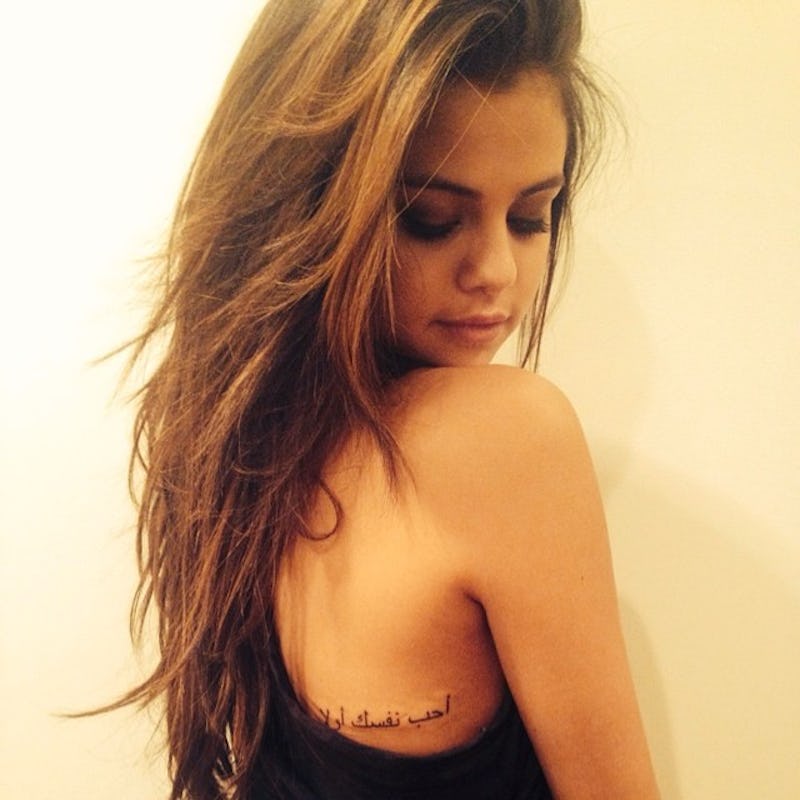 Turns out, Selena Gomez's time in NYC wasn't just spent eating amazing food and wearing amazing clothes and probably making Justin Bieber extremely jealous — she also got some new ink. As depicted in photos debuted by the artist on E! Online, Selena Gomez got a new tattoo in Arabic from tattoo artist Bang Bang McCurdy in NYC about a month ago — and, apparently, "she had been wanting this one for a while."
So, what's it say? Personally, I can't read Arabic — I'm Iranian and can't even read Farsi, so that should tell you enough about my knowledge of reading the Perso-Arabic script — but according to McCurdy, the tattoo translates to "Love Yourself." And, according to some Arabic-reading users on Oh No They Didn't! , this luckily isn't a case of a tattoo in a foreign language that was poorly translated, which seems to be a common occurrence (sorry, Hayden Panettiere) — the true translation of Gomez's tattoo is "Love Yourself First."
"She loved it; she flipped out," McCurdy explained of Gomez's reaction to the tattoo.
I actually think this was a great decision on her part. The tattoo does look good, if the Instagram picture McCurdy posted of the art is any indication, and "love yourself first" is a phrase that Gomez should really try to remember after the year she's had, and, most importantly, after that whole on-again, off-again...on-again again, off-again again thing she's had going with Bieber for years now.
Hopefully, this tattoo is a sign Gomez is taking steps to put herself first; no one else, and especially not Bieber. And if not, well — it's tattooed on her body now, so she's gonna be reminded of it a whole lot anyway.
Image: bangbangnyc/Instagram