IKEA Has an Adorable New Ad Campaign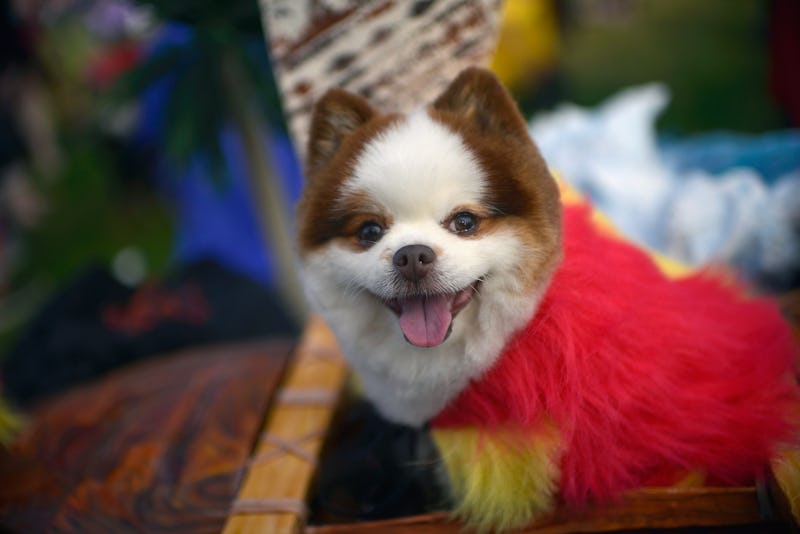 Chelsea Guglielmino/Getty Images Entertainment/Getty Images
Have you ever wandered down the aisles of a gargantuan IKEA store, filled with ergonomic chairs and fashionably minimalistic lamps and sofas with names like Klippan and Söderhamn, and thought, "You know what would make this scene perfect? A dog."
...OK, I haven't either. (But this is mostly because that thought forms a natural caboose to anything I think or say, since I'm dog-obsessed.) However, that thought did occur to the furniture company itself. IKEA has partnered with pet rescue charity Home for Hope in order to get more animals to safe, loving homes. Starting in two stores in Singapore and Tempe, Arizona, the company has begun including cardboard cut-outs of real dogs in their furniture displays.
Each display features a life-size cardboard figure of a homeless canine or feline, with a QR code so that shoppers can pull up information about potential pets on their phones. All the animals advertised in the Singapore and Tempe stores have already been adopted, which is a sign that this may be a great way to increase pet adoption rates. Becky Blaine, Ikea Tempe's marketing director, says that the decision has been perfect for both IKEA and the dogs. "We thought it was a perfect way to show people what their home would look like with pet in it," she told Business Insider.
Here are some pics of the adorable pups that quickly found their forever homes:
Home for Hope wrote the following statement on their website:
"With a limited budget, most animal shelters can only afford to voice their message using social media. Problem is, their followers are pet lovers, and most already own pets. Hence, adoption rates are low. A collective project with IKEA...will provide much-needed exposure for the homeless pets."
Although stepping foot in IKEA can wear me out faster than a 3-year-old on sugar, this is the sort of idea that would get me into their stores. Advertising gimmick or not, I don't care — I'm all over anything that has to do with helping homeless animals, and I suspect I'm far from the only one.
IKEA will be expanding the campaign to other American stores, although we don't know which ones yet. If you have an IKEA near you, though, keep your eyes peeled. And if you're like me and the nearest IKEA is impossibly far away (Mom? Mom, are you reading this? You better be, because two hours is way too far to drive to look at new living-room furniture), here are some totally adorable pictures of patriotic dogs and Easter bunny dogs in the meantime.
Images: Home for Hope (3)