7 Ways To Choose The Best Sunscreen For You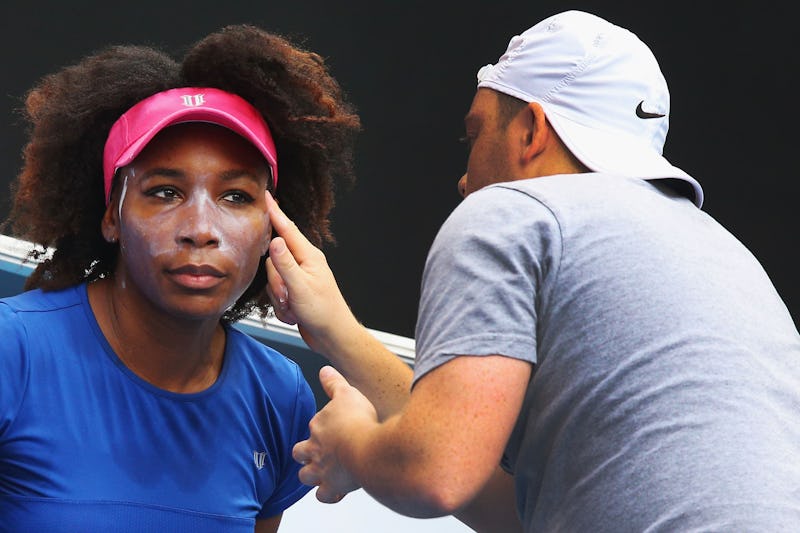 Michael Dodge/Getty Images Sport/Getty Images
Gone are the days when you were told you only needed to use a sunscreen when hitting the pool or the beach: Research now suggests that daily sunscreen use is important not only to prevent against skin cancer but also skin aging. So that makes your sunscreen purchases as important as your daily foundation, if not more. With a world of options out there, here's how to choose the best one for you.
By The Level Of Protection
Your sunscreen should be broad spectrum, meaning it covers both UVB and UVA rays, says La Jolla-based dermatologist Craig Kraffert. "It should have an SPF of 30 or higher," he explains. "SPF 50+ is the highest recognized by the FDA, so be cautious of any products with an SPF greater than 50+."
By Your Lifestyle
"Like all skincare products, the three key attributes of sunscreen are pleasant use experience, positive aesthetic result, and functional ability," he says. Of course, the emphasis with sunscreen is mostly on the last point, but Kraffert says the first two characteristics shouldn't be overlooked. For example, if you're going to be in the water for most of the summer, you need a water-resistant option. "This is important if swimming, excessive perspiration, or repeated wiping of exposed skin is likely," he says.
By The Texture
No one likes sunscreen that leaves a white film or has a chalky texture. "You're looking for a lack of greasy texture or stickiness," Dr. Kraffert explains. "The semi-matte finish options are virtually invisible but provide a subtle aesthetic improvement." Try this semi-matte sunscreen for a light, quick drying effect.
Amarte Ultra Veil Ultra Light Sunscreen, $56, Dermstore
By The Feeling
A good sunscreen should feel as if it absorbs quickly into the skin, says NYC-based dermatologist Jeannette Graf. Dr. Kraffert agrees, adding that the feel of your sunscreen should make applying it a pleasurable daily ritual. "There should be an immediate absorption without visual or tactile residue," he says. "There shouldn't be any stickiness, greasiness, or shininess, and [it should] not cause any clogged pores, acne, or rashes."
By Skin Type: Oily or Acne-Prone Skin
It's time to switch to a lighter or gel-based sunscreen, says Dr. Graf. "Gel formulations tend to have a lighter texture and work well with oily skin. Ingredients like zinc oxide can help with acne-prone skin." Dr. Kraffert warns that with oilier skin types, trial and error of several products may be required. "Many mass market sunscreens use an ingredient called homosalate," he adds. "This is often used in large percentages and can contribute to a heavy or greasy product feel. It may be better for those with breakout tendencies to avoid formulations containing it." Try Dr. Graf's pick for acne-avoiding sunscreen.
EltaMD UV Clear Broad-Spectrum SPF 46, $26, Amazon
By Skin Type: Dry Skin
If your skin is constantly crying out for moisture, the best thing to do is apply your preferred moisturizing products to your skin before sunscreen, says Dr. Kraffert. Contrary to popular opinion, a spray-on sunscreen isn't necessarily a better choice for dry skin types; they tend to be alcohol based and therefore can dry your skin out further. "Spray sunscreens are also under FDA scrutiny because they do not deliver the degree of SPF protection indicated on the label and may create hazards such as breathing problems and asthma attacks," says Dr. Kraffert.
By Skin Type: Rosacea, Allergy Prone Or Sensitive Skin
Mineral sunscreens with active ingredients like zinc oxide tend to be less irritating to reactive skin types, says Dr. Graf. Plus, "Sun exposure tends to worsen rosacea so sunscreen is beneficial for those individuals," adds Dr. Kraffert.
Some people, however, react to any type of sunscreen put on their skin. "True allergies are related to an allergic response to one of the ingredients, but allergies to zinc oxide and titanium dioxide are extremely rare," Dr. Kraffert says. "With the help of a dermatologist, sufferers can identify their particular problem ingredient and begin to select from products that don't contain it."