The Best Ice Cream in America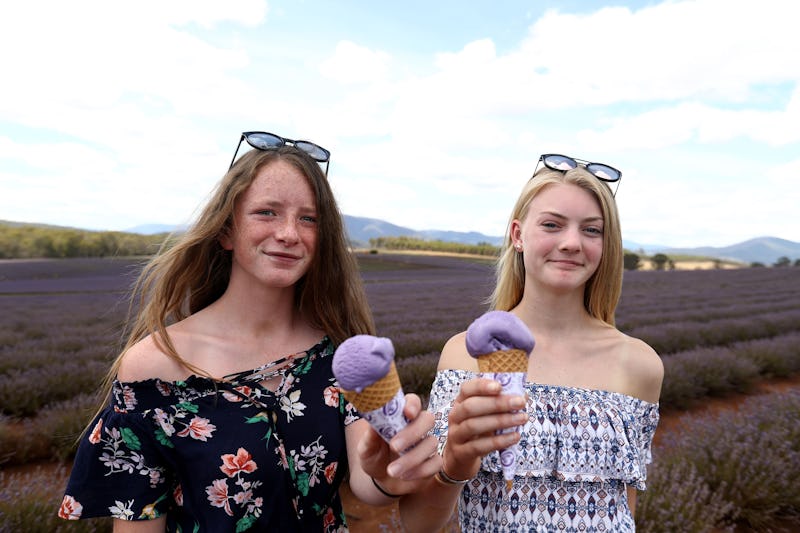 Robert Cianflone/Getty Images News/Getty Images
Rest in peace, Mister Softee. Au revoir, Good Humor. Big Dipper cones, Oreo sandwiches, Jolly Rancher snow cones: You were good to us. How sad it is to admit that the ice creams you obsessed over as a kid — back when you didn't know better and had barely a taste bud on your tongue anyway — aren't actually all that good. It's sad to think about, that is, until you've have a lick of new class of ice creams currently taking over the world of frozen desserts.
Bidding American-flag popsicles adieu doesn't seem so bad when there's buttermilk chai, whiskey brickle, and pear and blue cheese — to name only a few flavors — to be had. If there's anything that can make adulthood sweet, it's ice cream that combines booze with foods you're always too broke to buy.
Here, we look at 10 of the most advanced ice cream shops in the country. Your traditional neighborhood parlors they are not: These ice cream pros combine haute culinary chops, environmental science, and, very often, a remarkable amount of wit to set themselves apart. Meanwhile, the most important thing — the flavors — remain supreme. Sweet, savory, sci-fi-esque: No mixing stone has gone unturned in the search for original flavor.
So kiss your freezer-burned, jingle-announced ice creams of old goodbye. When it comes to frozen treats, there's never been a better time to be a grownup.
10. Sweet Republic, Scottsdale, Arizona
It would seem that in Scottsdale, where temperatures customarily reach into triple digits, people might take whatever ice cream they could get, no matter the degree of its eco-consciousness or the heaviness of its carbon footprint. But the city's Sweet Republic ice cream shop has gone the extra green mile, and won sizable acclaim for its efforts. Nearly all of its furniture and materials are made from recycled material, and the ice cream consists entirely of whole ingredients, with zero artificial ingredients added. And, unlike some food whose biggest selling points is its earth-friendliness, the stuff tastes fantastic. Take, for instance, the Ultimate Sweet R Sundae: "4 scoops of Vanilla and Chocolate on 1/4-lb choc chip walnut oatmeal cookie with brownies, almond toffee brittle, hot fudge, salted caramel sauce, whip [and] roasted marshmallow." Mother Gaia, eat your heart out.
9. Cloud 10 Creamery, Houston, Texas
The name Cloud 9 wouldn't have done this place justice, it seems. Launched by a former pastry chef, this ice cream shop offers a rotating selection of elegant flavors, such as buttermilk chai and sesame oil and milk. But this is Texas we're talking about, and it's therefore reasonable to assume that Cloud 10's famously mammoth banana split is the true reason this shop has become one of the most renowned ice cream destinations in the state.
8. Bubbies Ice Cream, Honolulu, Hawaii
Possibly the only way to improve upon ice cream is by sealing it inside a skin of flavored, chewy dough. Sound gross? Then you've never had mochi. And you've definitely never had the mochi on offer at Bubbies Ice Cream in Honolulu. With 20 flavors available, including Li Hing Mango and Tiramisu, the shop should be a mandatory pilgrimage site for every fan of the Japanese-style ice cream treat.
7. Sweet Action Ice Cream, Denver, Colorado
Ice cream and wind. Not an obvious marriage. But at this one-hundred-percent wind-powered ice cream shop in Denver, Colorado, the two pair beautifully. The flavors on offer at this shop capture all the conflicting strains of Denver culture: Some of the hoity-toityess with the Saigon Cinnamon; the health-nuttiness with the Vegan Lemon Poppy Seed; the bro-y-ness with the Stranahan's Whiskey Brickle; and even the stonerism with the Cookie Butter Oreo (munchies heaven, methinks). With such wide appeal, and a message of eco-friendliness to boot, it's no wonder this spot is one of the Mile High City's most popular frozen treat meccas.
6. Big Gay Ice Cream, Manhattan, New York
Imagining how a rainbow-adorned storefront might have been received twenty years ago — and seeing what a hoot it's become become with locals and tourists today — could almost brings tears to one's little pride-marcher eyes. Come to Big Gay Ice Cream to feel proud indeed, but stay for out-of-this-world soft serve. With locations in the East and West Villages, and flavors like like Salty Pimp, Bea Arthur, and Mexican Affro'gay'to, Big Gay Ice Cream is one of the few ice cream shops that's legitimately spreading world peace with sweets.
5. Glace Artisan Ice Cream, Kansas City, Missouri
This is an ultra-haute ice cream shop, right in Kansas City. The flavors speak for themselves: Fresh Mint, French Lavender, Fleur de Sel Caramel — and those are just the flavors that start with F! The best part: All the ice cream is made with locally-sourced, good ol' Midwestern dairy.
4. Salt and Straw, Portland, Oregon
Though any Joe Nobody can enjoy the ice cream at Portland's Salt and Straw, the shop's offerings seem targeted at those with PhDs in frozen goodness. The original line of flavors was created at OSU's Food Innovation Center, and all ingredients are locally sourced (or, to use the shop's phrase, "farm-to-cone"). The flavors sound like they could be titles of Porlandia episodes: Bourbon Coffee, Pear with Blue Cheese, Goat Cheese Marionberry Habanero. Highbrow to a fault? Perhaps. At the end of the day? Damn good.
3. Creole Creamery, New Orleans, Louisiana
Decked out like a mid-century ice cream parlor — complete with black-and-white checker tile and a pink neon sign — this ice cream shop in New Orleans serves a rotating selection of avant-garde flavors, including Turkish Delight and Sweet Potato Sassafras Praline. But it's the classic scoop, Creole Cream Cheese, that solidifies this shop's standing as a local favorite with a palpable connection to the past.
2. Bi-Rite Creamery, San Francisco, California
Bi-Rite, located on 18th Street in San Francisco's Mission District, has only been around since 2006, but the Dominique-Ansel-grade lines that form outside of it daily have already become a fixture of the neighborhood. What's all the fuss? The insane flavors, of course: Green Tea with Mizuba Matcha; Hazelnut with Askinosie Cocoa Nibs; Brown Sugar with Ginger Caramel Swirl. Never have the earthiness of the Haight-Ashbury sixties and the over-braininess of the Silicon Valley aughts seem so well-matched. Thrillist recommends doing the "trifecta": "A scoop each of their iconic salted caramel, brown sugar with ginger caramel swirl, and malted vanilla with peanut brittle and chocolate."
1. Ample Hills Creamery, Brooklyn, New York
There is just no messing around at Ample Hills in Brooklyn. The creamery, which just opened a second location in Gowanus, serves new flavors every day, each of them raising the creativity bar as far as the eye can see. Recent flavors include Peppermint Pattie, Ooey Gooey Butter Cake, The Munchies, Mexican Hot Chocolate, and Salted Crack Caramel (a favorite staple). To celebrate the opening of the Gowanus location, they even engineered a flavor called It Came From Gowanus (New York's hazardous canal). The ice cream was dark chocolate, and included "surprise mix-ins." The cone was black. Ample Hills: delicious and witty.