5 Seriously Dirty Historical Love Letters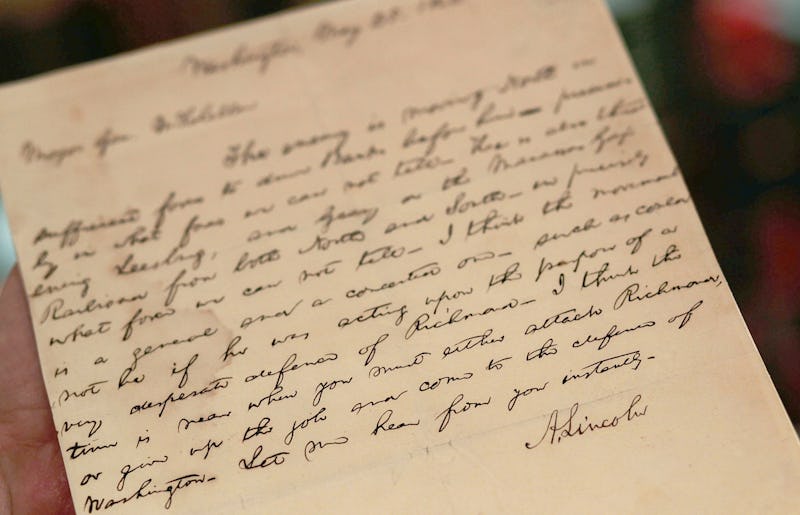 Chris Hondros/Getty Images News/Getty Images
I've had a long list of HFILFs — that's Historical Figures I'd Like To et cetera — since 11th-grade AP U.S. History, so I was inordinately delighted with The New York Times Magazine's recent exposé of Warren G. Harding's love letters. Would that they were Alexander Hamilton's instead!
I've been creepily combing the web for sexy historical-ish love letters (and excerpts) since the Times story came out. I figured that if I share them with you, it's like I've been doing it for journalism the entire time or something. Here are my top nerdy, dirty, sooooo NSFW picks:
1. Charles Bukowski to Linda King
I love this old xoJane story on dudes who essentially walk around this earth, jacking off to mopey, misogynistic Bukowski. But this? This might actually be J.O. material. Via FlavorWire:
"everything you do gets me hotter than hell…. throwing clay against the ceiling… you bitch, you red hot shrew, you lovely lovely woman [...] I love you, your pussy hairs I felt with my fingers, the inside of your pussy, wet, hot, I felt with my fingers; you, up against the refrigerator, you have such a wonderful refrigerator, your hair dangling down, wild, you there, the wild bird of you the wild thing of you, hot, lewd, miraculous [...] we were in Burbank and I was in love, ultramarine love, my good god damned goddess, my goad, my bitch, my my my my beating breathing hair-lined cunt of Paradise, I love you… and your refrigerator, and as we grabbed and wrestled, that sculpted head watching us with his little lyrical cynical love-smile, burning…
I want you,
I want you,
I want YOU
YOU YOU YOU YOU YOU YOU!"
Like, I don't know. I maybe would.
2. Sid Vicious to Nancy Spungen
Obviously, this letter was written before the Sex Pistols musician allegedly murdered Nancy in 1978. Via Co.Design:
"What Makes Nancy So Great By Sidney
1 Beautiful 2 Sexy 3 Beautiful figure 4 Great sense of humour 5 Makes extremely interesting conversation 6 Witty 7 Has beautiful eyes 8 Has fab taste in clothes 9 Has the most beautiful wet pussy in the world 10 Even has sexy feet 11 Is extremely smart 12 A great Hustler"
Priorities: a good sense of humor, then pussy, then smarts. Good to know.
3. Frida Kahlo to Diego Rivera
This lyrical note captures one of the sweeter moments between the two Mexican painters, whose relationship was notoriously volatile. Via BrainPickings:
"Nothing compares to your hands, nothing like the green-gold of your eyes. My body is filled with you for days and days. you are the mirror of the night. the violent flash of lightning. the dampness of the earth. The hollow of your armpits is my shelter. My fingers touch your blood. All my joy is to feel life spring from your flower-fountain that mine keeps to fill all the paths of my nerves which are yours."
What do you think — is my mind in the gutter, or is this just a teensy bit salacious?
4. James Joyce to Nora Barnacle
Celebrated modernist author and scatology enthusiast James Joyce has a few thoughts he would like to share with his muse and wife. Via Buzzfeed:
"At such moments I feel mad to do it some filthy way, to feel your hot lecherous lips sucking away at me, to fuck between your two rosy-tipped bubbies, to come on your face and squirt it over your hot cheeks and eyes, to stick it up between the cheeks of your rump and bugger you."
Not necessarily loving the Jewish moniker for "grandmothers" as a substitution for "breasts," TBH.
5. Georgia O'Keeffe to Alfred Stieglitz
I love how famed vag-painter O'Keeffe used dashes in this letter to her husband (an illustrious photographer himself). Such a sense of urgency! Via Yahoo Shine:
"Dearest — my body is simply crazy with wanting you — If you don't come tomorrow — I don't see how I can wait for you — I wonder if your body wants mine the way mine wants yours — the kisses — the hotness — the wetness — all melting together — the being held so tight that it hurts - the strangle and the struggle."
His body for sure does, G. Whew.