These Flags Are Still Baffling Everybody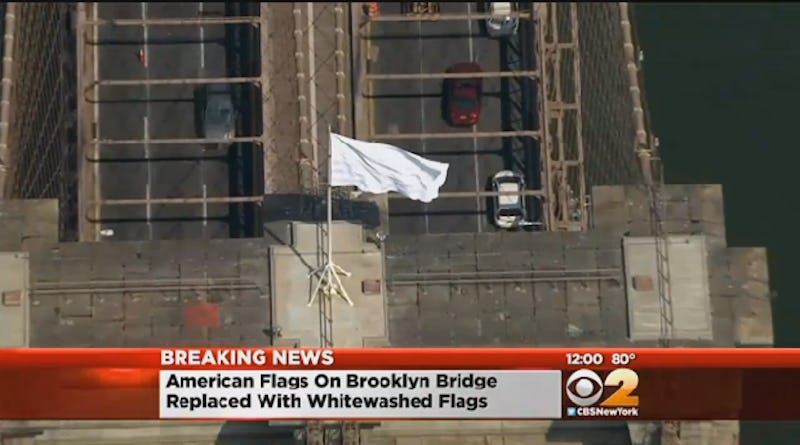 Once upon a time, there were two American flags flying atop the Brooklyn Bridge. And by "once upon a time," I mean until Tuesday, when these two flags were surreptitiously replaced by two white flags on the Brooklyn Bridge, and nobody — not even the authorities — knew why. The banners were flying above the 273-foot towers on the bridge by sunrise. New York City police officials said that a group of four to five people were caught on video atop the bridge shortly before the two white flags appeared.
Moving quickly to solve the mystery, cops at the crime scene said immediately there were no reports of suspicious activity, so at least we were able to scratch that off of the list. And although white typically symbolizes surrender, I'm pretty sure that New York City was not "surrendering" from anything. John Miller, the city's deputy commissioner for intelligence and counter-terrorism speculated that this incident may be somebody's art project, or an attempt to make some kind of statement. However, he told Fox News, "But it's not clear what that statement is."
As the flags were removed from the poles shortly afterward, another thing became apparent — the previous American flags were just painted over in a white color, as police reported seeing faint traces of stars and stripes. After viewing the security footage, Miller announced at a press conference that the perpetrators brought aluminum pans to cover up the lights.
Additionally, he revealed that there is a an Instagram user with the handle "Last Suspect" who identified the flags as bleached and insinuated that he may be responsible for the incident. This user briefly used an image of what appears to be a bleached flag as his Instagram avatar, and posted this photo to his page.
Another Instagram user, Matt Doscher, posted an image of a bleached flag today. In a since deleted post, "Last Suspect" began the comment thread writing, "2 see last nights adventure in detail look at @mattdoscher feed."
Apparently these two users never learned that what you put on the Internet stays on the Internet. Forever.
So, lets see — in spite of the 24-hour NYPD camera feed from the bridge and the fact that more than 120,000 vehicles, 4,000 pedestrians, and 3,100 bicyclists cross the bridge everyday, and the fact that we still don't know exactly who is responsible for the stunt — this incident is really just one big mystery.
And nobody is laughing. Brooklyn Borough President Eric Adams issued a statement to CBS New York on Tuesday.
If flying a white flag atop the Brooklyn Bridge is someone's idea of a joke, I'm not laughing. The public safety of our city is of paramount importance, particularly our landmarks and bridges that are already known to be high-risk targets. We will not surrender our public safety to anyone, at any time. Political and social expression, whatever its message may be, has a place in our society, but not at the expense of others' security.
And then of course, this parody Twitter account spoke out.
Images: Mark S. Weprin, Bike Lobby/Twitter, Last Suspect/Instagram, CBS