Things Get Creepy In The 'Honeymoon' Trailer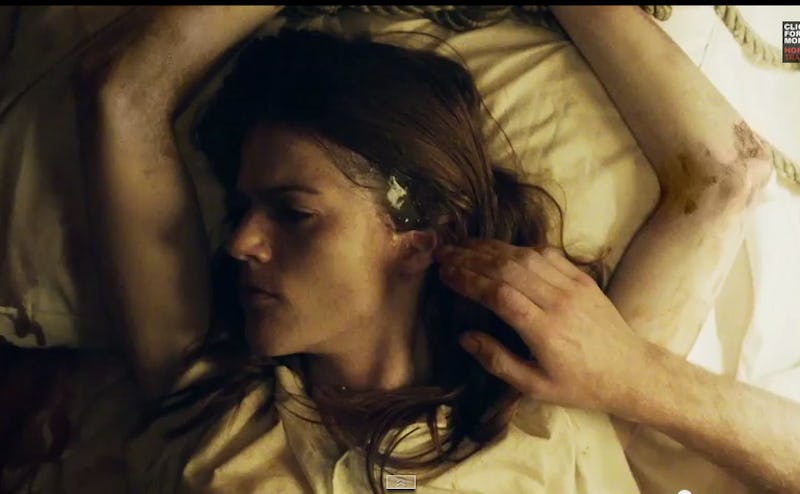 Rose Leslie plays some pretty unlucky characters, don't ya think? Ygritte on Game of Thrones suffered a tragic fate, and now, in the trailer for Honeymoon , Leslie plays a woman whose honeymoon goes creepily awry. The movie looks eerie as hell, but it's definitely nice to see Leslie on the big screen and in a starring role...even if it does seem like she's getting the body snatcher treatment here.
The movie, which achieved success at SXSW and the Tribeca Film Festival, focuses on Bea and Paul (Harry Treadaway of Penny Dreadful), a young couple who are going on, as the movie's title suggests, their honeymoon. But sexy times in Hawaii it ain't! They decide to do so at Bea's family cabin in the woods — and you know the trip is going downhill from there. Bea starts going out into the woods and coming back a changed woman — but not in the good way. She's oozing weird fluids, not remembering things, and pretty much transforming into some kind of otherworldly creature. Damn, this fate might be worse than Ygritte's!
Back after the movie made its way around the festival circuit, The Hollywood Reporter said that while the movie was far from perfect, it did indeed have some sincerely creepy moments. You can decide for yourself when the movie hits theaters on September 12, but for now, you can check out the trailer below.
Image: Horror Addict/Youtube