OITNB Is Making Orange Jumpsuits Too Popular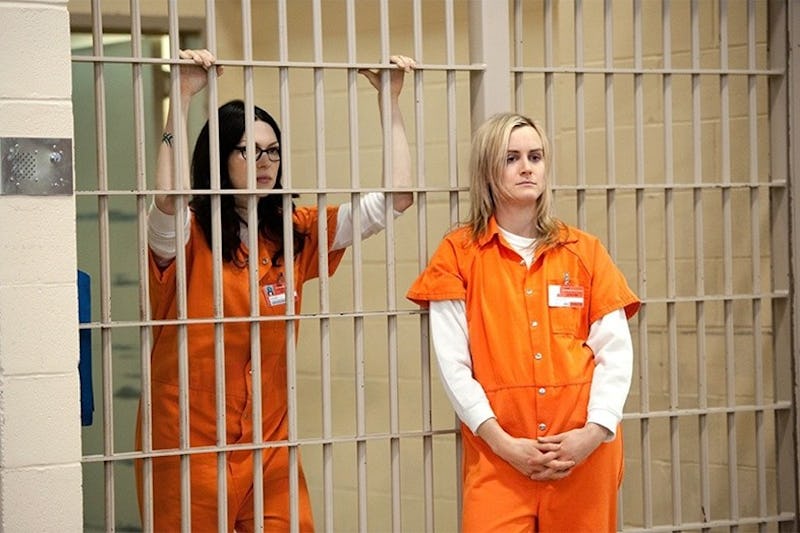 If the idea of an orange jumpsuit has become more appealing to you since binge-watching Orange is the New Black, know that you are definitely not alone. According to local Michigan news outlet MLive, a Sheriff from Saginaw county has decided to transition inmate attire back to the traditional black-and-white-striped print because OITNB has made the all-orange jumpsuit too "cool."
Sheriff William Federspiel told MLive that the popularity of the orange jumpsuit has created a larger problem, especially when the inmates are out in public doing work. "It's because as you see shows on television, like Orange Is The New Black, some people think it's cool to look like an inmate of the Saginaw County Jail with wearing all-orange jumpsuits out at the mall or in public. It's a concern because we do have our inmates out sometimes doing work in the public, and I don't want anyone to confuse them or have them walk away."
This is a pretty smart move on Federspiel's part since jumpsuits in general are experiencing a huge resurgence this season. While most of them are form-fitting, I could see how this could potentially be confusing or problematic when inmates are doing whatever they do at the mall.
Federspiel felt it was best to revert back to the iconic print because "it signifies 'jail inmate,' and I don't see people out there wanting to wear black-and-white stripes." I hate to break it to you, Sheriff, but black and white horizontal stripes are always en vogue.
According to Federspiel, the inmates have been very vocal about their disdain towards their new jumpsuits, to which the Sheriff responded, "Too bad. Don't come to jail." I actually think the black and white print is much more flattering than orange and that the whole look is kind of retro-chic — but that might just be me.
Image: Orange is the New Black/Netflix