Petra Collins Warby Parker Lookbook is Romantic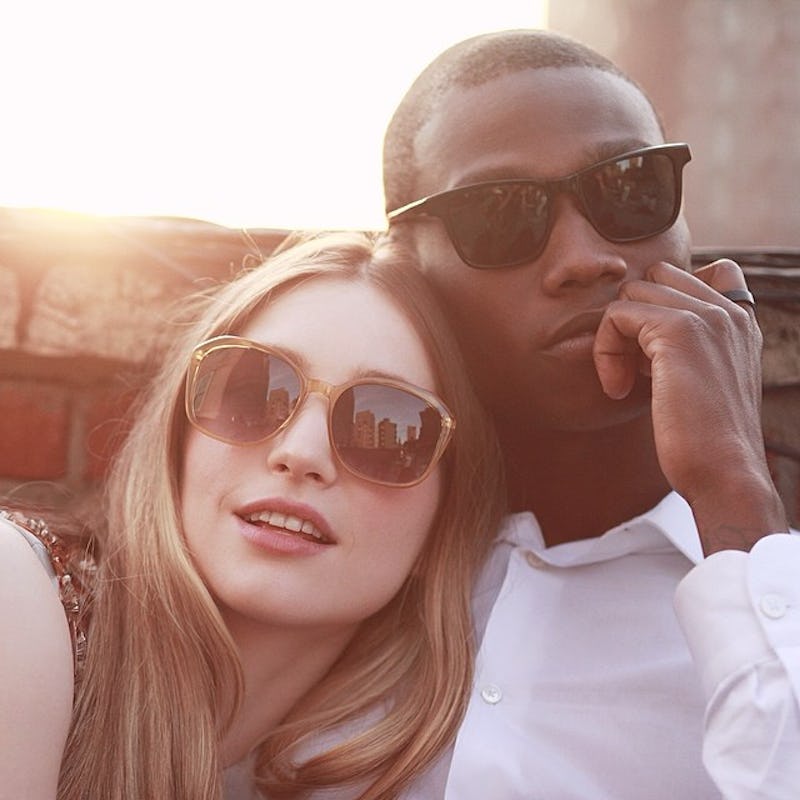 As a long-time eyeglasses wearer, I couldn't be happier that being a "four eyes" is now pretty damn chic. Warby Parker, the hipster-cool glasses brand loved by Brooklyn-dwelling writers and celebrities like Karlie Kloss alike, has been no small part of this eyewear revolution. The company released the Beacon collection, available today, along with a dreamy lookbook shot by Petra Collins.
While the glasses in the collection are amazing (I want all of them), it's the Collins-shot lookbook that really steals the show. The images follow a young couple, both stylishly dressed, traipsing through Manhattan on a date worthy of an indie rom-com. They pose together on a roof at sunset, eat lo mein at a low-key Chinese spot, snack on pastries at a cafe, and gaze lovingly up at one another from beneath a bundle of balloons. Glasses aren't just for nerds — they're for fashion-forward romantics, too!
The Beacon collection includes four new frame styles — McKee, Nancy, Ingram, and Garrett — each available for $95 for non-prescription and $150 for prescription. Ingram and Garrett come in both men and women, so you and your artsy-fartsy boyfriend can sport matching frames on all of your Instagrammable city adventures!
But really, who looks this good while slurping noodles and trying not to lose your grip on the chopsticks?
Images: Warby Parker