You Can Now Summon Bill Murray With Ice Cream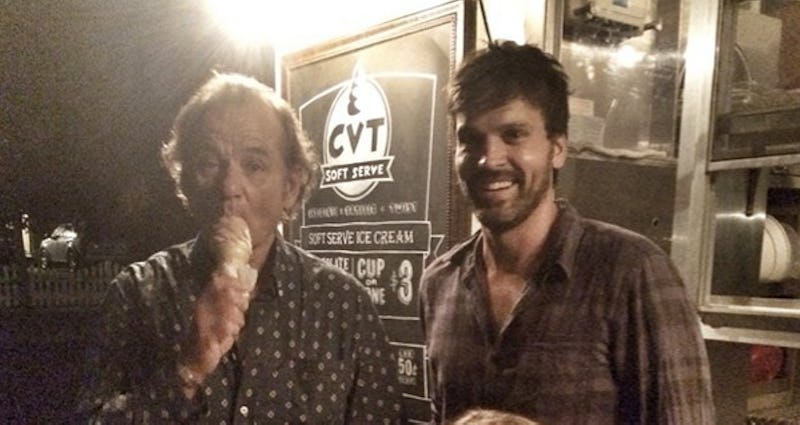 Maybe he took a page from Robert De Niro (or himself), or maybe he was just craving ice cream in the middle of July, but Bill Murray has shown up somewhere unexpected again. Somewhat ironically, that somewhere was a Bill Murray ice cream social. Actual Bill Murray included!
The social was facilitated by a man named Joe, who lives in Los Angeles and owns CVT Soft Serve. He, like many resourceful Los Angelenos, apparently has a skill set that includes luring movie stars to his business. Hearing that Murray was shooting a movie in his neighborhood, Joe did some lighthearted business manipulating and set up a social nearby. As he told Gawker:
I decided to throw a 'Bill Murray Ice Cream Social' near set with the hope that he'd show up. How often do you get to meet your idol? I invited the entire neighborhood and the cast and crew of the film for free ice cream. Long story short, the guest of honor made it to the party and the rest is history. Like my dad always says 'You'll never dance with the pretty girl unless you ask.'
And hey, it worked! Bill Murray showed up!
Given that Murray is now famous for showing up places you wouldn't necessarily expect him to — weddings, bachelor parties, stealing your fries at a diner, etc. — we can no doubt expect some copy-cat efforts in the near future of people attempting to lure Bill Murray to their activities.
I would like to nip that in the bud right now.
It won't be as fun if everyone can meet Bill Murray all the time. It just won't be special anymore! For us or for Bill Murray. We as a society must use these powers wisely.
But I'll allow it for ice cream. And if Bill Murray ever feels like stopping by the West Hollywood coffee shop I work from most days, I'd be totally game.
Here is Bill Murray eating ice cream:
Again:
It's a pretty great marketing move for CVT Soft Serve, you gotta give 'em that.
Images: CVTSoftServe/Instagram