15 Instagram Pets Who Live For Fashion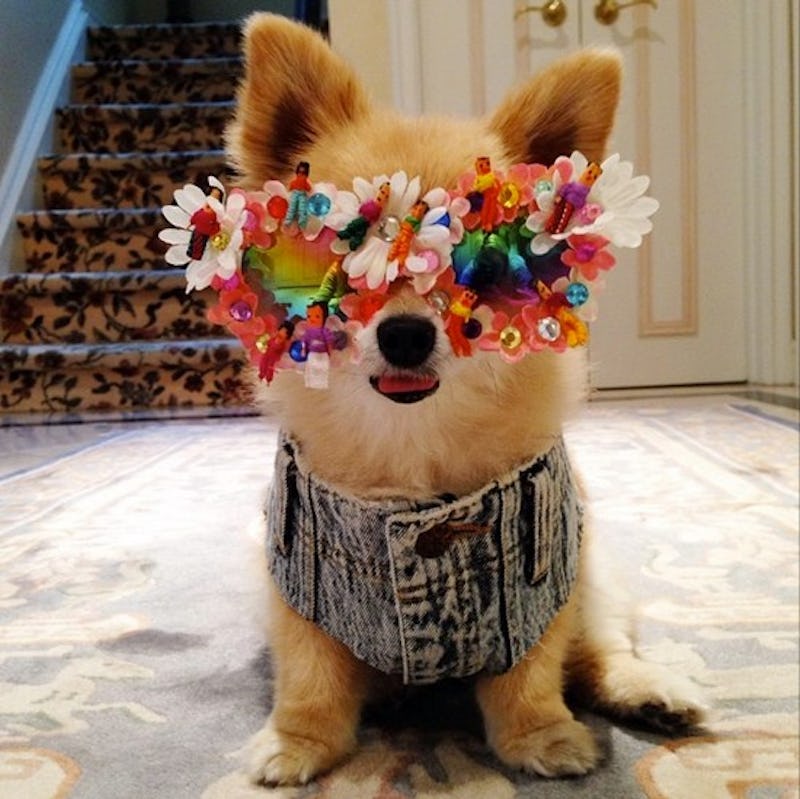 Scrolling through all those fashion bloggers and models clogging up your Instagram feed can grow tiresome day after day. It's not that you don't love gawking over their enviable ensembles and breathtaking accessories, it's just, well, it can get super annoying and underwhelming at times. The same poses, the fabulous shoe shots, the dressing room selfies — you could use a bit of a break from it all. But before you become too jaded with Instagram's fashion community and take a total social media detox, perhaps you should consider this other lesser-known populace of fashion-loving creatures — pets. Some would prefer to call them accessories themselves, but I like to think of them as chic mini models. If you have yet to discover the world of Instagram's fashion pets, prepare to be enlightened.
From Frenchies with "It" handbags to Persian kittens dressed in Chanel jewels, these four-legged furshionistas are giving their human counterparts a run for their money — or should I say, followers. I guarantee that these couture-obsessed pets will have you falling in love with fashion all over again. Here are 15 adorable and elegant pets of Instagram who live and die for fashion.
1. This French Bulldog who had a Mansur Gavriel bucket bag before it became (what he likes to call) "too trendy."
2. This cat who is on top of her tomboy fashion game.
3. This bunny who skipped work to wait in line for her Mulberry.
4. This Pomeranian in her fab floral Marni sunnies.
5. This kitty who is simply exhausted from shopping the Nordstrom Anniversary Sale.
6. This Frenchie pup who's like "McQueen me, human"
7. This bunny who prefers to live in a Celine Phantom bag instead of crate because what respectable bunny doesn't?
8. This Brussels Griffon who just answered the question "Are denim vests still in?"
9. This blue-eyed beauty who can rock a poncho better than you.
10. This Corgi who was wearing cute headbands before Lupita made them fashionable again.
11. This cat who knows a thing or two about layering her jewels.
12. This dog who basically won "Summer 2014's Best Dressed." Basically.
13. This little dog whose life goal is for Bill Cunningham to snap her photo.
14. This kitty who believes when it comes to fashion, bigger is always better.
15. This King Charles Cavalier who knows the power of a good brunch outfit.
Images: Beckermanblog, Saratan, pudgethecat, cecildelevingne, flywithmecreations, ladygaga, digbyvanwinkle, _unlikelyfriends_,ninawanco, mensweardog, montjiro, snoopybabe, toastmeetsworld/Instagram, thepioneerwoman/Flickr