This Isn't the J.K. Simmons We Know and Love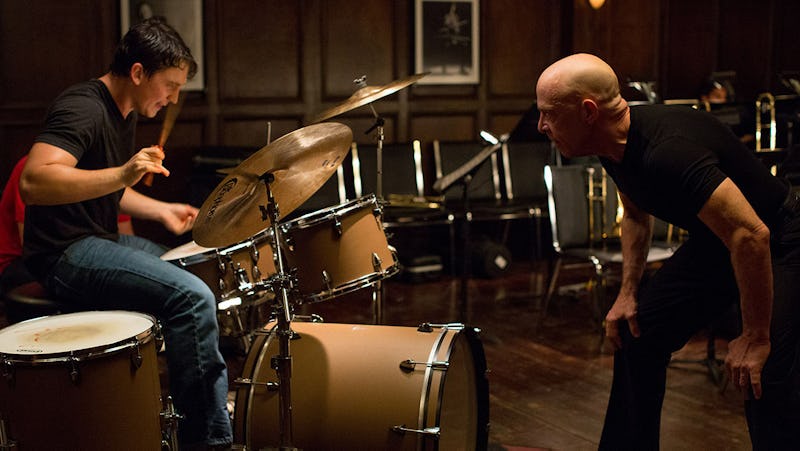 When, on Thursday, I first heard that the trailer for Whiplash , a Miles Teller-starring drama, had been released, I thought I knew exactly what to expect. I'd heard great things about the movie back in January when it premiered (and won) at Sundance, especially for the performances of both Teller, who plays an aspiring drummer, and J.K. Simmons, his instructor. From the reviews and the awards, I figured that the movie's trailer would feature some great music, Miles Teller's pretty face, and a lot of camaraderie between the two leads. Oh, was I wrong. You see, Whiplash is not about good songs and attractive actors (although it does have both), but rather, introducing the world to the horror that is mean J.K. Simmons.
Simmons, as most of you probably know, is one of the most beloved character actors of the last few decades. He's appeared in everything from I Love You, Man to Young Adult, and, although there've been exceptions (Spider-Man's J. Jonah Jameson, for one), he's nearly always played good guys. The fired worker in Up in the Air, the kind dad in The Music Never Stopped, the guy who uttered the words "the right person is still going to think the sun shines out your ass" in Juno — Simmons has made a name for himself as one of Hollywood's best go-to good guys.
So it's incredibly disturbing to see him play a character like the teacher in Whiplash, a cruel, terrifying guy who may turn out to be a great mentor to Teller's drummer-in-training, but in the trailer seems to take more pleasure in berating his students than giving them advice on how to play. Sure, it's probably part of some so-crazy-it-works teaching technique, but right now, all I can focus on is how frightening Simmons is. I'm all for actors breaking new ground, but if it's at the expense of ruining my irrationally perfect images of them, I'd at least like to be warned first, okay?
Watch the Whiplash trailer below and get ready for the movie (out Oct. 10), but be prepared. This is not the J.K. Simmons we know and love.
Image: Sony Pictures Classics