Batman's Cowl Gets a Makeover For Ben Affleck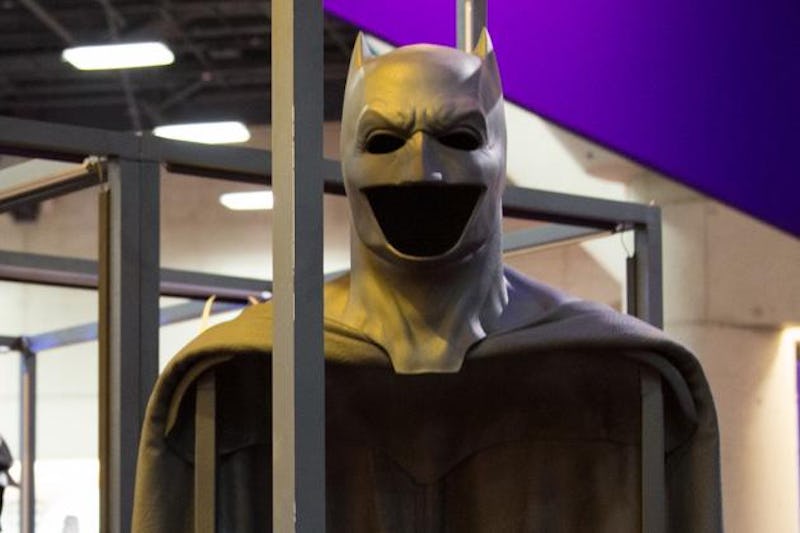 Big news for comic book fans: It looks like Batman is getting a major makeover for the upcoming Batman v Superman: Dawn of Justice film, which will see Ben Affleck donning the legendary character's crime-fighting gear. At San Diego Comic-Con, which is in full swing now, Warner Bros. unveiled Ben Affleck's Batman costume for the film — at least, the cowl and the cape, anyway. The entire suit has yet to be revealed, but if this little sneak peek is any indication, it's gonna look a lot like your average, run-of-the-mill batsuit that rich dudes wear to fight crime around NYC — I mean, Gotham City.
Of course, it is a little different when compared to the batsuit that we saw in Christopher Nolan's Batman trilogy starring Christian Bale: Whereas his rendition of the suit was a little sleeker, this suit seems to be fitting of a more experienced Batman — this, of course, falls in line with all those spoilers about how Affleck's Batman will be "tired and weary" (a.k.a., too old for this shit) in Zack Snyder's Batman v Superman. But, like, overall, it kind of looks like your average batsuit. The pointy ears are there, the skin-tight leather look is there, the cape is there.
Anyway, you can check out the images of the costumes below. Expect the reveal of the full batsuit soon — with the unveiling of the cowl and the cape, the rest of Batman's ensemble's gotta be set to follow soon.
Image: ComicsAlliance/Twitter