New 'Hunger Games: Catching Fire' Images Finally Give Us Something New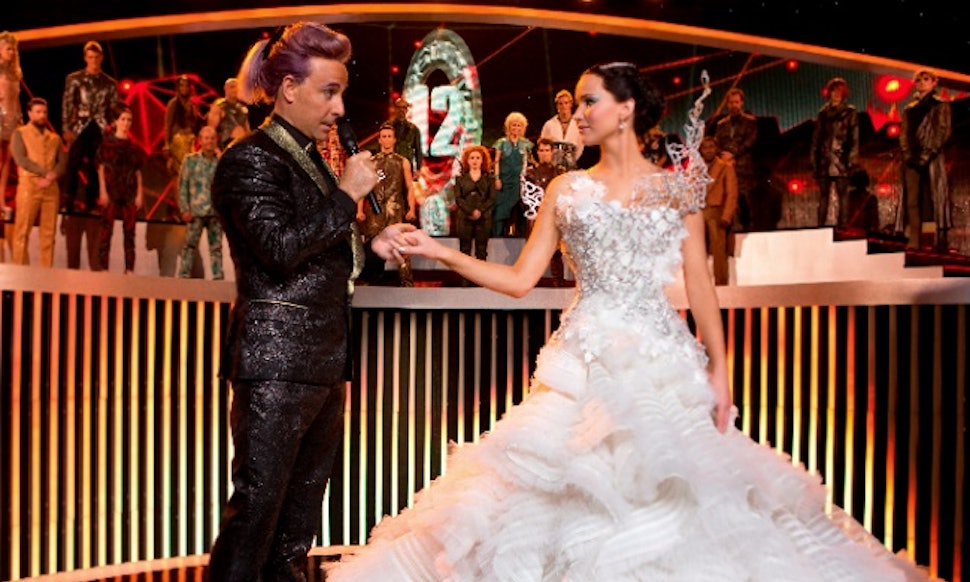 There's little doubt, with over three months left before The Hunger Games: Catching Fire hits theaters, you're hungry for news of how Jennifer Lawerence's Katniss is going to look on the big screen when she's forced to enter the Quarter Quell. Thankfully, studio Lionsgate is releasing a steady stream of images — and while most very similar to those already released (something that makes us as angry as a Buttercup without Prim), some are as delicious for the eyes as Katniss' wedding dress, seen here. Click on to see Hunger Games: Catching Fire's new images, and be happy that its promotional period is finally heating up. Images: Lionsgate via Screenrant
Something New
There's little doubt, with over three months left before The Hunger Games: Catching Fire hits theaters, you're hungry for news of how Jennifer Lawerence's Katniss is going to look on the big screen when she's forced to enter the Quarter Quell. Thankfully, studio Lionsgate is releasing a steady stream of images — and while most very similar to those already released (something that makes us as angry as a Buttercup without Prim), some are as delicious for the eyes as Katniss' wedding dress, seen here. Click on to see Hunger Games: Catching Fire's new images, and be happy that its promotional period is finally heating up. Images: Lionsgate via Screenrant
President Snow Makes a Toast
To the Quarter Quell's tributes' future death?
Miley Who?
Having Capitol soldiers apprehend Gale was the perfect excuse to make those pecs pop out of a Henley.
Walking the Runway
But these looks are more palatable than anything that comes down New York Fashion Week. Does Marc Jacobs? come complete with a Peeta?