5 Fashion Rules For Every Concertgoer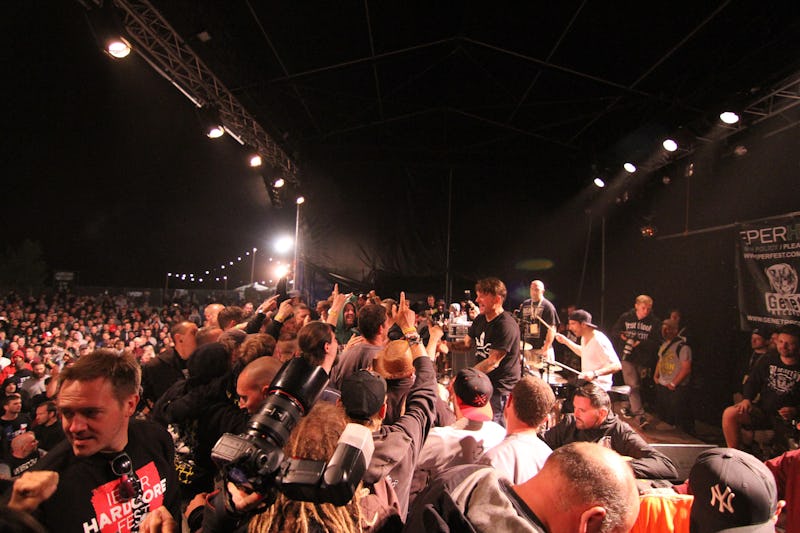 Every now and again, I'll see a popular band at a popular venue. Begrudgingly, I will pay over 30 dollars for a ticket, stand in line, and be told that there is no re-entry (which means no FREEDOM), and $12 Bud Lights available at the bar. Going to shows as an adult poses a lot of annoying factors that didn't exist when I was a young punk. Suddenly, I am complaining about crowds, I "can't hear" at certain venues that just so happen to be uptown and far away from my subway stop. The truth is, I find myself veering outside the birthplace of punk rock — NYC — to see my hardcore revival tours in hopes of a smaller, more tolerable venue. I certainly haven't always been the smartest dresser at a music event and my teenage angsty behavior was most likely insufferable. I mean, who chooses to wear glasses instead of contacts when you intend to slam-dance all night?
The problem with overpopulated festivals and sold-out shows isn't necessarily the volume of people. In fact, going to shows is an awesome way to meet people, it's just the weeding out they intolerable show-goers that are sloppy and falling all over the place. There was a time where I loved getting sloppy at shows, and I don't mean with booze. I mean the getting sweaty, stage-diving off speakers, and pouring a bottle of water all over me to cool off kind of sloppy.
Let's face it — I ain't even tryin' to be near that noise at this point. Those days disappeared when I stopped going to $3 shows in warehouses that had zero beverage choices. Now I want to the perfect blend of cute, sexy, and comfortable. Of course, that all depends on what type of event you are going to, but in this heat? Even if you are heading to Hot 97's Summer Jam, you want to stay comfortable and of course, stylish. Who knows if the sexy drummer you've got your eye on needs a tour guide while he's in town?
Rule #1: Appropriate Shoes
Whether you are seeing Chromeo or at the Punk Rock Summer Nationals this summer, there is literally never a good time to wear heals at a show or concert. Not only are you going to ruin them with the amount of beer spilled from the not-so-sober guests, but your dancing/moshing is going to be all types of wrong. Ditch your heals for some comfy Converse or Keds — they go great with every outfit, they're cheap, and you won't look like a prom queen.
Rule # 2: Don't Wear the Shirt of a Band you Are Seeing
Ok, maybe this is a bit strict, but look at it this way — we already know why you are at the show. You don't need to tell us that you love Panic! At the Disco, because you bought a ticket and we can see you. Wear a different band T-shirt and open the door to some original conversation. This includes buying merch and immediately putting it on top of your clothes. My personal rule is to not wear a band shirt at ALL to any musical event. Remain mysterious, that's my motto.
Rule # 3: Leave Your Baggage Behind
Ugh, I know I get it. You are coming straight from work and you desperately need your laptop, portable fax machine, hot-spot, and scanner — plz— check that shit. Not only does it suck for everyone else around you, but it's likely to get smashed or ruined. Unless you have seats, you are def going to want to have the least amount of baggage possible to have the freedom to dance/mosh/twerk your face off.
Rule # 4: Rethink that Dress
A cute sun dress is super appropriate for a low-key outdoor free concert. If you're heading to a three-day affair, like Hardcore Fest in Philadelphia, it's probably best to keep everything under lock and key, if you catch my...drift?
Overcrowded venues means there will def be some creeps in there that will grope and ultimately ruin your good time. Trust me, I've had a few friends learn this lesson the hard way during a spontaneous need to crowd-surf during their favorite song.
Rule #5: No Matter what, You'll be Hot
Whatever you think the temperature at an outdoor festival or indoor event will be, multiply it by 2 and then you'll have your answer. If it's 70 degrees, it feels like 90, just like an NYC summer. Make sure you layer appropriately so when you leave the show, you've got some coverage if you need it and while you're there you can focus on your dance moves instead of trying not to move because you are overheating.
Image: Gordan Topley, Aaron H, Priten Vora, Kelly B/William N., Aaron-H/Flickr; Kristin Collins Jackson