What to Know About Dina's Awesome Daughter Lexi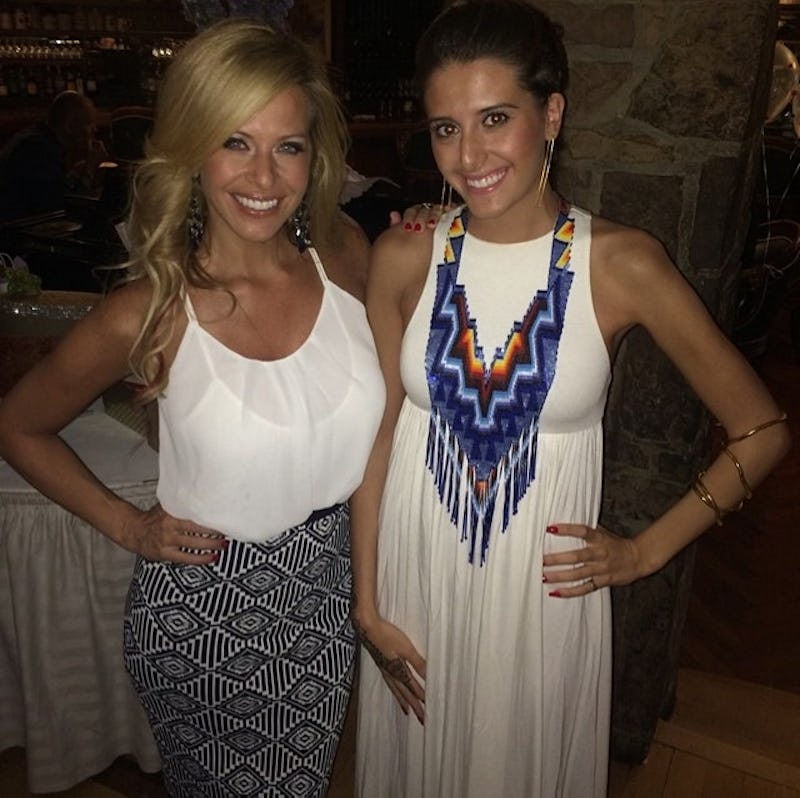 Though you may have not seen her on TV in a while, Lexi Manzo is the teenaged daughter of Dina Manzo who seems way too cool to be wrapped up in Real Housewives of New Jersey drama. But pretty, wealthy, vegetarian teenagers deserve to be embarrassed by their parents just as much as we do, so Lexi joined in on Season 6 right along with her mom.
Though Dina is experiencing a life she never thought she'd have in her 40s — single (other than her husband sort of still occasionally living with her) and trying to date — Lexi seems like a typical teen. She has a cute blog where she talks about her clothes and being a vegetarian; she posts selfies in the Hamptons and pictures of her boyfriend on Instagram; and she's headed to college in the fall.
Lexi's budding autonomy is likely to be a focus of Sunday night's episode of RHONJ as Dina isn't exactly looking forward to the peace and quiet of an empty nest. Specifically she's looking at it as her "end of an era as a mom," but I'm sure she'll come around to it being the most exciting time in Lexi's life. Probably.
But Dina is also a little worried, rattling off the lovely classic saying in her "The Bitch is Back" video preview of Season 6: "With a boy you gotta worry about one penis; with a girl you gotta worry about thousands." Hey Dina, I don't think you don't have to worry about Lexi and thousands of penises, she seems more than capable of being on her own.
Seeing her on RHONJ raises a lot of questions about Lexi, and thanks to her Twitter, I was able to find most of the answers.
Should she go to college?
I applaud Lexi for even considering taking a gap year. It's a pretty uncommon practice in America, but the year between high school and college can be an important time for growth outside of the school system. Of course, if you've got that Bravo money to go backpacking through Europe, that can also be helpful. Ultimately, Lexi decided to attend university this fall, but at least she's asking (her Twitter followers) the right questions.
How will she fare in college?
Lexi's inherent struggle with raves will likely be helpful in the inner battle that every college student experiences, deciding between studying and partying.
Using discretion while choosing friends should also work to her advantage.
Will she survive college?
I will admit that this is slightly concerning. But given it's sore-thumb-like appearance among the rest of Lexi's tweets, I'm going to assume it's either a joke, or the result of extremely unfortunate airplane neighbor.
Not to mention, if she can keep a run-of-the-mill goldfish alive for four years, she can probably keep vomit out of her hair in public until at least senior year.
Which college will she attend?
It looks like Lexi will be heading to Fordham University in the fall — far enough away from to express her Aquarian freedom, and close enough for Dina to check in on things when she starts worrying about the 7,000 penises roaming around.
Final Verdict on Lexi?
Love her.
Images: dinamanzo/instagram (2)