Keith Olbermann Puts The NFL In Its Place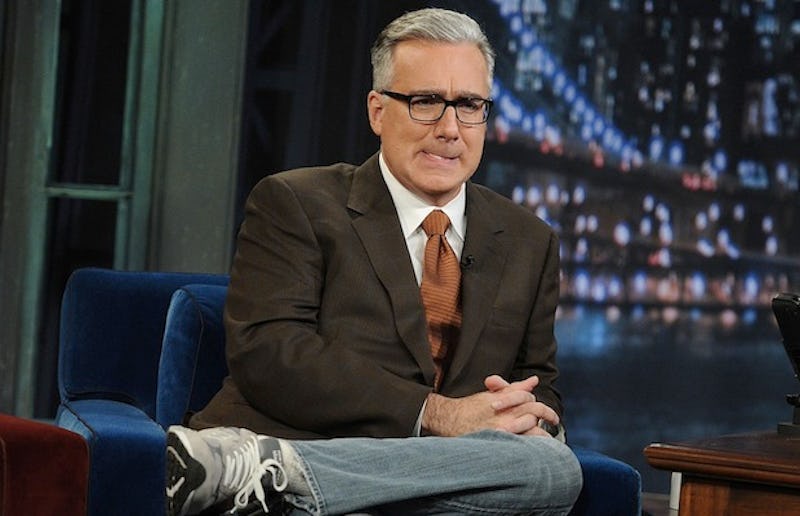 When you're handed a lighter punishment for domestic violence than you'd get for using steroids, something's definitely not right. Yup, we're talking about Baltimore Ravens running back Ray Rice, about whom ESPN's Keith Olbermann delivered a fiery segment on Thursday night. In addition to facing no charges or fines relating to the February assault on his now-wife Janay Palmer, Rice got a real sweetheart deal from the NFL Thursday. He was suspended for two games — yup, you read that right — and will be streaking around backfields again by late September.
For some perspective on that punishment, as detailed in The New York Times, that's half as many games as Rice would've been suspended if he'd tested positive for a steroid or performance-enhancing drug. In that light, the outrage over the NFL's lax punishment is pretty easy to understand — so, knocking a woman unconscious is a lesser sin than compromising the integrity of a football game?
It's a seedy and gross situation all around, hammered home by the NFL Network being so out-of-touch that they actually called the suspension the "iron fist" of the NFL, as noted by Deadspin.
Suffice it to say, none of this sat too well with Olbermann, whose signature style of impassioned monologue was on full display Thursday night.
To that, I can only say "amen, brother." Some highlights of Olbermann's indignant speech:
The message to the women who the league claims constitute 50 percent of its fan base: The NFL wants your money. It will do nothing else for you. It will tolerate those who abuse you verbally and those who abuse you physically.
... you can call women reporters and athletes terrible names, names that the men who used them would throw a punch over if they'd been directed at their wives or mothers, and another generation of athletes and fans begin to view the women in sports as just a little less human than the men. And then one of them raised in that environment beats the crap out of his wife. And the message from the National Football League is: that'll get you banned for two whole games. Go smoke pot recreationally, and that may get you banned for a year.
That last point Olbermann makes is especially shocking and hard to stomach, but it's true — Cleveland Browns wide receiver Josh Gordon is currently facing suspension for a full season due to a second positive test for marijuana.
True too is his claim that the NFL is still selling bright pink, women's Ray Rice t-shirts on their official website, all for the low price of ... $59.95. Perfect to wear during the NFL's yearly, pink-drenched breast cancer awareness festivities — a cause the league champions which generates a lot more money for companies than for research.
Criticism of the NFL's attitude towards domestic violence is nothing new. Following the 2012 murder-suicide by Kansas City Chiefs linebacker Jovan Belcher, in which he killed his child's mother before shooting himself fatally, Slate took a look and found that 21 of 32 NFL teams had employed a player with a record of domestic or sexual abuse that year.
Image: Getty Images