Maddie & Tae Speak Up For Girls in Country Music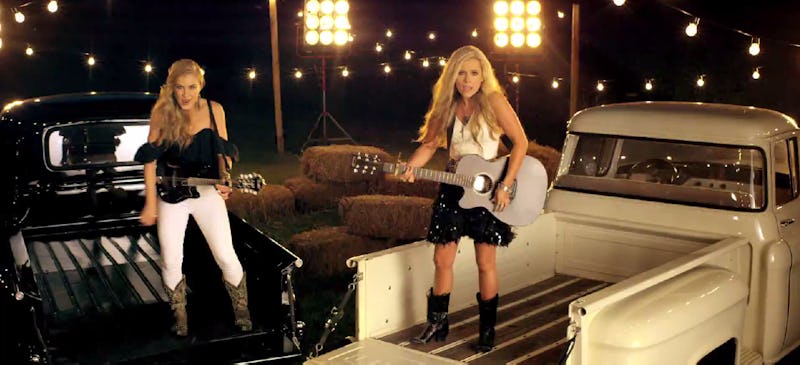 Much of my middle school career is a blur, but I remember the day I learned to hate country music. A minor country star came to sing at a school assembly, and although most of his songs were (and probably are) unknown, he broke into a rousing rendition of Big and Rich's "Save a Horse, Ride a Cowboy" at the end of his set, and it brought down the house. At the time, I didn't know why I was uncomfortable with a full-grown man telling a bunch of 13-year-olds to ride cowboys, or why I felt worse when my classmates squealed through the entire tune. All I knew was I had to get out of there, and I would refuse to listen to country music for all of high school, which is no small feat in a small town. Finally, Maddie & Tae have given me the words to describe what disgusted me: it was just another girl in a country song.
It seems that Maddie & Tae have come back from the future to save country music from itself. Taylor Swift has been carrying the torch of female-friendly country for years now, and since she has branched out to pop, a space has opened for new young women to reinvigorate the country scene. As someone who has grown up around country music, I appreciate two young women who will put out an unabashedly critical anthem as their first single and video. It gives me hope that country music will finally return to a modernized version of Dolly Parton singing "Just Because I'm a Woman."
The song itself feels a lot like a snarky Shania Twain number, as if "Man, I Feel Like a Woman" had gotten a cowgirl boot to the pants. And the video is immaculately staged: the cliche half-nude "country girls" swap places with ogling bros, gender-flipping the central focus of many country videos. It's as if they took a Florida Georgia Line video, swapped the genders, and put a real song to it. Maddie and Tae might both be 18, but they've got something to say to country music, and I hope it's ready for these ass-kicking Southern ladies. I certainly am.