Check Out the New 'Age Of Ultron' Posters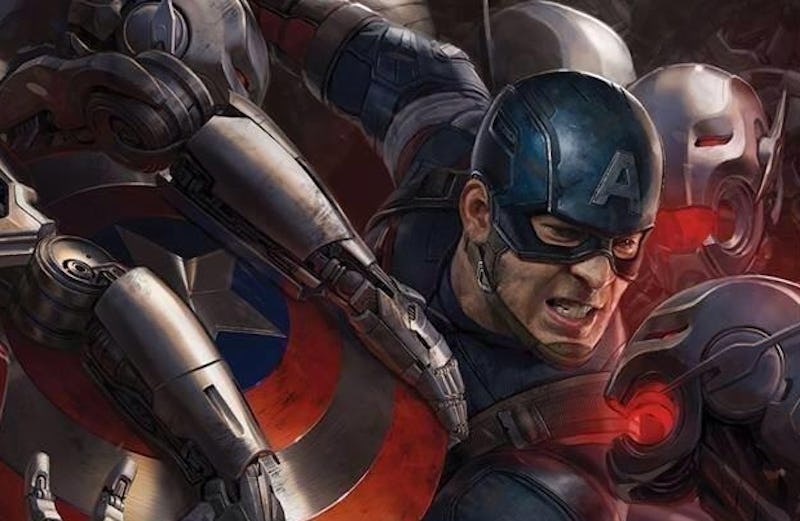 We've still got a long while to go before Avengers: Age Of Ultron actually hits theaters, but in the meantime we've got Comic-Con to hold us over. San Diego Comic-Con is in full force at the moment, which means Marvel is likely just gearing up for its big announcements and reveals. Before the big Doctor Strange announcement expected Saturday, though, there's other business to get to. Namely, some new Avengers: Age Of Ultron posters.
Six new Age Of Ultron images have been revealed so far. They include:
Cap (Chris Evans) fighting off a horde of robots.
Scarlet Witch (Elizabeth Olsen) fighting off a horde of robots.
Black Widow (Scarlett Johansson) ripping something out of a robot, with a bit of Hulk (Mark Ruffalo/CGI) visible as well.
Iron Man (Robert Downey Jr.) blasting a robot.
Hawkeye (Jeremy Renner) almost overcome by the robots.
Quicksilver dashing past the robots.
The moral of the story seems to be that Ultron's army — which we heard a bit about in Entertainment Weekly's Age of Ultron cover story — is vast. Like, ocean-of-robots vast. The moral also seems to be that these posters, when they're all released, will fit into one epic mega-poster of the Avengers struggling not to get their asses handed to them by James Spader.
Still waiting on Hulk. But until then, So. Many. Robots.
Images: Marvel Studios