Get Ready for the 'Evil Dead' Like Never Before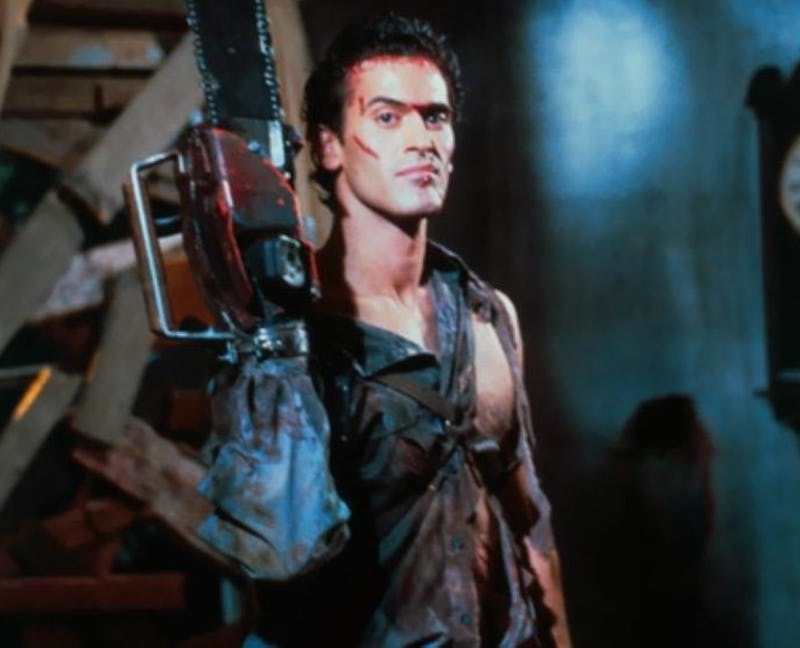 I'm usually not one for supporting television series remakes or reboots of popular film franchises, even if some of the movie's stars are enlisted for the project — the Clueless television series that aired back in the late '90s ensured all trust in television spinoffs would be dead forever. However, even I, jaded as I am, have to admit, this idea could be good. Amongst the massive heaps of news coming out of Comic-Con, currently being held in San Diego, an interesting tidbit involving Sam Raimi (director of the Tobey Maguire-starring Spiderman franchise, as well as Drag Me to Hell) and Evil Dead star Bruce Campbell: Apparently, Raimi is working on a television series project based off of his '80s film franchise Evil Dead , and he's working on it with the OG star, Campbell. In other words, none of this Hollywood remake/original-creators-are-just-credited-as-executive-producers crap — Raimi and Campbell as working together on this.
Of course, the Evil Dead franchise had an attempted resurrection back in 2013, with the Jane Levy-starring, Fede Alvarez-directed Evil Dead film, but neither Raimi nor Campbell were involved in the production of that. As a result, that film currently holds a 62% rating on Rotten Tomatoes, compared to the original 1981 film's 98% rating.
Of the project, Raimi told fans at Comic-Con during a panel for a video game that he's producing for Sony, Last Of Us: "I always love working on [The Evil Dead] series...My brother [Ivan Raimi] and I are writing the Evil Dead TV show right now. Weird, but true. With Bruce Campbell."
No other details have been given about the project in terms of stars or network, but The Hollywood Reporter states that Campbell is being enlisted to "topline" the series.
I am so ready for this.
Image: New Line Cinema; Uproxx