This Princess Doesn't Want Her Brother To Grow Up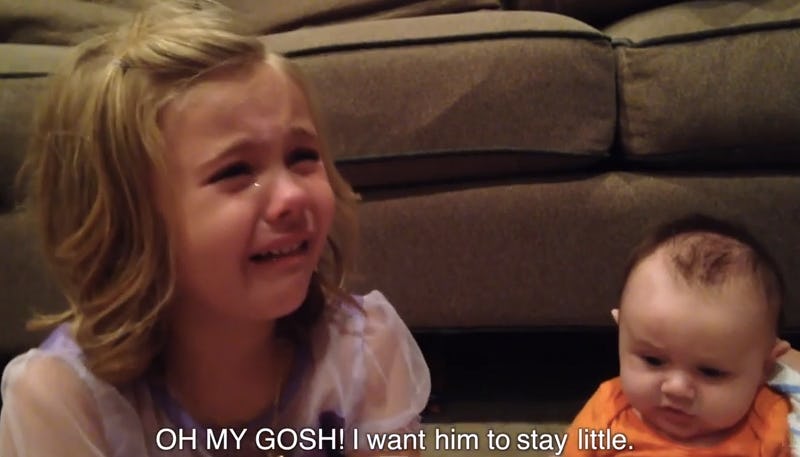 Peter Pan has some competition, and her name is Sadie Miller of Phoenix, Arizona. Sadie is taking the world by storm as a video of her bawling about her baby brother growing up gains traction on Reddit. And if this girl doesn't win the award for best sister of the year, I don't know what it takes.
Little Sadie, who has always been a devoted sister to her baby brother Carson, is suddenly struck by thoughts far beyond her years as she bursts into tears while contemplating the inevitability of life, death, and possibly, taxes. Looking positively radiant in a Princess Sofia dress (despite the tears), Sadie kisses Carson on the head, then cries out: "I don't want him to grow up! He's so cute, and I don't wanna die when I'm a hundred!"
Clearly distraught by the thought of her little brother ever being able to walk, talk, or be longer than a foot, Sadie bemoans the sad realities of life, notably growth. While most 5-year-olds seem to cry over relatively trivial things, Sadie's heartbreak is rooted in the cutest, purest expression of love we've seen in a long time — wanting her baby brother to stay just the way he is, forever and always.
Baby Carson, meanwhile, is unaffected by his sister's displays of emotion, and simply smiles at her, convincing us all that Sadie's devotion is justified beyond measure. His smile, however, seems to be Sadie's undoing, as she sobs, "I love your cute smiles! Oh my gosh, I want you to stay this little!"
Little Sadie, it seems, has never been placed on diaper duty.
According to her father, Ryan Miller, who provided an email statement to Time Magazine via his brother Alex Miller, Sadie has had these existential crises before, and has "cried about not wanting to get older herself in the past." But this video, involving Carson, "was the first time she was upset about her brother." Clearly, Sadie is not a selfish girl, and wants to pass the gift of immortality around.
Even more adorable is the spontaneity aspect of the whole ordeal. Ryan Miller noted, "...This was totally out of the blue — we have no idea what prompted it." To be fair, I still don't know what prompts my outbursts, so maybe this isn't something that we ever really grow out of.
Whether Sadie's adoration of her brother will extend into their teenage years is yet to be determined, but this video will forever serve as a tender reminder of one of the best sibling relationships in the history of siblings. Really, it's hard to tell which sibling is cuter.
The video, which was posted to YouTube on Monday, has already garnered nearly 48,000 views over the course of 24 hours, and is growing at an alarming rate.
While Sadie's thoughts are well-documented in the video, what with subtitles making absolutely clear what the little girl manages to say through choking tears, one perspective that has not been explored is that of her brother, Carson. I might not be a baby boy, but I'd like to imagine that if babies had thoughts, his would go something like this:
What?
You talkin' to me or you talkin' to Princess Sadie over here? Because I'm not doing anything. I'm just sitting next to this waterfall.
Hug
I love you too but you're hiding my face from view. The face that you think is so cute.
I don't want him to grow up
And I don't want to look up but you don't see me crying about it.
Yeah, he's so cute!
Right back atcha, sister.
And I don't wanna die when I'm a hundred!
A hundred is not a concept that either one of us can fully comprehend right now, Sadie.
...E-eeed
Don't cry! Just look at my face! My face is bigger than a hundred!
Just look at me
Who's gonna stop us?
Oh, you are so cute
Seriously, sis, have you seen yourself? You deserve some cute credit too!
I love your cute little smiles!
And I love yours! So smile, Sadie! Don't cry!
Oh my gosh I want him to stay this little!
No, seriously Sadie. Stop crying.
Deep thoughts
Think, Carson. What cute thing can I do to make her stop crying?
Ugh, what do I know? I'm just a baby.
Images: Alex Miller/YouTube