The 'RHONJ' Dudes Just Got Opening Credits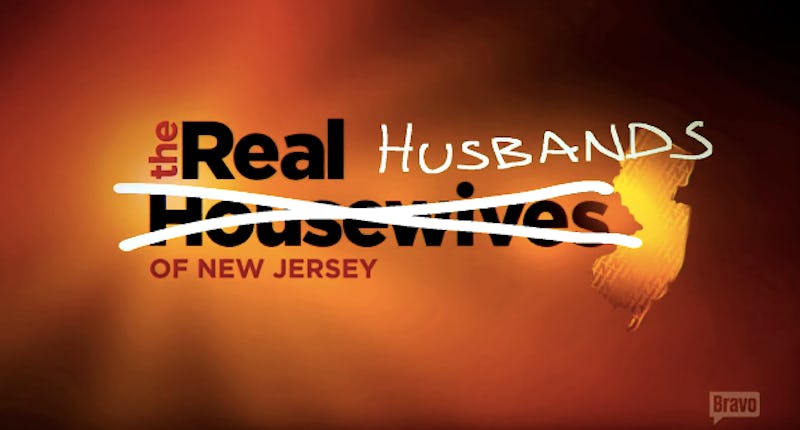 How in fresh hell has it taken the Internet this long to bestow this unto us? I'm talking about opening credits — with taglines — for the husbands of The Real Housewives of New Jersey . How have we not yet seen this for any of the Housewives shows? I'm actually a little disappointed in myself that I didn't think of this sooner. It's like, what have I been doing with my life for the past five years?
The eerily realistic clip, which was released by Bravo, features all the dudes of the new season — the Joes; Rino, Bobby; and Jim — along with lines and mini montages that capture them perfectly. I'm not sure whose is the best, but both Joe Gorga and Joe Giudice's clips are pretty great — and Giudice's infamous salacious laugh from when he was on the phone with his alleged mistress is the perfect denouement to the video. Brilliant, Bravo editors. Absolutely brilliant. If there's one thing you're geniuses at, it's crafting ways for people to waste their time and kill off a few brain cells. And I love you for that.
If you've got a pile of TPS reports on your desk, they can wait. The best 30 seconds of your day are calling you. Check it out.
Now. Let's come up with some other tag lines for other Househusbands past and present, shall we? If your boss is calling you into a meeting, she can wait. This is important.
Mauricio Umansky, Kyle's husband on Real Housewives of Beverly Hills
"I'm one of the only people I know who can do business with friends and separate the two." (Anyone else remember when he said that?)
Paul Nassif, Adrienne's husband on Real Housewives of Beverly Hills
"I don't just fix noses, I fix a mean sandwich."
Or, maybe more apropos: "My wife and I hate each other."
Mario Singer, Ramona's husband on Real Housewives of New York
"Get the pinot ready. Ramona's on her way home."
Ken Todd, Lisa Vanderpump's husband on Real Housewives of Beverly Hills
"I'm lucky enough to get to spend my life with my soulmate... and his name is Giggy."
David Foster, Yolanda Foster's husband on Real Housewives of Beverly Hills
"My wife is right. I am a genius."