Dita Von Teese Makes Sexy Maternity Lingerie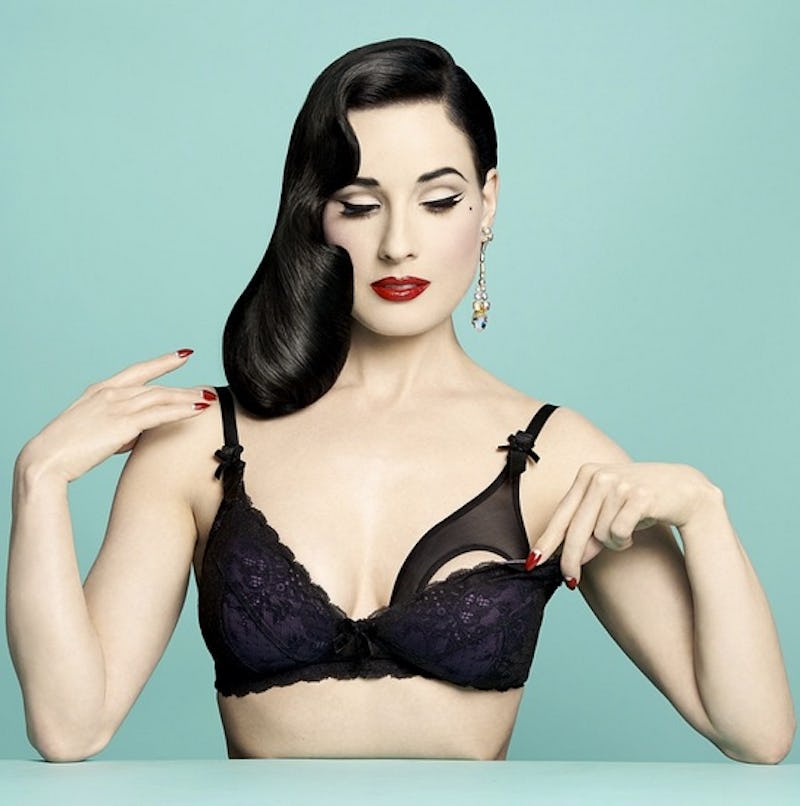 When you think of maternity bras and panties, the word "sexy" is probably the last word that comes to mind. But one femme fatale, burlesque dancer-turned-model is about to change all that. According to People, Dita Von Teese created a line of lingerie for new moms after teaming up with Destination Maternity.
Von Teese's line, titled "Von Follies," includes lacy nursing bras and printed high-waisted bottoms that are not your typical maternity underwear. Although she may not be a mother herself, Von Teese hopes her line reminds new moms to embrace their sexy side, even if being hooked up to a breast pump or being covered in spit up isn't the most alluring state. "The collection I created with Destination Maternity is designed to capture the spirit of retro glamour, while inspiring confidence and meeting the practical requirements and everyday needs of a new mother."
Besides the obvious fact that the capsule collection is super gorgeous, it's first and foremost completely functional. The nursing bras have clip-down tabs and detachable pads and the "post-partum shaper" panties have a built-in control panel. It's all available to shop now on Destination Maternity's site and ranges from $39 to $55.
If you're not a new mom, you can still channel your inner-Dita by shopping her other lingerie collection here.