12 Best Oils For Your Face and Body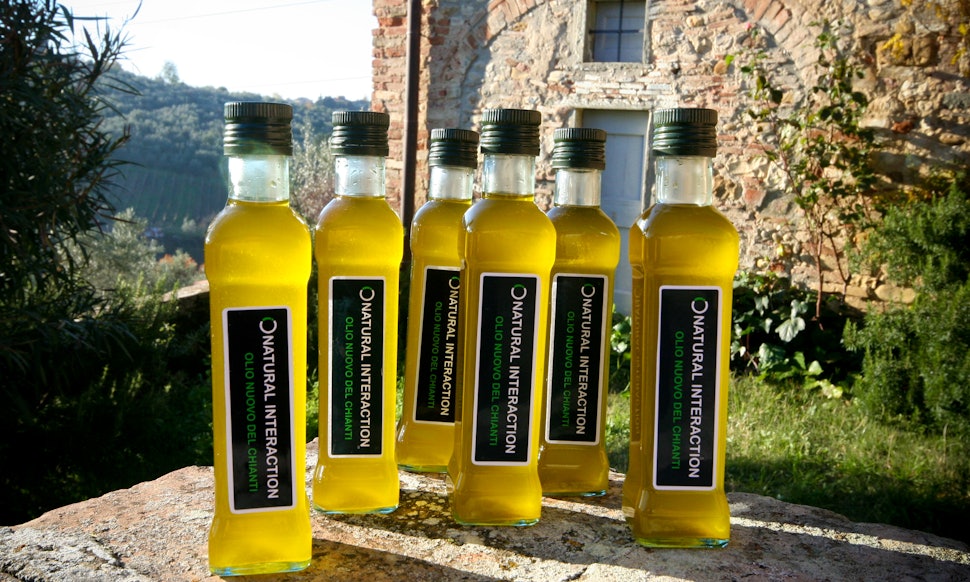 The beauty world is catching on, and people are seeing results — hydrated, glowy results. But like any trendy product, there's a lot of hype and big words being thrown around without a lot of straightforward explaining. Below, 12 of the hottest (and/or hippiest) oils you can slather on your face, and why you should do just that ASAP.
Olive Oil
A favorite of Mediterranean beauties and chopped salads alike. You're probably used to thinking of this oil as a staple of your kitchen, but think beyond — it's a perfect (simple, cheap) moisturizer for your face. The oil contains polyphenols (a type of antioxidant) and lots of Vitamin E. Buy the greenest olive oil you can find — extra virgin, organic, and cold-pressed, please.
Perfect for: sensitive skin, general hydration.
Coconut Oil
This oil smells like the tropics and hardens to a solid white when it cools down (but softens immediately when you rub it between your palms). Coconut oil is anti- everything bad: anti-inflammatory, anti-bacterial, anti-fungal. It can be a bit comedogenic (pore-clogging), so if you're prone to breakouts, stick to using coconut oil on your body. Like any oil that's also used for cooking, buy organic, cold-pressed, and the highest grade you can find.
Perfect for: an affordable all-body moisturizer.
Coconut Oil (2-pack), $11, Amazon
Grapeseed Oil
Full of antioxidants and fatty acid linoleic acid, this light, quick-absorbing oil is perfect for those who need help regulating oil production rather than heavy hydration. It's odorless, mildly astringent, and won't clog pores.
Perfect for: acne, oily skin.
Grapeseed Oil, $12, Amazon
Avocado Oil
This super fatty oil absorbs deep into skin, so it's ideal for skin that's aging prematurely, extremely dehydrated, or sun-damaged. It's also great for those suffering from eczema and psoriasis. This oil is full of Vitamins A, D, and E, as well as multiple essential unsaturated fatty acids.
Perfect for: premature aging, serious hydration.
Avocado Oil, $12, Amazon
Jojoba Oil
Not technically an oil! Jojoba is a liquid wax, and it's extremely similar to sebum (the oil your body naturally produces). It absorbs instantly into skin and won't leave a greasy residue. Great for acne.
Perfect for: naturally regulating your skin's oil production.
Argan Oil
This trendy oil is referred to as "liquid gold" among its followers because of how well it treats your skin with its high amounts of Vitamin E and fatty acids. It immediately absorbs into skin without leaving an oily residue, and helps to minimize fine lines.
Perfect for: anti-aging, glowing.
Apricot Oil
Softens fine lines and is rich in essential fatty acids that make your skin soft and glowy.
Perfect for: premature aging or red, irritated skin.
Apricot Oil, $11, Amazon
Sweet Almond Oil
Borage Oil
This oil, from the seeds of the starflower, is the richest known source source of the essential fatty acid gamma-linolenic acid — 24%, baby. If you've got eczema, psoriasis, or atopic dermatitis (conditions that show a decrease in just that acid), this indie oil will help you out.
Perfect for: chronically dry, damaged skin.
Evening Primrose Oil
Sweet-smelling, light, absorbs easily. Evening primrose oil is also a good source of that same gamma-linolenic acid, making it beneficial for mature skin and fine lines.
Perfect for: anti-aging, treating psoriasis.
Camellia Oil
Rosehip Seed Oil
Qualities like easy absorption, low viscosity, and an extremely high essential fatty acid count make this oil a popular choice for those looking to renew their skin. Rose hip oil helps regenerate skin cells and is often effectively used to reduce scars and stretch marks. It contains trans-retinoic acid, a form of Vitamin A — which functions sort of like a natural answer to Retin-A.
Perfect for: scars, stretch marks, anti-aging.
Rose Hip Oil, $5, Amazon