Ahead of the 'Breaking Bad' Premiere, Remember These 8 Forgotten Storylines From the AMC Series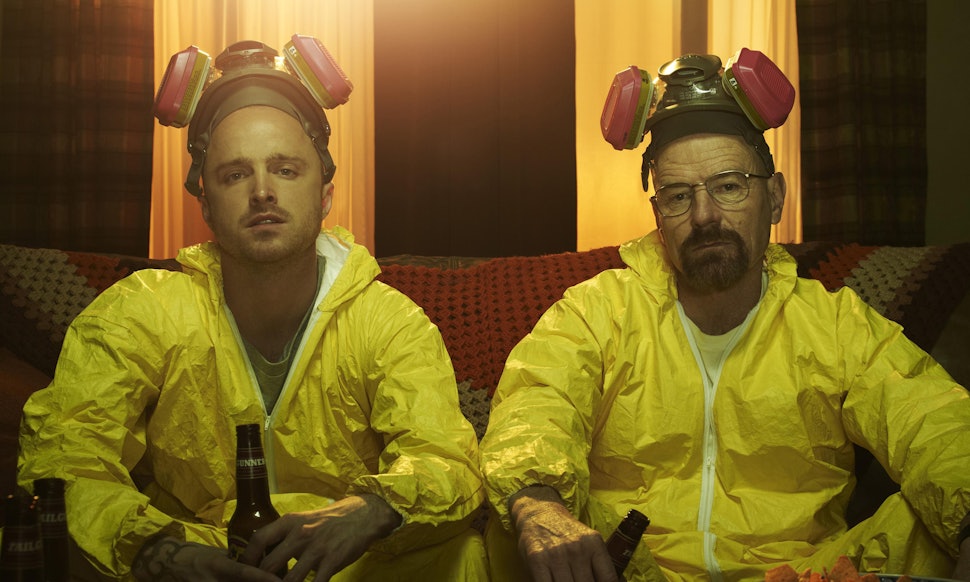 One thing's for certain: Nothing happens without a reason in Breaking Bad. Plotted more carefully than most TV series, Breaking Bad has proven science correct: every action has a reaction. Still, during the course of the series' five-and-a-half seasons, some storylines have been left lingering. Will they come back into play come Season 5 Part 2? Here's a look at some of the forgotten elements (ha) of Breaking Bad. Images: AMC
Whatever Happened To...
One thing's for certain: Nothing happens without a reason in Breaking Bad. Plotted more carefully than most TV series, Breaking Bad has proven science correct: every action has a reaction. Still, during the course of the series' five-and-a-half seasons, some storylines have been left lingering. Will they come back into play come Season 5 Part 2? Here's a look at some of the forgotten elements (ha) of Breaking Bad. Images: AMC
Donald Margolis
Last we heard of Jane's father, the distraught air traffic controller — whose daughter's death directly led to two airplanes colliding under his distracted watch — was rushed to the hospital following a self-inflicted gunshot wound. Did he die? We're not sure — which means he still could return to get revenge on the man who let his daughter (and, by extension, hundreds of travelers) die. One pesky little detail: No one knows Walt was responsible yet. But will Donald find out somehow?
Marie's Shoplifting
Surely, Marie's shoplifting has to figure in somewhere, right? Hank's wife was discovered to be a kleptomaniac during Season 4, having stolen valuables from inside of open houses while her husband was recovering from his "One Minute" attack. In Season 5, we see that Marie is getting help for her condition, but her petty crime is never mentioned again. Breaking Bad creator Vince Gilligan isn't one to simply introduce storylines needlessly — could Marie's condition possibly lead to a bigger reveal? Or did AMC simply need Breaking Bad to kill some time?
The Ricin
Two vials of Ricin have been created since the beginning of Breaking Bad — and one still remains in action. Having nearly been used to kill Gus, then Lydia, the second vial of ricin still exists unused... somewhere. Jesse thinks its in his Roomba, but the ricin is really roaming around with Walt. Will he use it, or will the ricin prove to be a red herring?
AIA Car Wash
The source of Walt and Skyler's money laundering operation, the A1A car wash is still allowing the couple to get away with meth and murder. But who is working there? And why has it nary been mentioned since Season 4? And could it still function to wash away signs of Walt's guilt, even after Hank's discovery?
Hugo the Janitor
There is some chatter surrounding Hugo's possible death — some viewers claim he was shot in the ATM robbers' raid — but his name has nary been mentioned since he was fired for having marijuana in his vehicle after be became suspected of stealing school supplies (a crime that Walt was, of course, guilty of). Will the first person Walt wronged return and exact unexpected justice?
Gray Matter
The missed opportunity and catalyst for Walt's obsession with fame and fortune has been discussed in recent seasons, but Walt's old business partners Gretchen and Elliott haven't been seen since Season 2. At that point, Gretchen had learned that her former flame had lied to his family about where the money for his cancer treatment was coming from — claiming Gretchen and Elliott's fortune was paying for it — but we've seen nothing else from the scientist couple. A few Breaking Bad fans tried to argue the G.B. in Season 5's Walt Whitman reveal stood for Gretchen and her maiden name (beginning with B), but Vince Gilligan shot that down quickly. Will Gretchen be what Walt needs to remember not just the chemistry, but the soul?
Ted Beneke
During Season 5, we learned that Beneke has learned... something. Skyler's former boss lands himself in the hospital after a failed blackmail attempt leads to a botched visit from two of Saul's goons. In the hospital with a neck injury, Beneke promises Skyler he would keep quiet about the source of his injury, but will he keep quiet about the source of the money once he puts two and two together? After all, his body might not be moving, but certainly his brain is.
Flynn
Worse than the fact that Walt Jr. decided he liked his father enough to again start using his name is the fact that we can't make fun of Walt Jr. for using his forgotten, ridiculous moniker ever again. We're in with Flynn!