Why Are People Dumping Ice On Their Heads?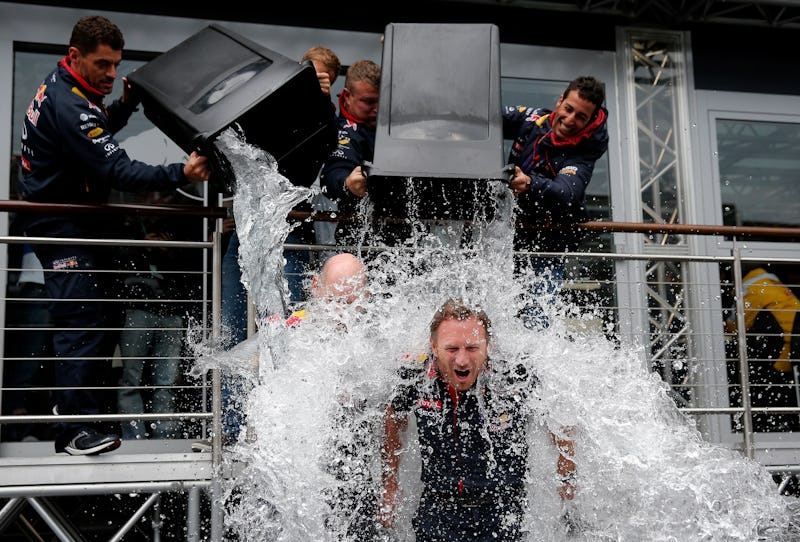 Dean Mouhtaropoulos/Getty Images Sport/Getty Images
At first glance, the new videos on Facebook of people dumping ice water over their heads seem like they're just a silly summer activity. But if you're paying attention, you can see that everyone publicly dumping entire buckets of ice water over their heads are doing so to raise awareness and money for an important cause: Fighting ALS. We'll explain.
In 2012, 29-year-old former Boston College Eagles baseball team captain Pete Frates was diagnosed with Amyotrophic Lateral Sclerosis, also known as ALS or Lou Gehrig's disease. Just a year later, 30-year-old Pat Quinn, a Yonkers, New York native and graduate of and Iona College was also diagnosed. When Quinn was diagnosed, he turned to Frates for support. The challenge has been used before — even Martha Stewart has participated — but it was Quinn's idea to take the Ice Bucket Challenge into ALS fundraising territory. And so far, it's working: The videos are helping to raise awareness of the disease first among the Boston College and New York communities, and are now spreading across the country.
Here's how the challenge works:
Fill a bucket (make it nice and big) with cold water (no cheating)
Pick up a bag of ice
Wear a t-shirt showing your support
Grab a video camera, and mention the cause: Strike Out ALS for Pete Frates or Quinn for the Win for Pat Quinn.
Publicly challenge a handful of friends
On camera pour the ice into the bucket, and promptly dump it over your head.
The most important part, of course, is to put the video on Facebook with the link to donate.
The original idea from Quinn for the Win was that anyone who can't go through with the challenge, should donate $100. But as the support spreads, more and more people are donating anyway to support the causes.
Brendan Byrne, a friend of Pete Frates, tells Bustle why he participated in the Ice Bucket Challenge.
I think people honoring Pete is a testament to what a great job he's done raising awareness for the disease and their affinity for him and his family. When people think or hear about ALS now they immediately think of Pete. He's become a great ambassador for the fight for a cure and become an inspiration for all sorts of people faced with hardships. He's faced his disease head on. He's turned a tragedy into a teaching opportunity and I'm 100 percent confident that his work and dedication to raising awareness will be instrumental in the discovery of a cure for ALS.
Alexandra Flores Spicer and her husband Michael Spicer are also close with the Frates family. The two and the rest of their family all accepted the Ice Bucket Challenge.
Some people took a slightly different approach to the challenge.
Brendan's sisters Maggie and Deirdre Byrne both also participated in the challenge.
Though it may seem like a small thing, raising awareness for fighting ALS in whatever way you can is a positive step, Maggie says.
Like many people in the area, ALS wasn't on my radar until Pete Frates was diagnosed. ... Seeing the way that Pete has handled himself throughout his diagnoses is very inspiring, so doing something as small as this to help raise awareness and money is a no-brainer!
If you want to donate or make a video of your own, you can visit Quinn for the Win and the Pete Frates #3 Fund.