Chelsea Handler, The Comic Book Star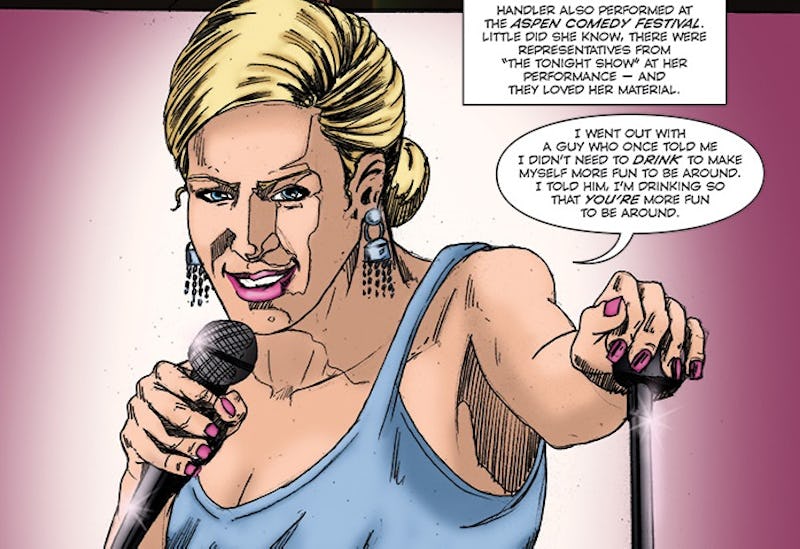 Chelsea Handler is like the person who sings "Kiss From a Rose" at karaoke night: whether you love her or you hate her, she's here, she's loud, and we all have to deal with her. Although her show Chelsea Lately will end Aug. 26, she still has semi-celebrity status and a popular Twitter handle, so we know it won't be the last we hear from the queen of inappropriate rage. To that end, Handler has been featured in a biographical comic in the Female Force series produced by Bluewater Comics, which also features other famous women like Princess Diana, Ellen DeGeneres, Betty White, and Martha Stewart.
Many of these pulp biographies feature controversial, powerful women: Their list of subjects ranges from Hillary Clinton to Sarah Palin, with the creator of Barbie and Margaret Thatcher thrown in for good measure. And although I can't speak to the content of the other members of the Female Force series, I read Handler's installment and learned that it glosses over a few things over.
The writers of the comic book include some of her most famous stand-up lines, as they should, but they decided not to include some of the celebrity feuds Handler has found herself in over the years, such as her epic takedown of British Twitter toddler Piers Morgan.
The comic book writers did include Handler's wisdom on gender equality and gay rights, but perhaps they should have also mentioned her 12 Years A Slave Oscar tweets that came off as insensitive to some. Also, Handler admitted to Howard Stern that she called 50 Cent "the worst thing you could say to a black person short of calling him the n-word" after they broke up, but the author left this less than PR-friendly detail out, as well.
In the comic, Handler's story is more or less the American Dream; she overcomes obstacles, gets discovered, and saunters proudly into a multi-book publishing deal and TV show. Regardless of her real-life flaws, the comic book is a reminder of just how far women in comedy have come.
Editor's note: A previous version of this article referred to the comic book as an autobiography, when it is, in fact, a biography. Bustle regrets this error.
Image: Bluewater Productions