Eric Garner's NYPD Chokehold Death Ruled Homicide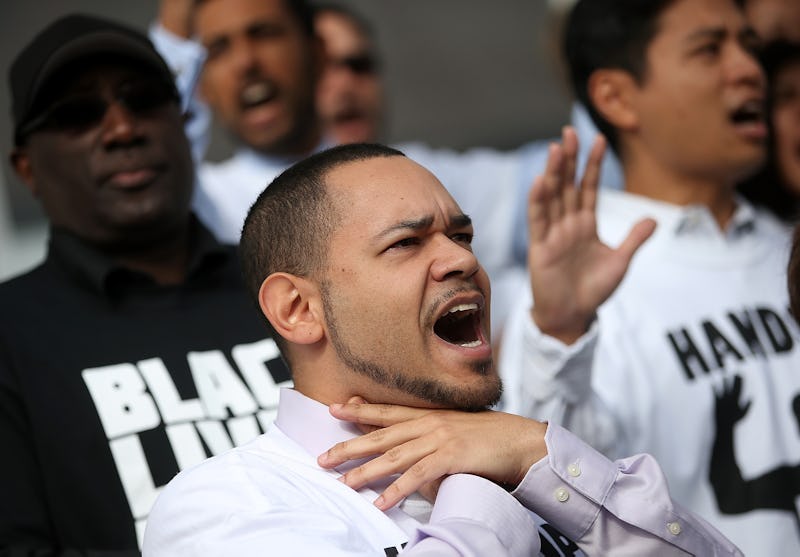 Justin Sullivan/Getty Images News/Getty Images
On Thursday, July 17, Eric Garner was put into a chokehold by NYPD officer Daniel Pantaleo and dragged to the ground, where he died minutes later. It was a grisly scene which received widespread media attention, tearing open well-worn wounds around police conduct and violence in New York City's minority community. Now, the New York Medical Examiner's Office has made the cause of death official — Garner's death was a homicide, caused by Pantaleo's chokehold as he breathlessly plead to be let free.
You may have seen it happen — the whole thing was caught on tape by bystander Ramsey Orta. Without his diligent recording, there's no telling whether the death would've achieved the attention it deserves. I haven't personally watched the video beyond a certain point, having little desire to see Garner die on the sidewalk, and I suspect that's true for other people, too. But that the video needed to be seen by a lot of people is undeniable, and we have Orta to thank for that.
According to the New York Daily News, a spokesperson for the Medical Examiner's Office detailed how Garner died: compression of the neck, chest, and his "prone positioning" while being held in place on the ground by Pantaleo. Garner's obesity, heart issues and asthma were also cited as complicating factors, but in the end, it was the chokehold itself that killed him.
To be clear, the death being ruled a homicide isn't the same as Pantaleo being charged, and there's no guarantee yet what legal punishments he might suffer — that's all still pending further investigation. NYPD Police Commissioner Bill Bratton, according to CBS News, has suggested a federal investigation by the FBI could be coming. But one cost of Pantaleo's chokehold is already pretty clear: the department has removed him of his badge and gun, and has put him on modified duty, according to the New York Daily News.
The use of chokeholds has long been a controversial type of police restraint, owing to the possibility of exactly what happened to Garner — when you choke off somebody's air, there's no telling what grievous medical harm could be suffered as a result. Especially in the case of Garner, a 43-year-old who reportedly weighed well over 300 pounds. Chokeholds were banned by former Commissioner Ray Kelly in 1993, but as CBS News reports, the ban has no backing in state law.