Jay Z's Mistress Made a Video Bashing Beyoncé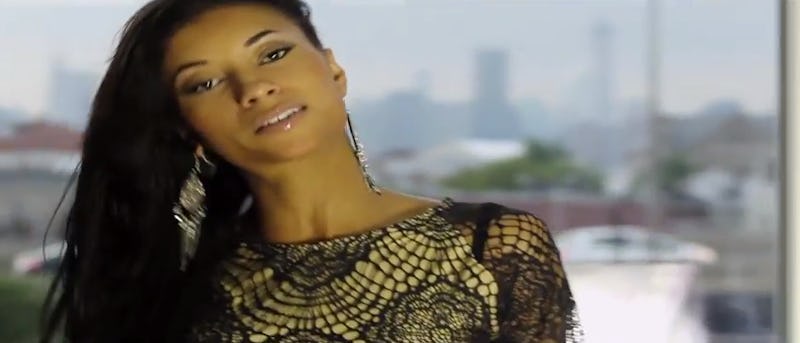 Oh boy, you may want to sit down for this. The rumors that Beyoncé and Jay Z are divorcing following their joint On The Run tour have been swirling for weeks now, but one person is using these rumors for their very own 15 minutes of fame. Jay Z's alleged mistress Liv has just released a music video that throws major shade at Jay Z's wife and Jay Z himself. The song, titled "Sorry Mrs. Carter," is basically an attack on Bey, but such an embarrassing one that there's nothing that either of the Carters should do about it other than laugh. Sorry, Ms. Liv, but this video is such an obvious publicity stunt that it's cringeworthy.
Obviously, everyone should watch it.
Liv starts the video by proclaiming that Jay Z likes "naturally flawless model chicks" like herself, because apparently Liv didn't realize that Beyoncé practically invented the term ***flawless. She then raps about how she never expected to be featured in Life & Style magazine for her alleged relationship with Jay Z, which is hilarious because in the next shot she includes a magazine clip with her interview with Life & Style magazine. Seriously. Girl does not know how interviews work.
The video, which is an "open letter to Mrs. Carter," then goes on to talk about how she never slept with Jay Z, but instead connected with him over some "hip hop shit." After the "hip hop shit," Jay Z became obsessed with Liv, and Liv maybe backed off, because she didn't want to be like Rita Ora, whom she also calls out in the song. Did I mention that she does all of this while washing her hair? The whole thing looks like the beginning of a future reality star's sex tape and I am uncomfortable with it.
There's a confusing narrative within "Sorry Mrs. Carter," which somehow paints Liv as an innocent victim of Jay's advances and a wife-bashing jealous ex. Later on in the song is when the Beyoncé insults start flying, or, more specifically, the Jay & Bey bashing. Liv criticizes Beyoncé for being "ride and die til the very end," and says that Bey should tell her fans how she "really became a wife." But perhaps the most awful shade of them all is Liv's blatant eye-rolling at the song "Drunk In Love."
"SURFBOARD? COME ON NOW."
I honestly have no idea what point Liv is trying to make with this tune (if not to thoroughly entertain this writer) but her place of righteousness is a little bizarre. I mean, she's publicly chewing out Beyoncé for ... what? Not being cheated on? Being cheated on? I don't get it. It might be an Illuminati thing, for all I know.
According to Liv's website, Yes Liv Can, Liv is starting some sort of "invasion," which, according to this poster, has something to do with lighting a doll that looks like Nicki Minaj and a cartoon Jay Z on fire. I think we should all be pretty concerned about this.
I can't wait to see Beyoncé's reaction to "Sorry Mrs. Carter." I'm thinking it's going to be something like this:
Check out the video below.