These Can Ease Your Fear Of A Bikini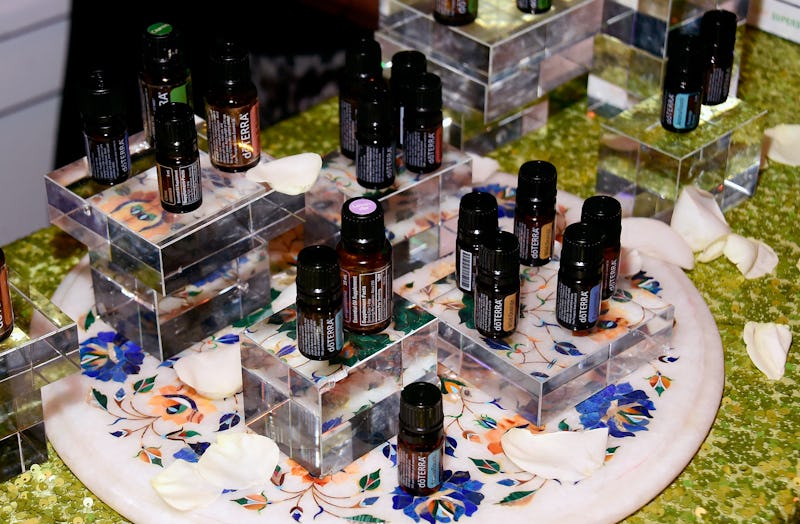 Frazer Harrison/Getty Images Entertainment/Getty Images
For me, there is only one beauty ailment that I refuse to acknowledge and conquer. A beauty woe that is so severe, it will take at least a year to come back from. An honest error that was made for at least 15 years has turned into painful, embarrassing consequences. Fortunately, this faux pas is easier to hide than most beauty errors — which is a total catch 22. If this skincare blunder was on my face, it probably wouldn't have gotten so serious and surely, someone would have said to me "My GOD! Your face is hideous!" And they would've been right. No, this rookie mistake can only be seen in the most intimate circumstances.
Part of the reason that I've only been to the beach about six times in my adult life is due to shaving-shame. These scars appeared the first year I began shaving. I shaved like an animal. I shaved fast and hard, often nicking myself with an old razor and Irish Springs soap. It wasn't a good look. As an informed adult, I now have a detailed routine to cut down on razor burn that starts with opening my pores, moisturizing, shaving, exfoliating, and a homemade aftershave that keeps those awful red bumps out of my life. Sadly, my tight curl pattern that grows on my head leaves me prone to ingrown hairs because of the way the hair spirals when it grows — a common woe for kinky gals.
About a year ago, I began researching laser therapy for my scars, only to find out that my scars were too deep for any of the posh treatments that I was eagerly willing to shell out hard-earned cash for. Slowly, I accepted that I would need to find a natural alternative. That's when I stumbled upon rose hip seed oil. This oil is quite unique: While it's known as a carrier oil, it's often considered an essential oil because of its plethora of health benefits and beauty fixes. The hips of roses contain seeds from which the oil is extracted from blooming. The oil is light but the smell, like many carrier oils, isn't the sexiest. Rose hip seeds are rich in antioxidants and essential fatty acids that your skin will guzzle up big time. It's also high in vitamin's C and A which are great at eliminating scarring and wrinkles, keeping skin effortlessly timeless.
Celebs like Miranda Kerr have in recent years began boasting about rose hip seed oil as their key to vibrant, youthful skin. Maybe these hips were the true cause of the Bieber vs. Bloom Feud? Rose hips is one of the more expensive carrier oils, but a little bit goes a very long way. As long as you store your oil properly, an ounce can last you at least a couple of months.
1. Advanced Scar Treatment
Obviously, I've tried several OTC scar treatments for my teenage-shaving-fiasco, but most of them have never been tested on people of color and proved to have no effect whatsoever on my darker skin. Creams that I bought were pricey and too heavy — they clogged my pores and created more scars to get rid of. What I was looking for was a lil bit of brightening, a lil bit of correcting, and a lil bit of healing. Finally, I came up with a recipe that, after only a few months, has yielding some significant results. I use one part lemon juice, one part rosehip seed oil, and one part tea tree oil, then I add just a few drops of vitamin E — not too much, since this stuff can cause clogging too when used in excess. This recipe is light enough to go on sensitive skin-areas — I've tried castor in the past for scarring, and it's amazing, just not the best carrier oil for face or bikini line.
2. Sunburn Treatment
This conversation seems to be on repeat this summer:
Me: Dude, you have a sunburn.
Dude With Sunburn: Nah, I'm just sun-kissed.
At this point, I reach out and touch the brightly red-colored, tender skin and it's on fire. "That is a sunburn".
"No! This is what we look like when we're sun-kissed and then it turns into a tan," DWS insists with slight rage.
Me: "You are not the first white person I've ever seen. That is a sunburn and it's nothing to be ashamed of. Please let me help you, help your skin."
Here is my sunburn jam, although if you've got acne that's still working itself out, you will want to proceed with the knowledge that you may be fighting sun damage and premature aging from the sun, but you will most likely aggravate your acne.
Depending on how large the area is, take fresh, cooled aloe vera (about half a leaf), and squeeze the juice out after pealing the skin off — be sure to get all the extra gel off the skin — that's precious ointment! Next, add about 1/4 of cucumber pulp, which has hydrating and cooling properties that will have your skin singing your praises the next day. Then, add one tablespoon of rosehips seed oil. While rosehips won't keep the sun off your back, it's booming in antioxidants that can alleviate the redness of your burn and bring your sun-dead — I mean, sun-kissed skin — back to life!
3. Anti-Aging Toner
Take about one tablespoon of chilled, brewed green tea and then add a teaspoon of rosehip oil. This toner will help smooth crow's feet, those pesky lines around the mouth, and zap age spots on site. With this simple, two ingredient toner you'll be able to heal any facial scarring from acne or the sun, while smoothing wrinkles. This toner will save you some serious dough; OTC products containing the same stuff can run you up to $50.
Image: Gertrud K.; Professor Bop; George; Travis Estell/Flickr; Giphy; Kristin Collins Jackson