8 Korean Beauty Tips from 3CE's Advertorials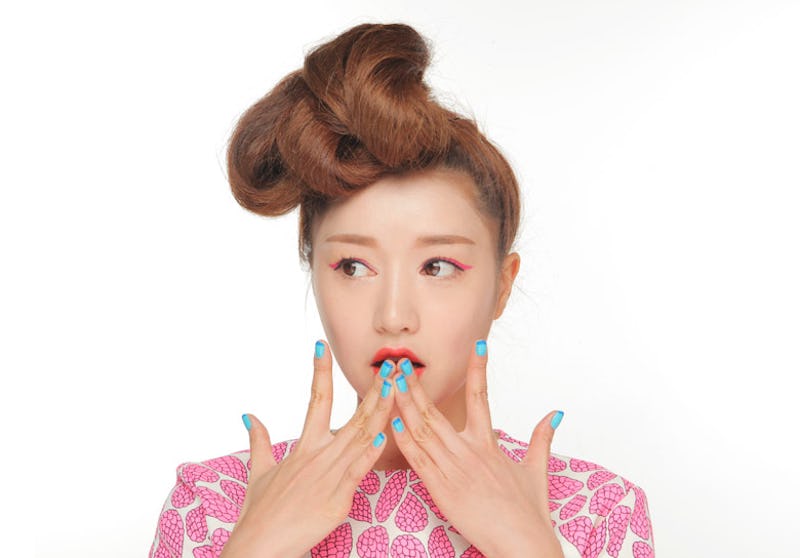 Have you heard of 3CE? Short for 3 Concept Eyes, it's the super-fabulous subsidiary of South Korea's popular fast fashion brand, StyleNanda.
It's home to some of the prettiest/most on-trend/best-ever advertorials around. Each product is meticulously modeled on the site — which is great for a lot of reasons. Not only does it give you a good idea of how each shade will look out of the pan/tube/etc, it's also pretty darn compelling. I dare you to behold model Park Sora's inhumanly flawless face without reaching for your credit card to buy every single product she uses.
It's been said that South Korea is quickly replacing France for the source of all things skincare and beauty, and that's definitely reflected by 3CE — I'd hazard a guess that a lot of the beauty trends germinating on the site are primed to be the next "big thing" throughout the upcoming months/years.
From innovative shades of blush that have yet to take off stateside, to illuminating products that make you look like some sort of bioluminescent fairy-creature, 3CE has a lot to teach us Americans about beauty. With that in mind, here are some of my favorite takeaways from the brand.
1. High-Impact Liner or Bust
This shocking pink matte eyeliner is surprisingly fabulous.
2. Take Your Highlighter Seriously
Highlighter has already been around a while here in the U.S., but 3CE is taking it to another level.
3. You Can Even Highlight Your Undereyes
Yeah, and if cheekbone/browbone/Cupid's bow highlighter isn't bright enough for you, you can always step it up even further with some shimmery undereyes (I've tried it, and it's actually pretty cute).
4. Cutesy fake tattoos?
A must, if ever there was one.
5. Orange is the New Pink
Forget your rosy flushed pink blushes and baked bronzers: this bright orange might just be your perfect high-impact summer look. It's playful yet eye-catching; bright without looking like it jumped straight out of the '80s.
6. Lilac... is also the new pink
If orange isn't your cup of tea, you might also want to give this ultra-pretty lilac a try. It's soft, feminine, and slightly "alien-like" — in a good way, obviously.
7. Studded nails are a go
Seriously, could there be anything cooler than studded nails?
8. With lipstick, it's all about pop
Eyemakeup is generally neutral and toned down (with some notable exceptions, of course) so lips can take center stage. 3CE boasts every color from true orange to shocking orchid: this particular shade of pink, which is rather adorably named "Giddy Up," is a definite favorite of mine, though I'm also quite partial to "Yippee" and "Lollipop."
Images: StyleNanda (9)