11 Fashion Pieces Inspired by Andy Warhol's Legacy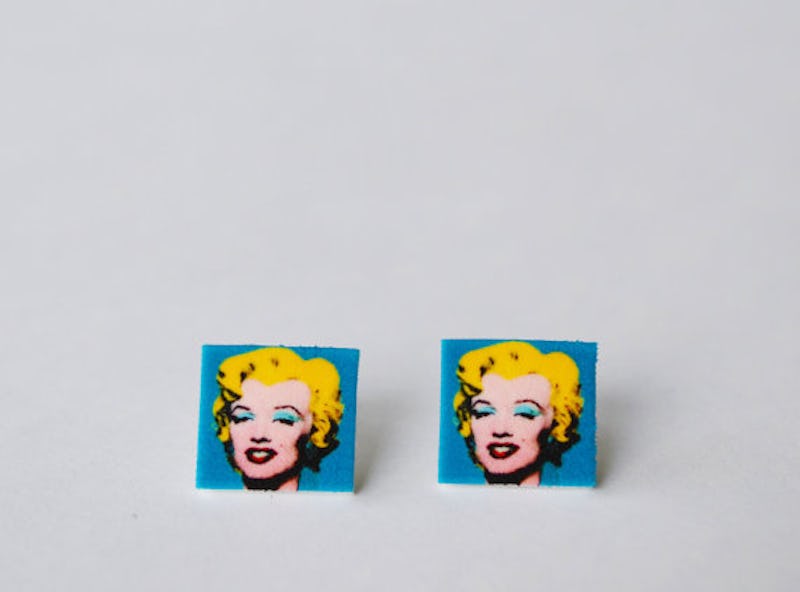 Hey there, Factory-dwellers — did you know that Wednesday, August 6th is Andy Warhol's birthday? The legendary Pop Artist, who would have just turned 86, passed away in 1987 — but luckily for us, his legacy lives on. You might not be able to waltz into his Factory in a minidress and demand an audience with Andy himself, but you can wear outfits worthy of his most glamorous Superstars.
Warhol made a huge impact on fashion. Today, we still see Campbell soup printed t-shirts on every hipster from Portland to Bushwick. And who hasn't owned one of those Velvet Underground & Nico canvas tote bags with the banana on the front? More than 25 years after his death, Andy is still everywhere. If that isn't success, I don't know what is.
If you're itching to take a walk on the wild side (Lou Reed, get it?) in Warhol-inspired wares, no worries — I've got you covered. From the far reaches of the Internet, I bring you the hippest, chicest, cool-cattiest clothing and accessories that recall Andy's most famous works of art. If you want to turn the whole world on for a moment (that's Edie in Ciao Manhattan , gooosh you need to brush up on your Warhol references), stock up on the items below.
1. Marilyn Earrings
These adorable little square studs each feature a Warholified portrait of Marilyn. Perfect for tripping the light fantastic at Max's Kansas City.
Marilyn Monroe Pop Art Earrings (Etsy, $8).
2. Flower Parka
This adorable parka is adorned with flowers in the style of Andy Warhol's Flowers silkscreen from 1964.
SPRZ NY Light Pocketable Parka (Uniqlo, $50).
3. Warhol Scarf
Andy Warhol's face on a scarf. Need I say more?
Bollicine Andy Warhol Scarf (Ekseption, $194).
4. Edie Tee
Oh Edie, the most glamorous and tragic of Andy's muses. May she live on forever through this fabulous t-shirt.
Edie Sedgwick T-shirt (Etsy, $10).
5. Shoe Print Leggings
Before transitioning to silkscreen, Andy was a commercial illustrator who spent time sketching whimsical shoe designs. If the leggings fit...
Pepe Jeans Andy Warhol Shoe Print Leggings (ASOS, $63).
6. Campbell Soup Matching Set
Everybody and their mother (and their hipster baby, and their husband, and their dog...) has an Andy Warhol Campbell Soup t-shirt. But this matching set? Not a chance someone else will show up to an Art Happening wearing this.
Vintage Andy Warhol Soup Can Matching Set (Etsy, $135).
7. Chelsea Girls Tee
This is technically a men's shirt, but Andy girls don't give a hoot about gendered clothing. Wear it oversized with tights as pants and doorknocker earrings to make Edie proud.
Pepe Jeans Chelsea Girl Print T-Shirt (ASOS, $60).
8. Quote Buttons
The only thing more memorable than Andy's art is his wisdom. Pop art is for everyone, indeed.
Andy Warhol Quote Buttons (Etsy, $7).
9. Shoe Tank Top
I'm not saying you should wear this tank top with the aforementioned shoe leggings but I do believe Andy would approve.
SPRZ NY Graphic Sleeveless Tunic (Uniqlo, $20).
10. Nail Art
Like Pop Art, nail art will never die.
Andy Warhol Famous Works Nail Set (Etsy, $25).
11. Lips Sweatpants
Sweatpants are decidedly un-Andy, but the lips print is just too cute to deny.
SPRZ NY Sweatpants (Uniqlo, Available 8/11).