These Lip Crayons Will Customize Your Color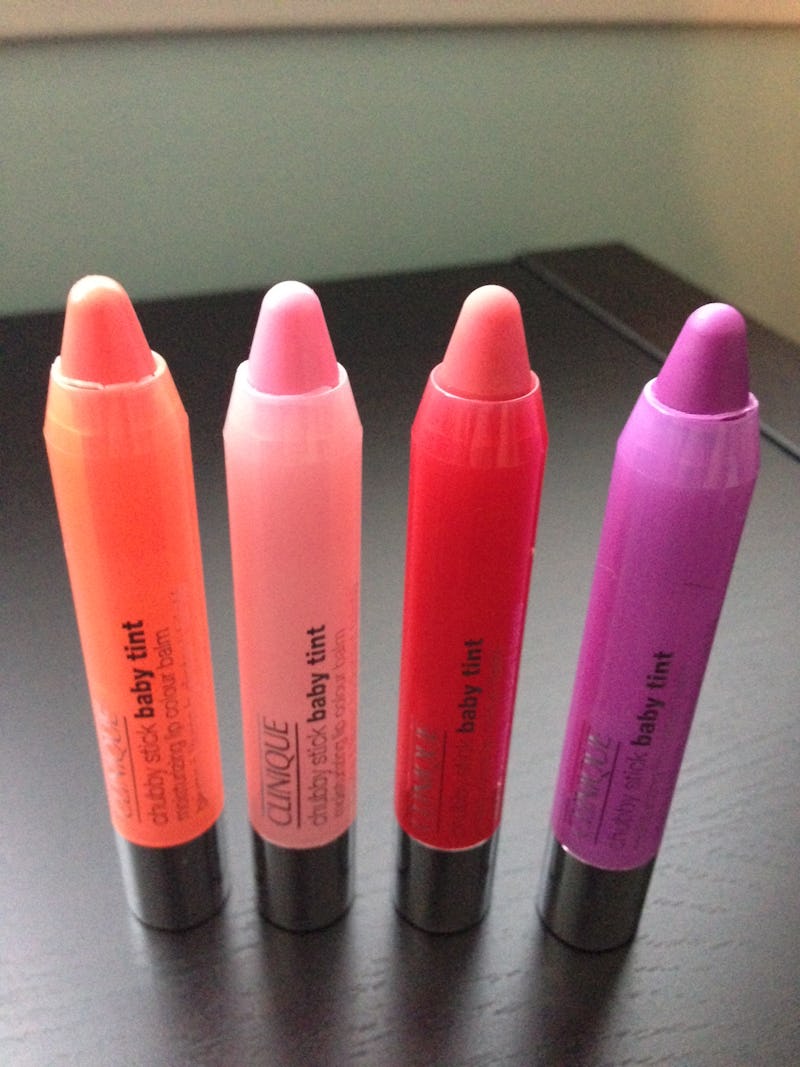 Clinique's Chubby Sticks are basically iconic at this point. These miraculous lip crayons come in matte and glossy textures, with some shades are more concentrated than others. They are also super moisturizing, so you get the color of a lipstick, the slight shine of a gloss, and the moisture of a balm, thanks to good stuff in the ingredients list, like Vitamin C and shea butter. They are full-service lip crayons. Well, I am happy to report that the brand has added a sub-genre of the Chubby Stick with The Chubby Stick Baby Tint Moisturizing Lip Colour Balm.
Dissect that very long name and description and you get this: a very sheer and translucent lip crayon, one that is so sheer that it actually mixes with your natural lip tone and chemistry to create a custom color. The color essentially "blossoms" when it hooks up with your lip color. Science!
Clinique claims that each shade will look different on every wearer and that sort of goes without saying, because my skin tone is fair and my natural lip color, which is very pink, are probably very different than yours.
There are four shades that are self-defining: Poppin' Poppy, Budding Blossom, Coming Up Rosy, and Flowering Freesia, pictured in that order above. The crayon barrels are also tinier than the normal Chubbies, so there's even more reason to own all four.
Clinique Chubby Stick Baby Tint Moisturizing Lip Color, $17, Nordstrom
I admit I was worried these would be way too sheer and like wearing colorless balm. Plus, since my lips are so dominantly pink, I didn't think they would pick up the poppy, which is somewhat tangerine-ish. I also figured the Budding Blossom, which is a super pale pink, wouldn't show up, either.
As it turns out, these Baby Tints were essentially amplifiers for my pre-existing tone and I am so down with dialing it up.
Since my lips are so pinkly pigmented, each one that I tried looked really pinkish on me, just kicked up ever so slightly, thanks to the different tones. Above is me rocking the Flowering Freesia.
This is me totally loving the Budding Blossom. In this lighting, there is not much of a difference from the Freesia. I see pink and I like it.
That said, I went outside to check the color in the natural sunlight, which picked up some of the tangerine tones in Poppin' Poppy, so I am going to wear this on my outdoor excursions this weekend. The differences are super subtle and they are more detectable when up close and in person.
Granted, I am not using a pro camera or pro lighting rigs, but the Baby Tints are touted as offering a teeny bit of color with a healthy helping of moisture, and I can certainly attest to that. I found myself running the softening chubster stick over my lips multiple times because the moistness was addictive!
Images: Amy Sciarretto (4)