FIFA Isn't Really Into The Women's World Cup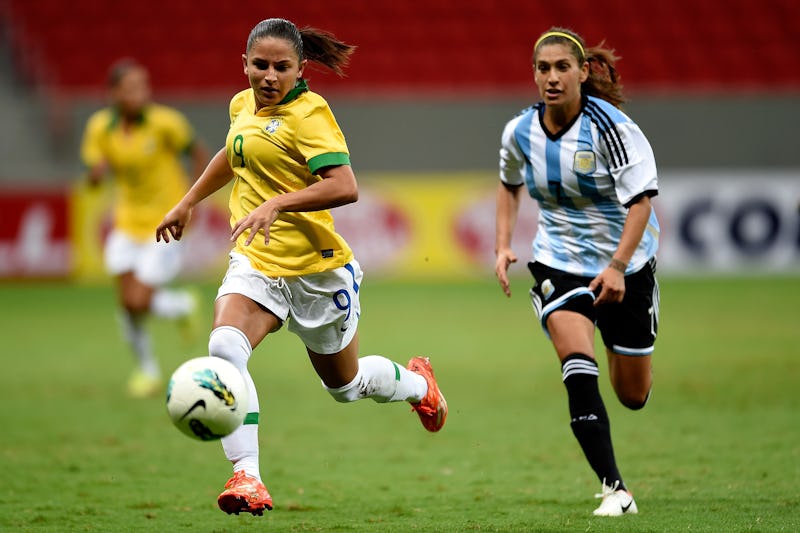 Buda Mendes/Getty Images Sport/Getty Images
The men's FIFA World Cup ended last month, but don't forget about the women. In 2015, women national football teams will face off in the FIFA Women's World Cup — except, this time, it may be on artificial turf instead of natural grass. What? Well, more than 40 female soccer players are protesting FIFA over an artificial turf proposal for the 2015 games in Canada, claiming the measure is discriminatory against female players. If the proposal goes through, it'll be the first World Cup — men's or women's — to be played on an artificial surface.
The female players involved have sent a letter to the international football association, threatening a gender discrimination lawsuit. According to Fox Sports, which obtained the letter, they wrote:
[Artificial turf is] a surface widely recognized as inferior in international soccer. The proposal [of its use] is discriminatory and violates Canadian law. The best players in the world deserve premier playing surfaces. Simply put, artificial turf is not a premier surface in the soccer world. Singling out this women's tournament for substandard treatment is a mistake. ... If your organizations will not engage in a meaningful dialogue on how to correct the discriminatory treatment of women players, we are prepared to pursue legal action which we are confident should succeed.
The women football players added that artificial turf is not only a "second-class surface," but also violates major human rights codes, including the Canadian Charter of Rights and Freedoms. The artificial turf is also being used in the Under-20 Women's World Cup, which kicked off in late July in Canada as well.
The Canadian Soccer Association has yet to release a comment addressing the letter or impending lawsuit. FIFA also had no comment, aside from confirming that the organization received the letter.
So, what's the big deal about playing on artificial turf rather than real grass? According to U.S. football player Abby Womach, who co-signed the letter to FIFA, artificial turf changes the whole nature of the game. Womach told Sports Illustrated in April:
I'm feeling like this is the women's game taking a step back. ... We believe this is a shame not only for the players but for the fans. The game plays differently on artificial surface, not only because of fear of injury but because it's a different surface. You can also talk about it being a gender discrimination issue. Would they ever let the men's World Cup be played on an artificial surface?
Womach is right: Male football players almost never play on an artificial surface. The most recent World Cup in Brazil, for instance, was played entirely on natural grass. According to Soccer By Ives, the 2010 Men's World Cup in South Africa used some artificial fibers on grass fields, but every World Cup event through 2022 will be played entirely on grass.
Although FIFA hasn't responded to the women's letter, FIFA President Joseph S. Blatter did touch upon the controversial use of artificial turf at a press conference on Aug. 4. The outspoken FIFA president called artificial surfaces "the future," claiming the quality has improved significantly:
It used to be the case that playing on artificial turf was a nightmare. The quality was poor; it was no better than a carpet. But the quality has improved vastly since then. ... Young people across the globe have got used to playing on this surface. We played on different surfaces, both natural and artificial, at Canada 2007, and there were no more injuries on one or the other, but more goals were scored on the artificial pitches. It is easier to play on a good artificial pitch than a bad natural one, especially when it comes to precision.
Blatter may believe the turf has improved, but many elite female football players still find the move to artificial turf patronizing and demeaning. Do women football players really need a handicap at a first-class tournament? "To host the largest sporting event in history for women and not giving them an equal playing field as they would for men ... it's insulting to the top women's players in the world," Canadian football hall of famer Carrie Serwetnyk told The Toronto Star. "We can do better."
Images: Getty Images