The 7 Most Insane Shoes Money Can Buy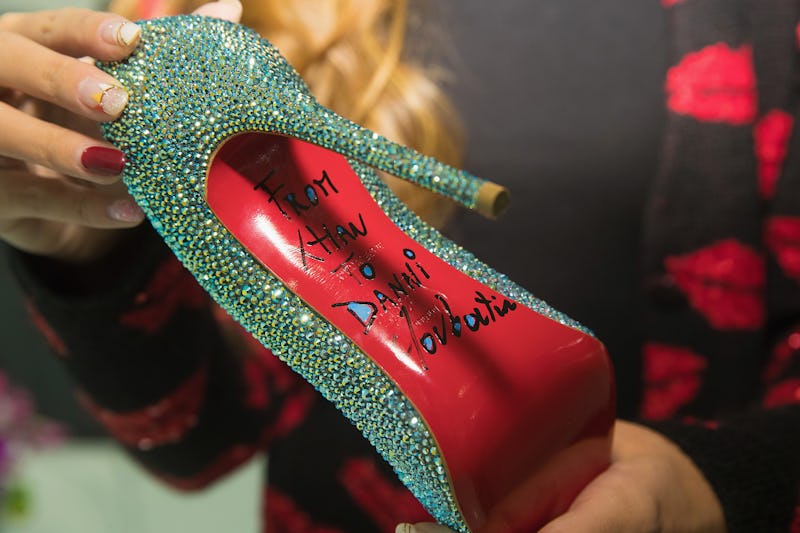 Mat Hayward/Getty Images Entertainment/Getty Images
I have always found the way consumers choose to treat themselves fascinating, especially when those consumers happen to be addicted to shoes. Celebrities trot out enough exotic footwear on the red carpet to spark the interest of fashion followers, but only a handful have a truly outrageous addiction. The usual suspects include Beyonce (hello, sparkling Louboutin's at the 2011 NBA All-Star Game), and Lady Gaga, whose $15,000 Noritaka Tatehana heel-less heels are simply one of the many extravagant and provocative pairs in the singer's arsenal. However, based on the sheer number of prohibitively expensive shoes on the market, it seems that there is a greater consumer base for outrageous shoes than one might think; a shoe for every foot, and a price for every budget.
Case in point, designer Kathryn Wilson created a 28.18-carat diamond-encrusted heel in 2013, which, at a shocking $500,000 in New Zealand currency, makes the pair literally fit for royalty. What other expensive oddities can one buy with limitless funds, I wondered. The results of my inquiry are below, and though most designer shoe options petered off around the $2,000 mark, there are a sea of other options for which $2,000 is merely a baseline.
1. CHRISTIAN LOUBOUTIN DAFFODIL STRASS PUMPS
If you happen to have $6,000 laying around, Christina Louboutin has a pair of crystal-studded platforms he'd like to sell you. The Christian Louboutin Daffodile Strass Pumps measure in at 6.3 inches and boast a surface smothered in Swarovski crystals. Louboutin's website claims the arresting pair "could make a whole room short of breath", but I'm having palpitations just looking at the price. On a related note, these are the very pair which Beyonce wore to her court side NBA appearance in 2013.
2. TAMARA MELLON SWEET REVENGE BOOTS
If the graffiti heels aren't quite ringing your bell, a cool $1,995 will make you the proud owner of boot-pants, aka Tamara Mellon's Sweet Revenge Leather Legging Boots. Rendered in 100 percent leather, these chunky-heeled, pointy-toe boots pull up over the knee and keep right on going, ending in a snugly-fit, high waisted style. I simply can't imagine a more perfect look for those lazy evenings when removing one's shoes and pants separately seems like too much of a chore. Never mind that prying myself out of these babies would likely involve a shoe horn.
3. RENE CAOVILLA CRYSTAL-CUFF LEATHER COMBAT BOOTS
Remember how combat boots were the cat's pajamas in the '90s? Well, they're back and more embellished than ever thanks to Rene Caovilla's Crystal-Cuff Leather Combat Boots, which will only cost you $1,675. Perhaps Ms. Caovilla hasn't been informed that combat boots have historically been considered a counterculture statement, and therefore the average combat boot customer isn't necessarily seeking a pair that fits within today's trends... or costs above $100.
4. HERMES CORFOU THONG SANDALS
Hermes's Corfou Thong Sandals only cost $810, as opposed to Louboutin's Daffodile Strass heels at $6,000, but I implore you to take a closer look at these shoes. Perhaps you notice that they are as nondescript as flat, single-tone sandals go, and are virtually indistinguishable from every other pair of leather flip flops, making $810 an utterly batty amount to pay for shoes that look as though they could be from Target.
5. JIMMY CHOO TIBET BLACK NAPPA AND CRYSTAL POINTY-TOE FLATS
On the subject of flat shoes which shouldn't cost as much as they do, Jimmy Choo's Tibet Black Nappa and Crystal Pointy Toe Flats are only $3,250. Without tax. You may as well set to work on your favorite black flats with a bedazzler and some bling, because the effect will be similarly blinding, and about one-three thousandth as expensive.
6. RICK OWENS MOODY GEOBASKET SHOES
In all fairness, Rick Owens's Moody Geobasket Shoes are for men. However, this pair of somewhat muddy-looking sneakers costs nearly $4,000, and they are made out of Iguana. Iguana. I dare anyone to find a pair of more ludicrously priced — and crafted — sneakers. The iguana factor alone is enough to make any competing luxury shoe designer throw up their hands in defeat... or perhaps revulsion.
7. CHARLOTTE OLYMPIA HANDS ON BOOTIES
Charlotte Olympia's quirky, fantastical designs fall into the category of "good crazy", but that doesn't imply any less emphasis on the crazy. Olympia's shoes tend to spike in price the more unorthodox the design is, exemplified by Olympia's Hands On Platform Booties. For $1,195, you can wear a pair of manicured suede hands on your feet. As I have fallen for other, less experimental designs of Olympia's, I image there is some eccentric soul out there who will adore kooky design as well as its hefty price tag.
Images: Christian Louboutin Daffodile Strass Pumps, $5,995, us.christianlouboutin.com; Tamara Mellon's Sweet Revengeleather Legging Boots, $1995, net-a-porter.com; Rene Caovilla Crystal-Cuff Leather Combat Boot, $1675, neimanmarcus.com; Hermes Corfou Thong Sandals, $810, usa.hermes.com; Rick Owens Moody Geobasket Shoes, $3,993, rickowens.eu.com; Charlotte Olympia Hands On Platform Booties, $1,195, us.charlotteolympia.com; Jimmy Choo Tibet Black Nappa and Crystal Pointy Toe Flats, $3,250, us.jimmychoo.com