The Essential Rules For Packing To Study Abroad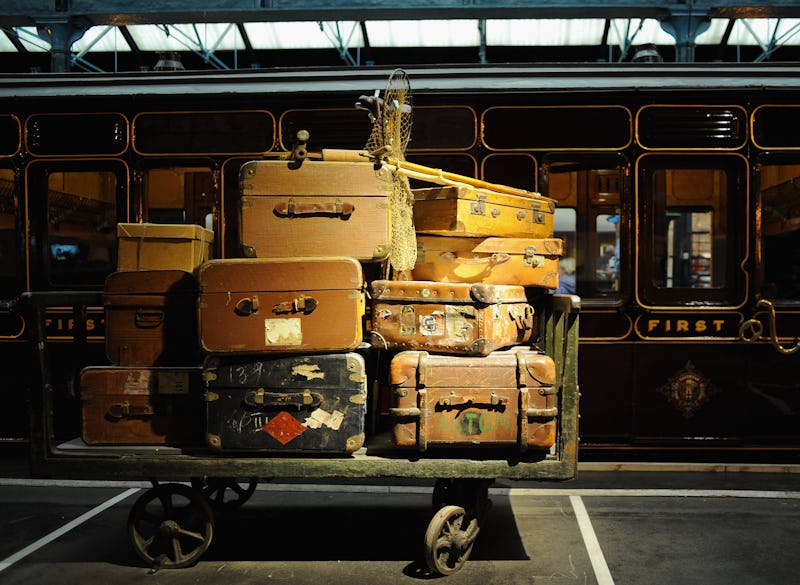 Ian Forsyth/Getty Images News/Getty Images
So you're studying abroad next semester. You're likely already dreaming of your ideal, scenic Instagram shots, riding your bike to get coffee, learning a new language (or, more likely, if you're American, not making an effort to learn/speak a new language at all), and being able to finally do what many graduates describe as "the past part of their college experience." You're so thrilled at the idea of going to your dream destination that even the idea of packing thrills you. You're planning cute outfits to wear to music festivals and coffee dates where you discuss how much you "like, totally agree that America should, like, stay out of other country's problems," and hip parties hosted by even hipper DJs. You are so ready. Or so you think.
When I studied abroad for my sophomore year of college, I had the major task of packing for an entire year in an entirely new country, complete with an entirely new climate. I had never even been to the Netherlands, and suddenly I was moving from Florida to a city I had never even really heard of (shoutout to anyone who knows/loves Utrecht) in a country I knew very little about. And did I know what to pack? No. So I just threw in a winter jacket and 23 pairs of shoes. In retrospect, I failed when it came to packing, despite my myriad footwear options.
And if I could do it over again (which, by the way, I would in a heartbeat), I would pack very, very differently. While, of course, there are going to be differences in wardrobe choices depending on your destination, for the most part there are a handful of staples that you're going to need if you're studying abroad this fall.
And if you want to pack efficiently and avoid a total and complete mess when you're ready to go home (see Instagram below for an example of how everything went wrong for me), try to resist the urge to bring completely unnecessary things as well.
What To Definitely Bring:
1. Rain Boots
Hunter Adjustable Back Boot, $158, Nordstrom
The one thing I did right before leaving to study abroad was buy a pair of rain boots. Ideal for rainy weather (and awesome for snow if you're going somewhere pretty cold in the later fall/early winter months), these are the most convenient and cute way to keep your feet warm and dry. However, word to the wise: They are heavy. So, if you're already packing a ton of clothes, maybe consider buying them in your study abroad destination when you arrive.
2. Three Pairs Of Shoes
Chuck Taylor All Star Fancy, $55, Converse
Other than your rain boots, there are really only three other pairs of shoes you're going to need. A cute pair of neutral leather booties or knee-high boots (that are comfortable — that part is key), your best pair of casual, stylish shoes for walking around, and one extra pair of your own choosing. I would choose between running shoes or heels for the extra pair. Either way, you aren't going to be working out or having the urge to walk down cobblestone European streets in heels as much as you think so, so it's up to you.
3. Three Dresses
Swing Dress With Seam Detail, $21, ASOS
One basic dress (think basic colors, easy silhouettes) that you can pair with boots or Converse, layer with tights and throw a sweater/jacket over in the cooler months. One going-out dress that you will never feel too fancy in, but can be worn to formal occasions on the off-chance that that happens. One casual, loose-fitting dress in a fun color or pattern — think shift or trapeze dresses. But one rule to remember for all of these: Pick what you wear most consistently, and what you feel the most, 100 percent confident in. That dress you never wear, but love so much? You aren't going to wear it abroad either. Trust me.
4. Tights
Opaque Tights, $13, Hue
The key to not packing too much for studying abroad in the fall is layering. You have to bring pieces that can transition from August to November. The easiest way to do that is finding pieces to layer on top of one another. Tights are key. If you have a favorite brand already, stock up. I suggest at least four pairs. They're easy to pack... and rip just as easily. So don't be afraid of bringing too many pairs. Solid black is the best choice. Also, for tall girls like me: Find tights for tall girls and BUY THEM before you leave.
5. ONE Winter Coat
The North Face 'Liana' Insulated Jacket, $185, Nordstrom
Think practicality. If you're going anywhere where it may snow, it's going to get pretty cold. And you're going to want to be prepared. Just to be clear: A pea coat from Forever 21 will not cut it. It's tempting to only think in "I want to look so cute" terms when packing for your trip, but here it's important to think of comfort/quality first and foremost. If you're going to spend a little extra money, here is where to do it. You won't need more than one, so don't waste room with bulky coats.
6. Two Scarves
Calvin Klein Vertical Stripe Infinity Scarf, $42, Zappos
I made the mistake of bringing roughly 1,200 scarves when I first left for Europe. Truth be told, it gets cool enough as soon as September to wear some lighter scarves, but in reality you're only going to need two. Choose two neutral colors (black or camel is usually good), with one in a lighter fabric and one that is definitely warm and high-quality for winter.
7. White T-shirts
Short sleeved top, $3, H&M
As a big believer in the power of the white T-shirt, I honestly think that this is a key part to any wardrobe, but especially awesome for when you study abroad. Why? Well, whatever taste in clothing that you may have now, odds are that being abroad will change your sense of style just a little bit. White T-shirts are consistently classic/fashionable, can be styled in any number of ways, and are thin enough to be layered up to perfection. Trust me, it's a must.
Alright, so obviously, there are a few more things than just three dresses and a few T-shirts that you need, but these are great basics if you're going somewhere that's going to get a little cooler in the fall months. More importantly, though, you have to remember that you're going to shop while you're abroad too. The exchange rate may be scary, but you'll forget all about it when you see the perfect top at a local boutique. Besides, you can tell everyone "I got it in France/Spain/Greece," which sounds really cool.
In order to make sure you're not overpacking, and instead leaving a little room for the important purchases you'll make while abroad – here's what NOT to bring. Period.
Resist The Urge To Bring:
1. Blowdryer/Curling Iron/Straightener
Odds are, you are either going to blow up the hair styling tool itself, or your whole building is going to lose power. Converters and adapters and all those things may or may not work (I have only had experience with the latter situation), and you can buy cheap blowdryers and curling irons anywhere abroad. They take up room in your suitcase and just aren't worth it.
2. A Lot Of Jewelry
Jewelry ends up being a very heavy thing to pack if you bring too much of it. Stick to a few of your all-time favorites: best statement necklace, favorite earrings, etc. And don't bring anything expensive unless you plan on wearing it every single day, without exception.
3. ANYTHING You've Never Worn Before
With the exception of necessary basics you've bought for your time abroad (sturdy scarves, a couple sweaters, and a winter coat), resist the urge to bring things that you haven't worn before. Like I said earlier, you won't change your mind and end up wearing it abroad. Stick to things you feel the absolute most confident and comfortable in. That is what you will wear, no doubt.
4. A Plethora Of Undergarments
If you're anything like me, you have a collection of a whole lot of pretty bras. Pretty underwear is just plain fun. But when you pack, try to think about the fact that you're going to need to pack to go home at some point. And your suitcase will be filled with even more things then — not less. So stick to the necessary bras: strapless, nude, lacy (you have to have one pretty one in there), and then those sticky boob things that you need for dresses with weird backs. The essentials.
5. Books
Ok so, this isn't fashion, but trust me when I say you will not be sitting in your study abroad dorm/apartment and reading a book most nights. And if you have that urge, you know, you can buy books abroad too. I'd suggest bringing one or two for the plane, and that's about it.
6. ANY More Than 6 Pairs Of Shoes
Just don't do it. It's tempting, but trust me when I say you will regret it as soon as you're trying to haul your suitcase around town to wherever it is that you're saying. Heed my advice about the necessary pairs of shoes, and keep in mind that when traveling abroad, if you have any interest in fashion at all, odds are that you're going to want to buy a pair of shoes at some point. So you'll have options, don't worry.
7. Workout Clothes
As much as you think you're going to spend your mornings running through the Italian countryside, trust me when I say that you will spend more time with your friends eating and drinking than you will exercising. It might happen once or twice, but odds are it's not going to happen as frequently as you think. Two T-shirts, one pair of work-out leggings and one pair of running short is the most I would recommend.
Image: oliviamuenter/Instagram (3); Piotr Marcinski/Fotolia.com; Giphy (3)