Channel Mindy Kaling's Adorkable Look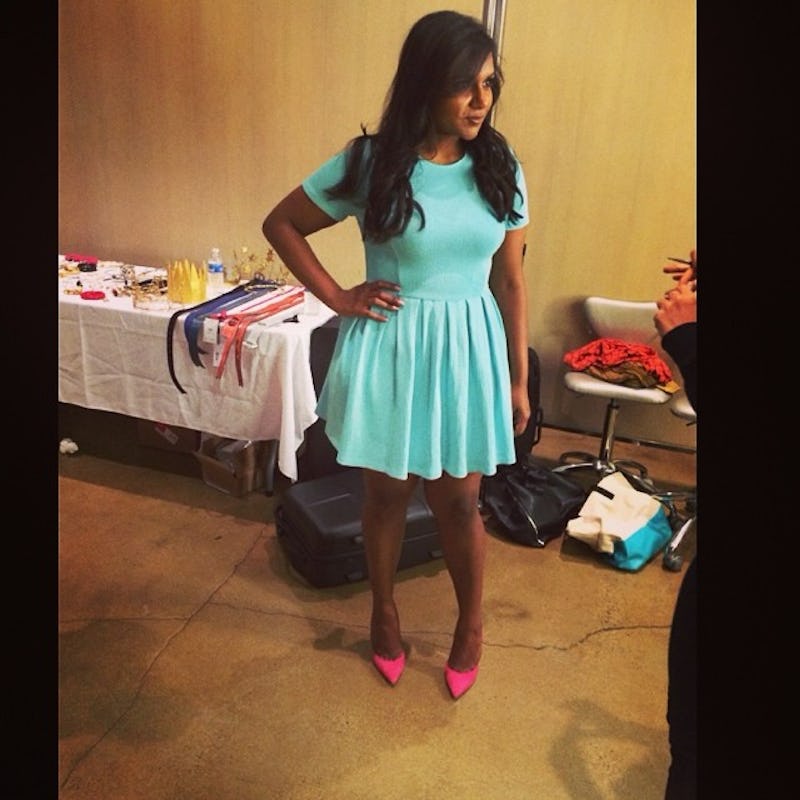 If there were a contest for most relatable, adorable television presence on a major network this year, Mindy Kaling would be a front runner. Her bit roles in films like The 40 Year Old Virgin and License To Wed barely scratched the surface of Kaling's comedic talent, let alone her innate ability to channel the relatable everygirl. Kaling brought "smart" and "idiosyncratic" into fashion with her portrayal of a hopeless romantic OB-GYN on The Mindy Project, traits which were made all the more lovable when paired with Mindy's quirky wardrobe.
The actress herself enjoys clothing with a bit of eccentricity, whether it be a neon dress, a pop of pattern, or simply an unexpected accent. As a follow-up to her first book, Kaling is publishing yet another best-seller in the making, and happened to post a series of potential cover ensembles on her Instagram. One particular outfit, consisting of a beautiful aqua Opening Ceremony Dress and Jimmy Choo heels, caught the attention of both her followers and fans with its bold palette and sweetly alluring air. To capture Kaling's look without the hefty price tag, read on for four of the actress's glamorously kooky essentials.
1. BRIGHT SHORT SLEEVE DRESS
Purchase the very light blue Opening Ceremony Apex Dress Kaling wore for her shoot at a steep discount thanks to the brand's end-of-summer sale.
2. NEON PUMPS
Add a pop of pink to your ensemble with Shoe Cult's Nicole Pumps.
3. MEDIUM BARREL CURLING IRON
Mindy's cascading curls add extra glamour to her sweet ensemble. Achieve a similar look with Hot Tools's Gold Curling Iron.
4. SMOKY EYE PALETTE
Kaling polishes off her look by adding a subtle smoky eye. Try Urban Decay's Naked2 Palette for a smoldering, chic finish to your eye-catching ensemble.
Images: mindykaling/Instagram; Opening Ceremony Apex Jersey Short-Sleeve Pleated Dress, $149, openingceremonyus.com; Shoe Cult Nicole Pumps, $78, nastygal.com; Hot Tools Gold Curling Iron, $29.99, ulta.com; Urban Decay Naked2 Palette, $54, sephora.com