'BK Nine-Nine' Season 2 Trailer Is "Owesome"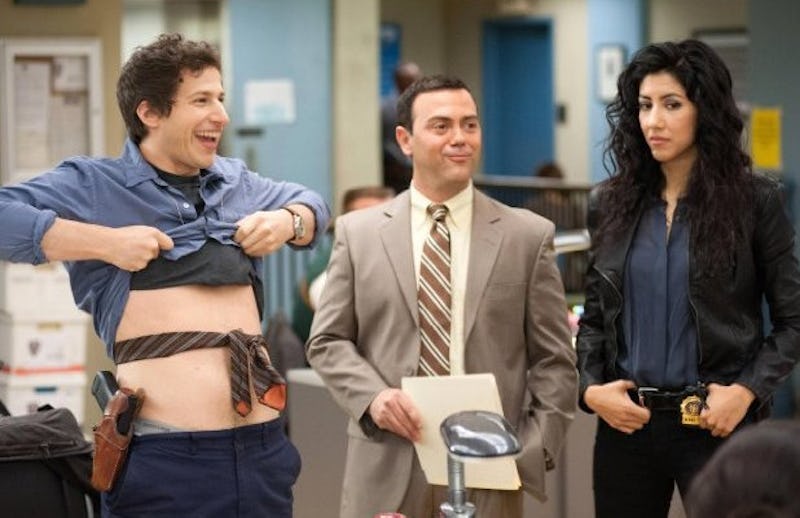 Brooklyn Nine-Nine is back for a second season, and this time, the show may have a better chance at an Emmy nomination. Anthony D'Alessandro of Deadline reports that, though BK99's stunts and hilarious supporting actors in the first season were acknowledged by the TV Academy, the show was initially overlooked in both the primetime comedy series and lead actor categories. But Andy Samberg, Melissa Fumero, Joe Lo Truglio, and Chelsea Peretti are all back, and the first teaser for the Brooklyn Nine-Nine Season 2 premiere does not disappoint.
The 22-second clip is short, but of course, it will make you laugh out loud. It's "owesome."
Season 2 is packed with owesomeness all around. There will be special guest appearances by Kyra Sedgwick as the nemesis of Captain Holt, played by Andre Braugher, and Jenny Slate will also guest star as Bianca, a rough and tough "mob mistress" who runs into Jake (played by Andy Samberg) during an undercover operation, and could be the one to help him bring the mob to justice.
Brooklyn Nine-Nine Executive Producer David Miner has high hopes for Season 2, too. "We're happily on the TV Academy's radar. It takes time to build groundswell with them and we're happy this time around to be considered." This season, now that BK99's been on the Academy's "radar", the chances for snagging a Primetime Emmy nomination are looking better and better. The series will have a prime Sunday night spot this season among FOX's popular animation lineup.
Brooklyn Nine-Nine premieres Sept. 28 at 8:30 p.m. on FOX. Check out the trailer here:
Images: FOX