We Need to Cheer Up Jesse, Guys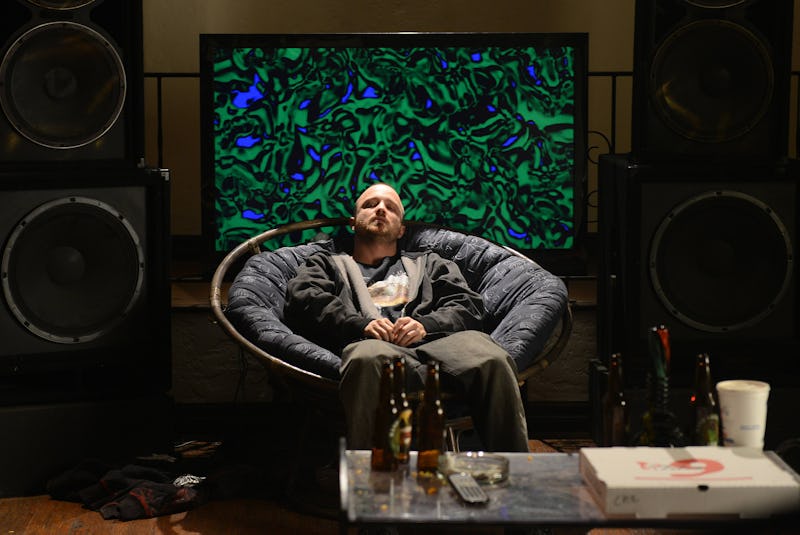 Sunday night's Season 5 Part 2 premiere of Breaking Bad proved that we need to worry about Jesse. The once-enthusiastic meth dealer with a young boy's soul is clearly troubled, having sat nearly comatose throughout the entirety of the episode, unable to cope with the fact that Drew Sharp and Mike Ehrmantraut met their makers at the hands of his boss' brutal meth empire.
Theories have circulated the Web since the series' end, and none of them spell good things for Jesse. One viewer points out Walt's new coat resembles Jesse's — concerning, to say the least, having learned that Walt takes on characteristics of those he killed. Others claim Jesse's exhausted and exasperated state seem to indicate he's headed for suicide.
Either way, we've learned it's high time (heh) we rushed to Jesse's aid and help everyone's favorite right-hand man in the wrong place and the wrong time. So let's gather together, Breaking Bad fans. We need to help a guy out and send him positive thoughts to help get him over his PWWSD (that's Post-Walt White Stress Disorder, of course), and hopefully survive the entirety of Season 5 Part 2. Because I need Jesse to end up in foster care center helping children instead of six feet underground.
So let's give it a go. First off, let's try to cheer Jesse up with every pothead's favorite sponge who lives in a pineapple under the sea, SpongeBob SquarePants. Laugh, Jesse, laugh!
That not work for you? How about we remember the good ol' days when your meth-cooking name was Cap'n Cook. Ah, nostalgia, amirite?
So that only makes you think of Emilio, who you last saw on your hallway floor chopped in bits. Okay, then how about we think about someone who loved drawing cartoons that you loved?
Yeah, Jane! And she's ready to get high with you and play Mario Kart!
Which means that you now have the munchies. Let us get you some Combos.
Oh, sorry, baked Combos.
And that only makes you think of your dearly departed friend Combo, huh? Okay, let's forget about the Combos. In fact, just throw them to your Roomba.
Speaking of Roombas...
Hm, not a cat person? Then cheer yourself up looking at these kids! All these happy, happy kids! They're so happy!
Better yet: Happy kids... with pizza.
And, since you refuse to kill a beetle or even a cockroach, clearly, you like bugs of the non-fly variety. Which means you'll love Honey, I Shrunk The Kids' Antie, who, like you, cares deeply about small children.
Still looking for a father figure who shares your passion for science but doesn't murder people? I've got good news for you — Bill Nye the Science Guy is in syndication!
See, Jesse? Be happy! There's so much to live for — kids and pizza!
Image: AMC