The 36 Best Outfits Carrie Ever Wore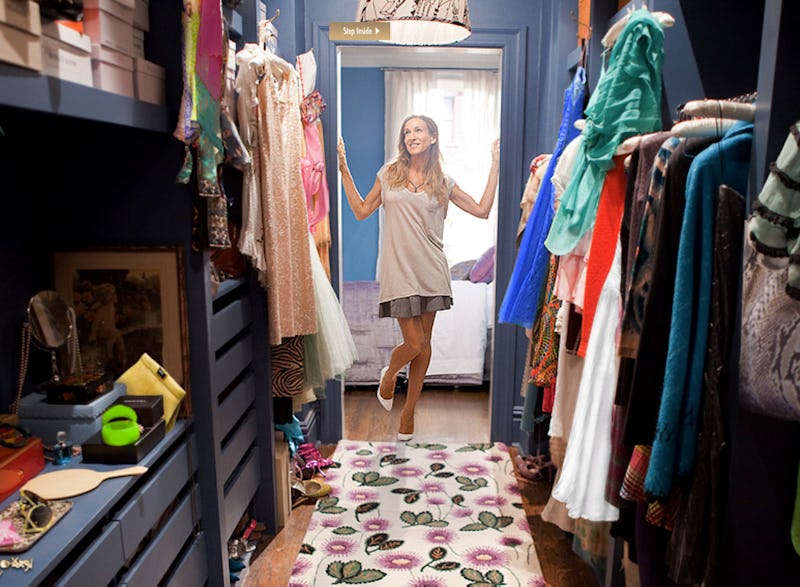 Many stylish female leads have come and gone in TV land, but none of them have quite left their mark like Carrie Bradshaw. From the moment she appeared on screen women everywhere began to bow down to the one female that could truly pull off any look. Not only did Carrie Bradshaw take fashion to the next level, but she single handily changed the face of high end brands like Manolo Blahnik, Dior, and of course Chanel. Without Carrie, women may not be as brave with fashion as they are today.
Over Sex And The City's six seasons, and two feature film run Carrie Bradshaw made several items in her closet world famous. Her fur coat, tutu, heels, and bold accessories became a staple to her style and ultimately defined an era. Additionally, many of Carrie's outfits marked a moment in time. If she was broken up with, we could expect her outfit to reflect her mood. If a funky party was on the late night agenda, the audience would expect an over-the-top ensemble. Every outfit styled by Patricia Fields had a purpose and played into the scene just as heavily as Carrie's whirlwind of words and I for one was eating up every little bit of it.
It's difficult to say which outfits were prime and which ones simply fell flat so instead of putting together Carrie Bradshaw's best of the best I have decided that it would mean more to look back on the outfits that defined the moments that shaped her character. And with that I present a ranking of Carrie's most memorable outfits from some of her best and worst times on Sex And The City.
36. THE TUTU
It wouldn't be a countdown without Carrie's signature tutu. Though it was only featured in the opening credits the creators did bring it back for the feature film. If ever there was a piece of fashion that summed up Ms. Bradshaw it would have to be the tutu.
35. POLKA DOT DISASTER
Once she is settled in Paris near the end of the television series, Carrie wears this adorable polka dot dress. But, it all turns to shit when she steps in some dog poo on the streets of Paris.
34. ALL ABOUT BABY
This may have been the dress she wore when she was falling for Berger, but fans of the show may actually remember this as the tent dress that was covering Sarah Jessica Parker's real life baby bump.
33. OLD SCHOOL CARRIE
It may not have been her most stylish decade, but it was so much fun to get a look at what Carrie Bradshaw looked like in the '80s which was fully inspired by Madonna.
32. THE WHITE DRESS
The white dress from the Sex And The City 2 movie.
31. A DIOR REUNION
Did your heart melt as much as mine when Carrie saw Aidan again in Abu Dhabi? Dior and Aidan have never looked so good.
30. NEW YEARS BEST
In what was possibly the most emotional moment between the girls, Carrie rushes through the streets of NYC in her signature fur to accompany Miranda on New Years Eve.
29. IN VOGUE
That time she looked incredibly professional and polished at Vogue.
28. DRESSED TO IMPRESS
Carrie took her role as "best man" very seriously at Standford and Anthony's wedding, but it was her black crown inspired head piece that had me sold.
27. SINCERELY CARRIE
She wore this adorable outfit when she had a book signing, and a pimple with the worst timing.
26. THE BIG TIME
And who could forget the green dress she wore in Paris when Big FINALLY confessed how he really felt.
25. I HEART NY
This outfit was certainly memorably. Not only was it the outfit Carrie wore on her farewell date with Big before he left New York, but it was also made famous when Miranda went into labor and her water broke on Carrie's shoes. The episode was titled "I Heart NY" and was dedicated to the city after the tragedy of 9/11.
24. PRETTY IN PINK
While dating Aleksandr Petrovsky, Carrie found herself dancing in McDonalds in this pink dress, and fainting in the streets.
23. LITTLE BLACK CROP TOP
That time Carrie went to Samantha's dominatrix PR event and showed up to Big's with a top hat and whip. Note as well how killer she looks in a crop top and skirt. Always ahead of the curve.
22. ROOF TOP BEAUTY
When Samantha makes nice with her new neighbors she invites the girls for roof top cocktails. The neighbors become enamored with Carrie and ask her to do a twirl. Classic.
21. THE DEAL BREAKER
The Roberto Cavalli outfit Aidan made Carrie toss to the garbage after he moved in. But, after much compromising the shirt found itself back into the safe walls of her closet.
20. CAMOUFLAGE PEARLS
When she wore he engagement ring from Aidan on her neck hidden by a sea of pearls.
19. BAD HAIR DAY
The Prada dress she wore to Smith's opening night play. More memorable than the dress was that disastrous moment that Berger showed up on his bike and Carrie fretted over helmet head.
18. HIGH END DRAMATICS
When she accompanied Charlotte to the Opera, but left so dramatically when she saw Big with Natasha AKA "the idiot stick figure with no soul".
17. KEEPING IT CASUAL
Carrie wore this outfit during her impromptu movie date with Berger. It may not be her best look, but it went down in history as her most casual date look.
16. STYLISH SKATE
Because why wouldn't you dress like this to go ice skating?
15. BARING IT ALL
During her second time around with Aidan, Carrie wears this sexy ensemble to the bar to see what boys night is really all about. What she actually finds is Aidan playing Jacks with a lady friend, ouch!
14. MAKING A SPLASH
When she meets up with Big after he broke her heart (again) the two fall into the water after Carrie leans away from Big's attempt to greet her with a kiss.
13. PUT A BELT ON IT
When in doubt add a belt! Carrie put this little gem together before Miranda took her wedding dress shopping for fun that actually ended with a panic attack.
12. FASHION ROAD KILL
None of us will ever forget the day that Heidi Klum walked over a fallen Carrie Bradshaw on the catwalk.
11. THE STUNNED COWGIRL
That night in the Hampton's when Carrie see's big with Natasha for the first time.
10. BECAUSE OF BERGER
In the episode where Carrie is broken up by Berger on a post it, she rocked this wrap dress. She was also hell bent on making that day be anything, but the day she was broken up with on a post it. So, she got caught smoking weed in the streets instead.
9. LOVE, DOVE, GLOVE
In this stunning dress Carrie recites a poem at a wedding about love. But, Mr. Big is too busy picking up a cell phone call to sit and listen to it.
8. THE POWER OF THE FLOWER
During the second and third seasons of SATC, Carrie wore over-sized flowers fairly often. This one marks the moment she first laid eyes on Aidan Shaw.
7. STANDING OUT
She also wore her signature flower in that episode where she played spin the bottle and had to kiss Alanis Morissette.
6. DRESSED FOR PARIS
Upon her arrival in Paris at the end of the series Carrie wore one of her most famous outfits to date.
5. YOUR GIRL IS LOVELY HUBBLE
When she meets Big in the street after his engagement party and she wipes the hair from his face and recites the lines from the Way We Were ... it still makes me tear up!
4. FAMOUS FUR
Every single time she wore that fur coat, I considered seeking one out as well. No one will ever do a fur coat justice the way Carrie Bradshaw can.
3. ALL DRESSED UP
The outrageously huge ball gown she wore for her date with Petrovsky. He stood her up and she looked so sad sitting in the dress that looked like a fancy duvet cover.
2. EXTRA! EXTRA! READ ALL ABOUT IT!
The Dior newspaper print dress that was so memorable it made two separate appearances.
1. CLASSIC CARRIE
In the beginning days of Sex And The City, we saw Carrie in countless dresses just like this one. They were sleek, slimming and sat on her body perfectly. It was the world's introduction to the one woman that would have the power to capitalize on everything women adore about fashion. The iconic look of Carrie Bradshaw.
Images: HBO