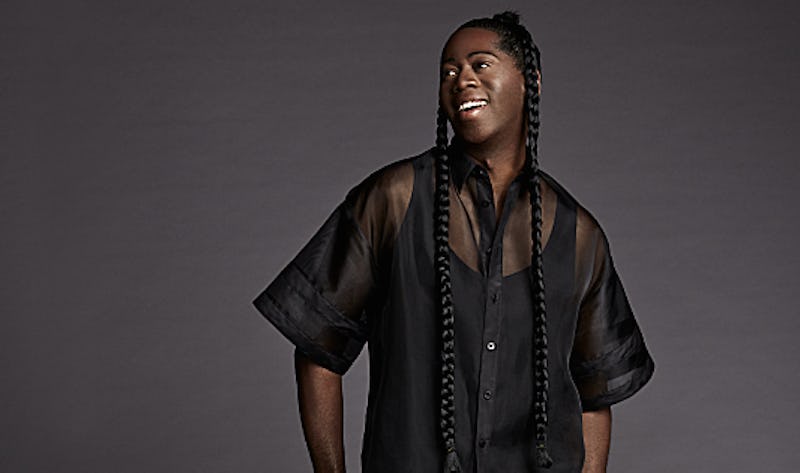 When the 21th season of America's Next Top Model premieres on August 18, if there's one thing to celebrate, it's the return of Miss J. Alexander as "runway coach and diva extraordinaire." Since the fifth season of the show, Miss J. was basically one of the main reasons to watch. He was no-nonsense when it came to coaching the models on their runway walks, but there was always something outsize about his personality. He could add one layer of frill for every eliminated model to a ruffled collar he wore to judging sessions, and it would simultaneously look outrageous and serious.
Miss J.'s presence has been missed since the 19th season of the show, which premiered back in 2012. As he returns for the 21st season, one question remains: Why did Miss J. Alexander leave America's Next Top Model in the first place?
The short answer: Because Tyra Banks fired Miss J. He was kicked out during a house-cleaning that eliminated some of the most famous faces regularly on the show. At the time, Page Six reported:
Model turned media mogul Tyra Banks swung the ax at her longtime America's Next Top Model co-stars J. Alexander, Jay Manuel, and Nigel Barker yesterday, dismissing three of the competition's longest-running personalities in one fell swoop...A show insider told us the departures were a "production decision" and that there are "major changes planned for [season] 19."
Ouch. When Tyra says she's fierce, she really means it.
Page Six also went on to give this statement from Ken Mok, the show's executive producer: "Nigel Barker, Jay Manuel, and J. Alexander have been an integral part of the America's Next Top Model brand and they helped turn this show into the household name it is today ... We will continue to actively work with each of them on future projects."
As of this writing, Miss J. is the only one of the three to return to the show. Instead of Nigel Barker, ANTM has Yu Tsai as its resident fashion photographer. And, in the absence of Jay Manuel, the judging panel will be rounded out by Kelly Cutrone, who still can inspire the quake-in-the-boots chills she caused on The City. No plans have been announced for the return of Barker or Manuel.
Unlike those unlucky guys, we only had to deal without Miss J for two cycles of the show. During seasons 19 and 20, he was replaced by model Rob Evans. Evans was not without baggage, though, and another male model accused Evans of assault and battery during an incident that happened in 2012. Yikes.
Even if Evans were the perfect America's Next Top Model judge, it's still better to have Miss J. back. It's understandable that, as reality shows age — and 21 seasons is a heck of an age in the reality TV world — producers will want to shake them up a little to keep them from getting stale (and the paychecks from getting too high). But it's hard to balance that with keeping the personality of a show intact — and Miss J. was nothing if not the show's personality, and it'll be good to have him back.
Images: Massimo Campana & Trever Swearingen/Pottle Productions Inc/CW; Giphy (4)